You are a YouTuber and you want to save precious time when sharing your latest YouTube video? Check out MyLastVideo , an online service that lets you link (URL) to your latest YouTube video . This way, you won't waste your time updating the links on all your social networks! To learn more about MyLastVideo and how it works, I invite you to continue reading this article.
A unique and permanent link to redirect your subscribers to your latest YouTube video
MyLastVideo is an online tool developed by Streamloots, the popular monetization platform for content creators. With this tool, you can create a unique and permanent link that will redirect your community to your latest YouTube video.
This tool is really handy for promoting your latest YouTube video. All you have to do is copy the URL generated by MyLastVideo and paste it into your biography on the various social networks, and you're done! When your followers click on it, they will automatically be redirected to your latest YouTube video. For example, you can paste the URL into your Twitter, Facebook, Instagram biography or even into the Twitch panels.
MyLastVideo is a completely free service. No registration is required to generate your unique URL. However, note that if you want to get a custom URL like "https://mylast.video/justgeek " instead of "https://mylast.video/UhFzsd " , registration is required.
The only downside of this tool is probably the impossibility of obtaining statistics on the number of clicks on the link. Apart from that, MyLastVideo is a tool that will serve you well.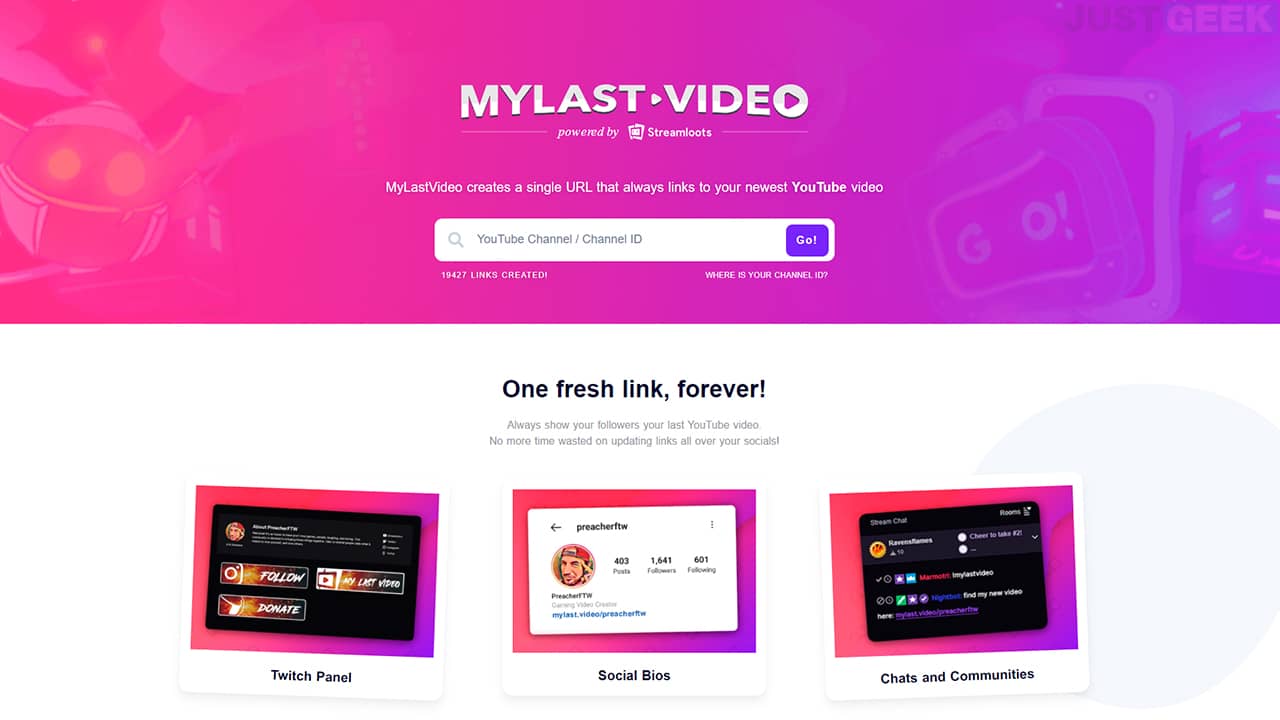 How does MyLastVideo work?
The operation of MyLastVideo is very simple. To create your unique link that redirects to your latest YouTube video, follow these steps:
1. Go to the MyLastVideo website .
2. Once on the home page, you will find a search bar. Type your YouTube channel name or channel ID, then click " Go! " ".
3. In the search results, click on the name of your YouTube channel.
4. The service will then automatically generate a URL that you just have to copy and paste where you want. Note that if you create an account on the platform, you have the option of creating a personalized URL with your nickname or the username of your choice.
✅ That's it, you've just created a custom URL that redirects your subscribers to your latest YouTube video ????
What you must remember
MyLastVideo is a simple and free tool that allows you to create a unique URL to send your followers to your latest YouTube video. You can paste it in your biography on social networks such as Facebook, Twitter or Instagram. So you won't waste your time updating your links. Your subscribers will only have to click on the link to discover your latest video.
If you liked this article, please subscribe to our reddit community to discuss it. You can also find us on Twitter and Facebook.