Your best NFTs in pp Insta – Meta, the parent company of Facebook, has been expressing its ambitions for the cryptocurrency ecosystem for several years now. After having aborted its stablecoin project, Meta now seems to want to set its sights on non-fungible tokens (NFTs) . Thus, Instagram would be in the process of integrating them into its social network. 
NFT LAND ON INSTAGRAM
The rumors are getting clearer. In the middle of March, Meta, the parent company of Facebook, Instagram and WhatsApp announced its desire to integrate NFTs.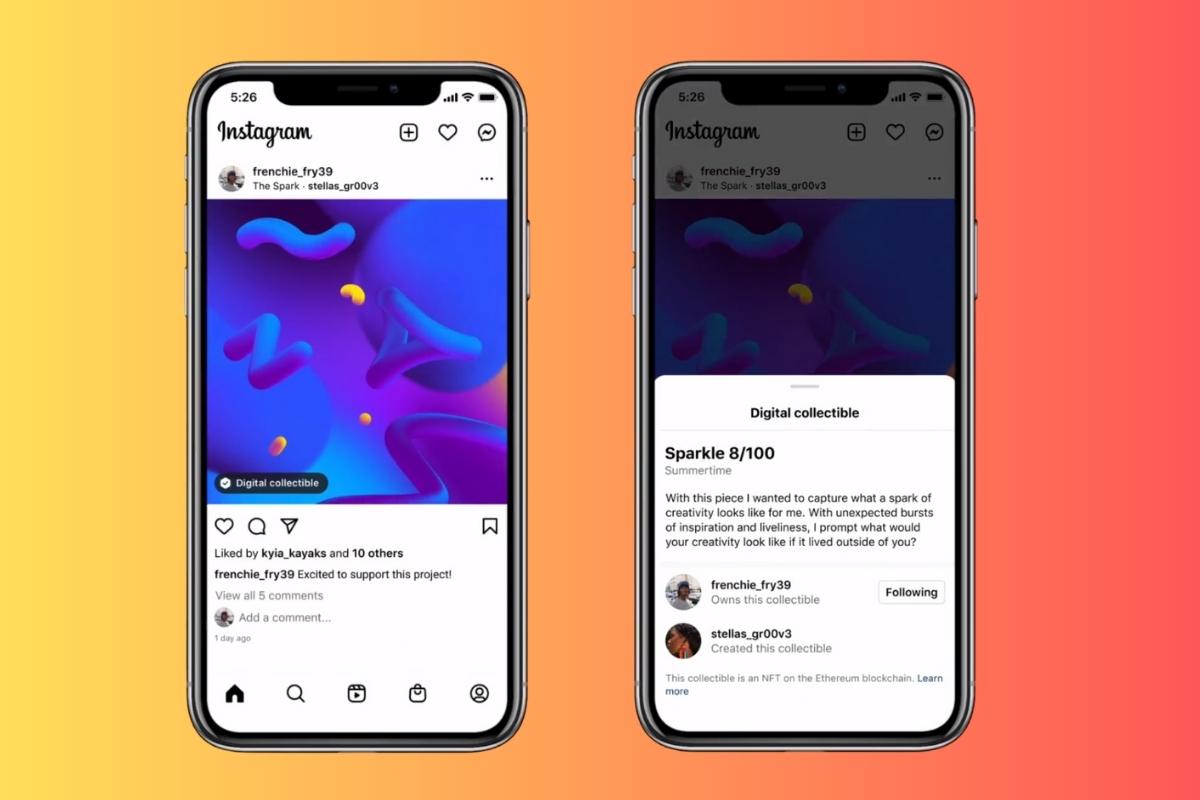 Thus, its founder Mark Zuckerberg announced the arrival of NFTs on Instagram during the "South by South West" event. However, no date had been announced at the time of this announcement. 
Nevertheless, integration is reportedly underway. At least that's what our colleagues at Coindesk revealed . According to sources not revealed by the newspaper, Instagram launched a pilot program on Monday May 9, integrating NFTs . This program would be made up of a small group of US-based NFT aficionados. 
Also according to Coindesk, Instagram would support NFTs from the Ethereum , Solana , Polygon and Flow blockchains . The integration should be done via the support of the main wallets such as Metamask. This addition of NFTs would allow the ecosystem to be accessible to the billion users that Instagram has. 
This announcement comes a few months after the addition of NFTs by the giant Twitter . Thus, since January, it has allowed its users to display their NFTs as a profile picture. A feature since widely used by the entire crypto ecosystem. 
Display your collection of NFTs
Instagram boss Adam Mosseri said content creators will now be able to share their digital artwork on the social network. Indeed, Instagram will integrate a new category of publication, with a dedicated tab, represented by an icon in the shape of a hexagon and a check mark in its center.
Users will be able to share their NFTs in the main Instagram feed, but also in Story or by message. These publications will be accompanied by a "glossy" effect, which will make them stand out in the feed.
Currently, the supported platforms are Ethereum and Polygon, with Flow and Solana expected to arrive soon. Regarding compatible third-party wallets, we find Rainbow, MetaMask, Trust Wallet, and Coinbase. Dapper and Phantom should also be available soon.
Instagram wants to support content creators
"The creator economy is incredibly important to Instagram," said Adam Mosseri. With the integration of NFTs on Instagram, the objective is therefore to offer content creators a new, safer way to monetize their audience.
Right now, creators have a number of ways to make money, but many of them are unpredictable and move quickly, the Instagram boss explained.
It also specifies that publishing or sharing a digital collectible will not incur any additional costs.
A limited test phase
For now, this new feature is available in the United States only, and for a limited number of creators. The social network explains that it wants to "start small, and learn from the community", before deploying the option more massively.
""We believe one of the unique opportunities we have is to make Web3 technologies available to a much wider range of people," said Adam Mosseri.
NFTs, soon available on other Meta applications?
Mark Zuckerberg also spoke on the subject, indicating that NFTs would also be available on Facebook soon. The founder of Meta also hinted that this function could extend to all applications of the group.
In addition, new types of NFT would seem to be in the development phase: "We will also be working on augmented reality NFT, essentially 3D NFT, which you can integrate into Instagram Stories using Spark AR". A new technology that would allow digital artwork to be placed in 3D spaces, or projected into physical spaces.