If you're looking for a more modern text editor than good old Notepad, I might have what you need. This is Notepads , an open source text editor available on Windows. Lightweight, sleek, and packed with advanced features, this free text editor can be used for casual note taking or quick editing of text files.
Notepads, a modern and open source notepad
The first thing you will probably appreciate about this text editor is of course its tab system. Indeed, Notepads offers the creation and opening of several documents in a single window. It's a basic feature and yet it's still not integrated into Windows 10's Notepad app…
You will also appreciate its very wide choice of customization: dark or light theme, background opacity, accent color, font, etc.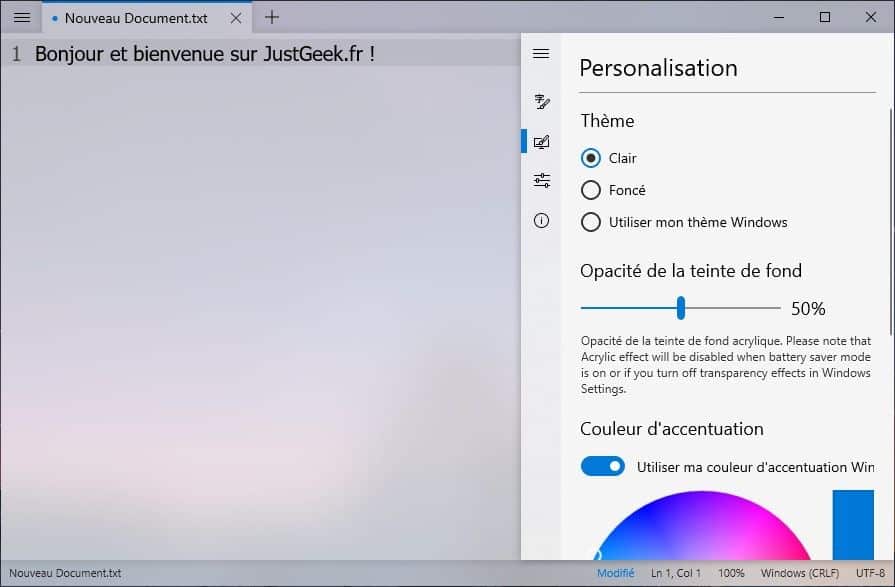 Notepads app supports many file formats like TXT, HTML, XML, CSS, PS1, VBS, XAML, and many more.
Besides, Notepads also supports some very useful keyboard shortcuts:
CTRL+ Nor CTRL+ T: create a new tab
CTRL+ TAB: switch from one tab to another
CTRL+ Num (1-9): switch to a specific tab
CTRL+ +or CTRL+ -: zoom in or zoom out
CTRL+ : reset zoom
CTRL+ Lor CTRL+ R: change the direction of the text (LTR/RTL)
Finally, note that the application is based on the UWP platform. Therefore, some limitations are present:
You will not be able to save files to system folders (Windows, System32, etc.).
You also won't be able to open potentially dangerous files (.cmd, .bat, etc.).
Large files are currently not supported; the maximum file size is currently set at 1 MB.
Anyway, Notepads is still in the development phase, so let's give the developer some time to polish it all up. Maybe in a future version, all its limitations will be lifted…
If you liked this article, please subscribe to our reddit community to discuss it. You can also find us on Twitter and Facebook.