Tested with a closed panel of PC gamers since 2013, Nvidia GeForce Now was built over seven years before officially opening to the public. And for good reason, the on-demand game service wanted to encompass a wide variety of media, from Windows PCs and Macs (obviously), to Android and iOS devices, including the Shield TV also designed by the company. 
Nvidia GeForce Now now exceeds 12 million members. A growth made possible by the offer of versatile subscription formulas, from the free level to the "Priority" sections and recently "RTX 3080" which give the right to more premium technical characteristics and functionalities, such as priority access to servers and extended session duration. Note that it is possible to subscribe to one or other of the offers for one month, six at most – the annual commitment does not yet exist.
Coming late against Google Stadia or Xbox Cloud Gaming , GeForce Now is now moving into second gear with the opening of the RTX 3080 subscription guaranteeing maximum performance, i.e. games in 1440p resolution at 120 frames per second on PC and Mac. Without you having to shell out the price of an RTX 3000 graphics card subject to severe shortages and continuous inflation. 
And Nvidia's generosity doesn't stop there, as the company adds new games to the service's catalog every Thursday. Some of the most rated include Assassin's Creed: Valhalla , Cyberpunk 2077 , Hitman 3 , Watch Dogs: Legion or Crysis Remastered now offered free with any new RTX 3080 tier subscription.
Now that the Nvidia GeForce Now has clearly gotten richer, let's take a look at what the service offers both on the surface and in depth, whether or not you pay for your monthly access.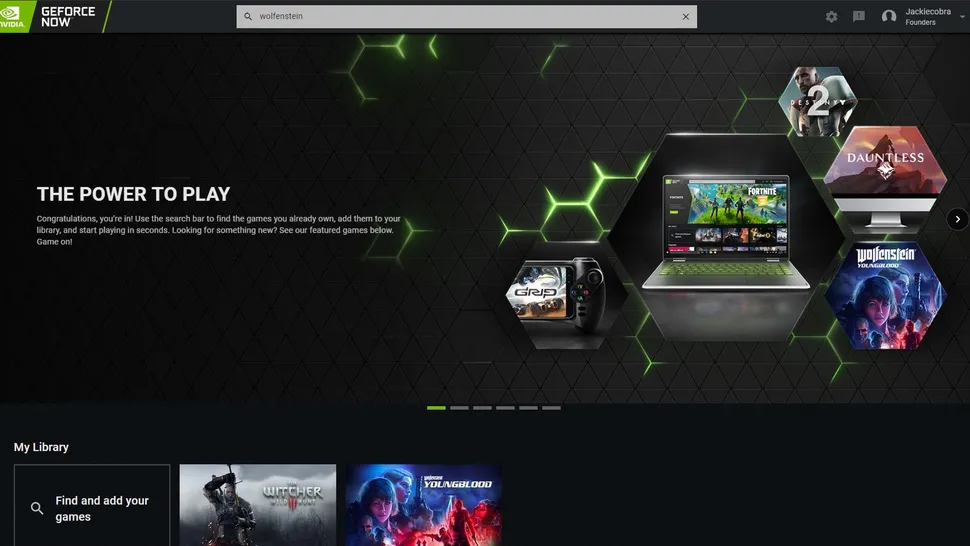 Price and availability
Nvidia GeForce Now is available today in three different flavors: Free, Priority, and RTX 3080. The Free plan, you guessed it, won't charge you a penny and will give you access to your Steam or Existing Epic Games by benefiting from a virtual PC configuration including an Nvidia GeForce GTX 1060 graphics card – this for maximum sessions of one hour. Provided that the servers are not crowded, in which case you will have to join a sometimes substantial queue.
The Priority subscription eliminates this inconvenience, thanks to priority access giving the right to consecutive six-hour sessions and the activation of the ray tracing mode, delivering gaming performance worthy of an RTX 2080 GPU. You will need to invest 9.99 € per month or €49.99 for six months (a saving of €9.95).
Finally, the all-new RTX 3080 tier is still limited, but it simulates the gaming performance of Nvidia's acclaimed Ampere GPU, with eight-hour gaming sessions. Its single price is high (99.99 € for six months of subscription), but compared to the purchase of an RTX 3080 card alone, it proves to be easily profitable during its first ten years of use.
Additionally, the free plan is not time-limited and allows you to evaluate the service for as long as is convenient for you. Where Google Stadia, for example, only offers you a free trial month before charging you €9.99 per month – the equivalent of the Priority level of GeForce Now.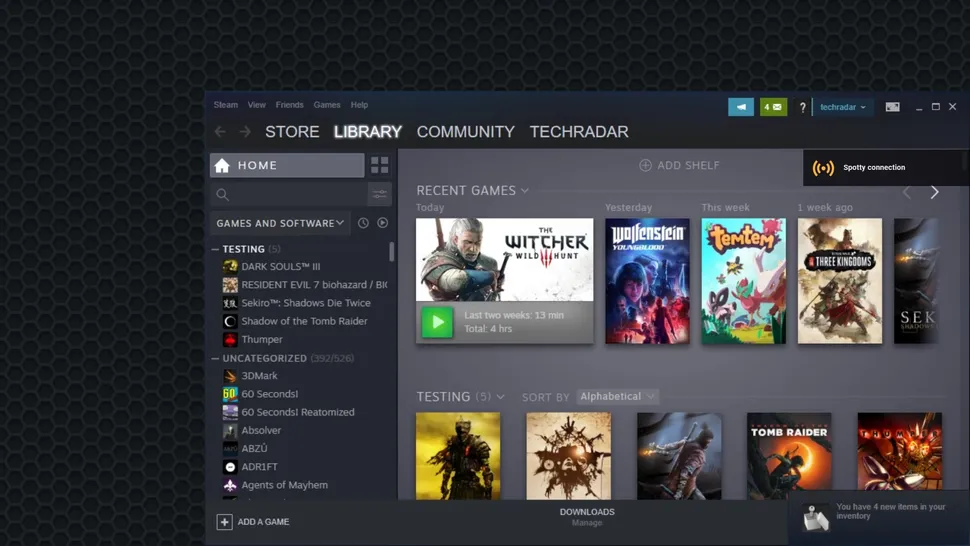 Design and interface
Google Stadia has an easy-to-use user interface that's nice to look at, although it does have a few flaws. The same can't really be said for Nvidia GeForce Now.
Instead of being able to launch the service from Google Chrome, you will need to install the GeForce Now client. From there, you'll either need to choose one of the games on offer or type in the game you're looking for in the search bar at the top of the UI. 
Once you have added the desired title, Nvidia will redirect you to the store where it is (Steam, Epic Games, Ubisoft Connect…). Which turns out to be somewhat complex. So, when we tried to add Wolfenstein: Youngblood to our account, two options presented themselves. The first led us to the Bethesda launcher, on which we had not purchased the game beforehand… whereas we had it on Steam, offered as a secondary option. So we had to repeat the operation twice before we could run the title.
It's only a minor annoyance, sure, but if you already own a game on a specific platform and it's listed on all of the on-demand services, you might spend some time before you put the hand on it. 
And, of course, we can't mention the navigation between compatible libraries, without mentioning the games that are conspicuous by their absence. Many hits from major publishers like Square Enix and Rockstar Games are missing. Fans of Final Fantasy or GTA licenses will eat their controller while waiting for their integration. Searching for multiple classics will get you an error message from Nvidia: " This game is not supported by GeForce Now, please request it ". 
Fortunately, the GeForce Now catalog is filling up quickly since its public deployment last year, with more than a thousand accessible titles including a hundred free-to-play. Nvidia is also enriching its video game offer with a dozen games added every Thursday.
There are a few settings you can adjust through the UI, but there aren't very many of them. You can adjust the streaming quality to aid performance, save data or strike a balance between the two, enable Discord integration, and toggle the network status indicator. 
The user interface is perhaps the area where Nvidia GeForce Now could put the most effort. It remains usable, but its navigation is still enough to put off curious players.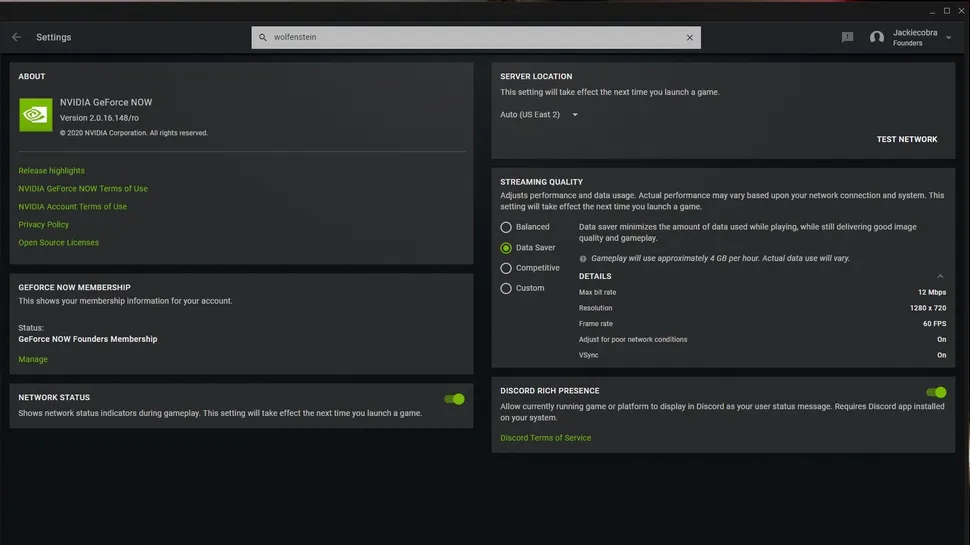 Performances
This is the hottest topic when comparing existing cloud gaming services. Many gamers, ourselves included, remain somewhat skeptical about streaming taking over the gaming market. Nvidia GeForce Now has everything to prove here, as does Google Stadia and Xbox Cloud Gaming.  
However, according to our busy hours evaluating the Nvidia service, it has something to convince the most reluctant. If you are playing with a fast wired Internet connection (Nvidia recommends a minimum speed of 35 Mb/s to play at 1440p / 120 fps).
Other requirements: a macOS 10.11 / Windows 7 (64-bit) desktop or later if you play on Mac / PC, 4 GB of RAM, a 120 Hz screen ideally. And if you choose to play from Shield TV, a 4K TV with HDMI 2.0a port or newer and HDR support.
Are you in order? Then playing The Witcher III: Wild Hunt for the millionth time will be a whole new and sublime experience under GeForce Now. With servers capable of handling the open world at 1080p with all settings maxed out, including the fearsome Nvidia Hairworks. Even 1440p if you opt for the RTX 3080 formula. It's a shame that's the maximum resolution and aspect ratio supported by the service, but that's not enough to tear it down, especially at these very competitive prices.  
Be careful though: as soon as we abandoned the wired Internet connection, our experience deteriorated somewhat. We installed GeForce Now on a 2018 13-inch MacBook Pro and played Wolfenstein: Youngblood . If the image quality of the shooter never had to blush, thanks to the RTX features activated, it still seemed less responsive than on our Ethernet configuration.  
It's possible that this latency is simply coming from servers being overrun. With an offer and a technology called to grow gradually, this defect should disappear at the same time as the service will gain in popularity.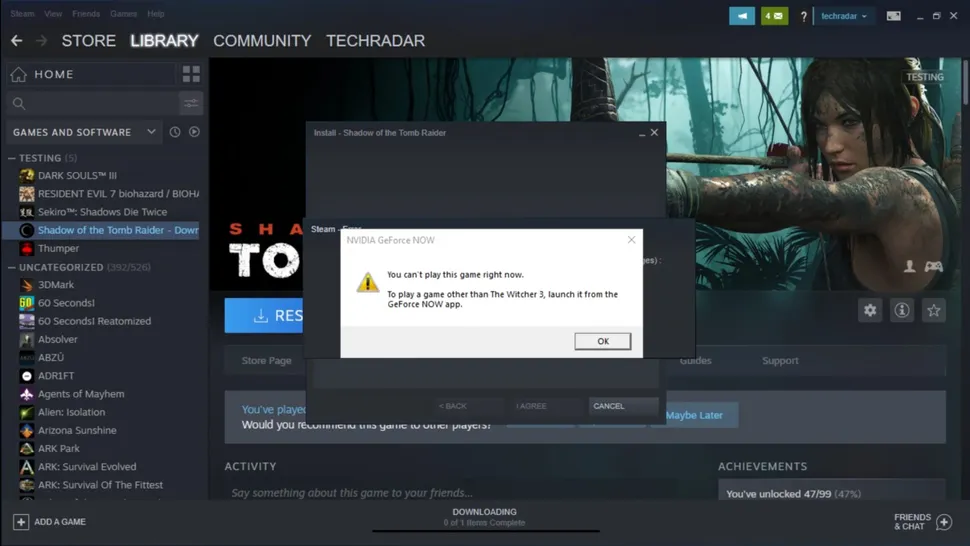 To conclude…
Nvidia GeForce Now stands out as the best cloud gaming service today, but only because the competition is native. Its performance improves considerably with the latest RTX 3080 subscription formula, and manages to erase the faults of its interface. Just like its library of games filling up weekly and its rather affordable prices. 
GeForce Now will likely evolve further over the next few years and could become the de facto way to play your AAA video game titles on the go. We are more and more impatient to taste the next updates of this very promising platform.