It's a fact, today, the photos we take with our cameras take up more and more space. This can sometimes be a problem when we want to share them by email or on our website. Luckily for us, today there are free solutions that can reduce the size of a photo in just a few clicks. In this sense, I wanted to present to you in this article TinyGUI. This is a visual implementation of the popular TinyPNG site that helps you compress images or photos in Windows. To learn more about this software and how it works, I invite you to continue reading this article.
What is image compression used for?
The image compression is a technique used to reduce file size digital. By reducing file sizes, images can be stored and transmitted much more easily. This is especially important for images intended to be displayed on web pages or sent by e-mail.
There are two main types of image compression: lossy and without loss of quality. Lossless compression retains all of the information in an image file, while lossy compression removes some data to drastically reduce file size. However, note that in most cases, lossy compression still gives excellent results.
Quickly compress images on Windows with TinyGUI
TinyGUI is a free software and open-source who can help you compress images easily and quickly under Windows. The program is based on the API of the TinyPNG site and allows you to compress for free up to 500 images per month.
The program supports the most popular image file formats such as JPEG, PNG and WebP. In addition, its operation is ultra-simple. All you have to do is select the image files you want to compress. TinyGUI will then compress the images for you in just a few seconds. It's a great way to save space on your computer or reduce the size of image files when you want to share them online.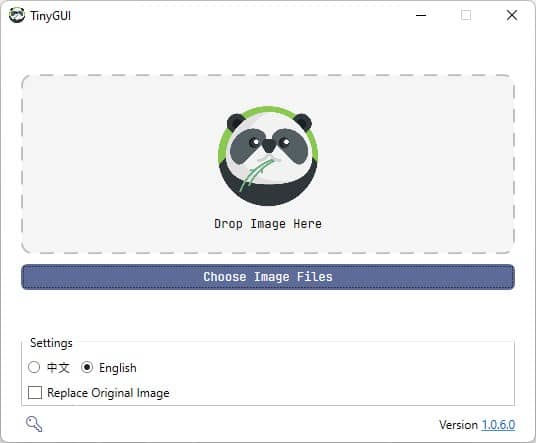 Before you can use the TinyGUI software, you must first obtain an API key. Here's how.
1. Visit the site https://tinypng.com/developers.
2. Enter your name and email address in the fields provided, then click the " Get your API Key ".
3. Now open your mailbox, then click on the button " Visit your Dashboard ".
4. From the dashboard of the TinyPNG site, click on the three small vertical dots, then on " Enable key to activate your API key.
✅ Now that you have just recovered your API key, we will see together how to use the TinyGUI software.
To reduce the size of your images with the TinyGUI software, carefully follow these few steps:
1. start with download TinyGUI from the developer's official website.
2. Then proceed to install the program on your Windows computer.
3. Then open TinyGUI, then paste your API key that you previously retrieved, and click on the floppy disk icon.
4. All you have to do is select the images (in JPG, PNG or WebP format) that you want to compress and the software will take care of reducing their size. By default, the program does not overwrite your original images. However, if you wish, you can replace the original files by first checking the "Replace Original Image" box. Also, note that the compressed images will be saved in the same folders as the original images.
✅ That's it, you now know how to reduce the size of your images with TinyGUI.