You are starting a new website and you don't know which SEO plugin to choose. Whether Rank Math or Yoast SEO.
In this guide we will see which SEO plugin is the best in 2022, Rank Math or Yoast
In fact, for many years,  Yoast SEO  has been the go-to SEO plugin in the WordPress world in every language.
SEO considers it as "the SEO tool" to easily manage meta robots, meta titles and descriptions, robots.txt, .htaccess and many more of their websites.
In fact, it wasn't until late 2018 that a hugely interesting competitor came to a crossroads that stole a big chunk of the cake.
Since then, Rank Math  threatens to be the best and most used SEO plugin, already reaching over a million active users.
But is Rank Math better than Yoast SEO?
In this in-depth comparison, I'm going to break down the features of each in depth.
Plus, I'll walk you through the pros and cons of each of these SEO plugins so you can decide which one is right for you.
So…
Let's start!
Key Features of Both Plugins
Key Differences Between Yoast and Rank Math
Yoast SEO Premium vs Rank Math SEO Pro
Rank Math and Yoast SEO Pricing
Which SEO plugin is the best?
Can you switch from Yoast SEO to Rank Math?
conclusion
Key Features of Both Plugins
You will start the blog post by knowing what are the main features of each plugin, both its configuration interface and its settings, as well as its interface in the content part.
In both plugins, there are some very cool stuff and extremely useful features that will help your site in terms of on-page SEO and content.
Yoast SEO Settings Interface
1. General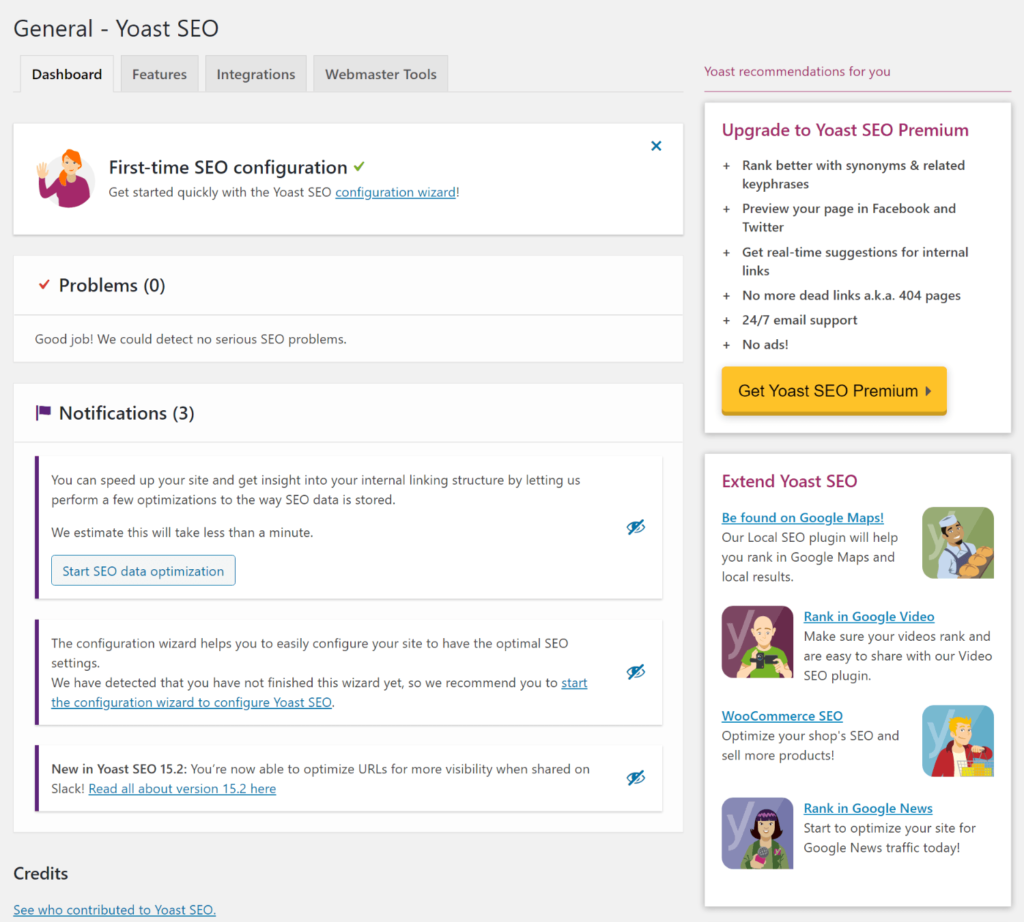 In the General section of  Yoast SEO  , you will be able to control and configure some main actions of the plugin.
In the Dashboard tab, the issues you are having on your site and some plugin warnings, such as update notification, recommendation of another Yoast plugin, etc. are displayed.
In the Features section, you will have the option to enable or disable plugin features within your WordPress.
Some of these features are: SEO analysis, readability analysis, essential content, in-text link counter, etc. All very useful to improve our newsrooms.
There is also the possibility of activating XML sitemaps, essential.
Finally, in the Integrations and Webmaster Tools tabs, you can integrate Yoast SEO with tools like Semrush, Ryte, or verify your site in Google, Bing, Baidu, or Yandex.
2. Appearance in the search engine
We continue with the next section of the Yoast SEO plugin, where there are several great tabs for website SEO.
These are: General, Content Types, Media, Taxonomies, Files, Breadcrumbs and RSS.
In my opinion, this is one of the most important parts of Yoast SEO.
In the first tab, also called General, you can define whether your site corresponds to an organization or a person, and place their name and even their logo there.
This is very basic schema markup that helps Google understand your niche a bit more.
Further in the Content Types section, you will find extremely essential functions for managing the architecture and indexing of the web page.
This means that you can, via Yoast, tell Google whether or not to index your posts, or your pages, or your products.
In fact, you can also globally set the meta title and meta description for all your posts, pages, etc.
Something similar happens in the Taxonomies part, but with your categories, product categories, tags, formats, etc.
Otherwise, we also have the Files part, where you can specify whether Google should display results in its search engine based on author or date.
Finally, it should be noted that you have the option to enable breadcrumbs and configure them as you wish. It is something very interesting and very useful to use on your websites.
3. Social Profiles
Here you can simply add your social media profile or URLs. There are the basics like Facebook, Twitter, LinkedIn, Instagram, YouTube, etc.
You will also be able to include the images or the type of card that is displayed on the networks in question when sharing your publications on them.
4. Tools
In the tools part, you can import and export data from this plugin or others such as Rank Math, to migrate from the SEO plugin without changing the configuration and the website is not a mess for Google.
Moreover, it also has the file editor, where you can edit the .htaccess or create and edit the Robots.txt.
Great for making your own redirects manually or hiding parts of your site from bots.
In fact, also in this part of SEO by Yoast, you can massively edit the title and description of your posts and pages. What a great goal to not have to do it one at a time!
5. Other Premium Plugins
If you enter the Premium part, you will also see many paid plugins offered by Yoast SEO.
6. Exercises
This part of the exercises will help you with the initial basic setup of the plugin on your site.
It's like it's a tutorial or the Setup Wizard part of Rank Math.
If you have no idea or if it's your first time using Yoast SEO, I recommend you start with exercise 1 (the only one available in a free version).
Yoast Content Interface
I have already told you a little about everything that the Yoast SEO plugin offers in terms of its configuration and all its tools and features.
But, one of the coolest parts about Yoast and SEO plugins is that they are extremely important in improving our content and leaving it highly SEO optimized.
It is essential that if you want to write a perfect blog post, you follow the recommendations that Yoast SEO indicates here, although this does not mean that it will rank yes or yes. There are hundreds of other factors at play!
Now, in this epic battle of Yoast SEO Rank Math, it's time to review the main functions that Yoast SEO offers when creating content. And they are not uncommon!
Typically, at the bottom of your content, there will be Yoast options that you can touch and change to your liking to boost your SEO.
In other words, in Yoast SEO and Rank Math SEO, if you use the block editor instead of the classic editor, the options will appear in the sidebar of the content interface (with the corresponding icon).
1. Meta title and Meta description
In the SEO part we can modify the meta tags, the slug and visualize how our content will be displayed in Google's SERPs.
An attractive title and meta description can significantly increase CTR, as long as you're on the first page.
This will significantly increase your visits and of course your income.
You will also be able to choose the slug that will go after your domain. Make sure the content URL contains the main keyword and is short.
Be careful! Don't go overboard with the characters and try to always show them in green.
This way, you will get it to show without cuts in search engine results.
READ  How to import external images into WordPress
2. Content analysis results
This is one of the parts of Yoast SEO that you can get the most out of, although  Rank Math  has it too, but they are somewhat different.
In the results of the analysis of your content you will be able to see the things which are done in the right direction, those which are to be improved and those which you must improve yes or yes (at least in the theory of the good practices).
3. Meta Robots and Canonicals
In this section, it is not important because it is simple.
Here you can choose whether or not you want Google to index your content.
In turn, we can indicate a different canonical, we can even choose the title that will be displayed in the breadcrumb.
4. Diagram
Otherwise, in the Schema part you have the possibility to choose between certain types of structured data, and thus offer Google a little more classified information so that it understands what your content is about.
As you can see from the image, there aren't many options available, which is where Rank Math is much more up to the task.
Ranking math configuration interface
We have already seen the main features of the Yoast SEO plugin, but now we have to analyze all the features that the free version of the WordPress Rank Math SEO plugin has.
Without further ado, let's continue with the comparison of Rank Math vs Yoast SEO. It will get people talking!
1. Setup Wizard
A very positive part of  Rank Math SEO  is that as soon as you install it, it redirects you to a series of pages that will allow you to make primary plugin settings.
This is something that is highly appreciated, because unlike Yoast, it has a lot more to watch out for.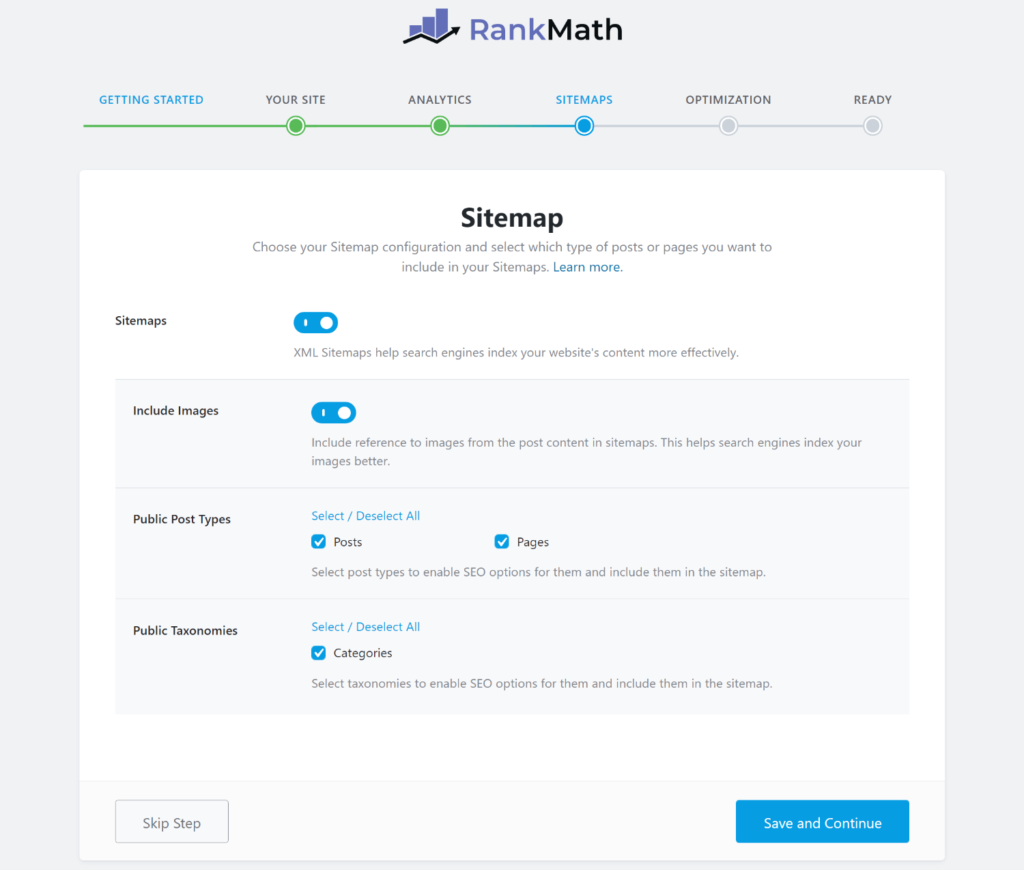 Here you can select simple or advanced settings.
If you have knowledge about the plugin and have used it before, it is better to configure it in an advanced way.
If, on the other hand, it's your first time, perhaps the simplest method is the most appropriate.
You can tell the plugin what to include or not in your sitemaps. Wonderful!
Thank you for always starting on the right foot.
Finally, some interesting but at the same time important basic SEO tweaks in your SEO strategy.
Choose whether you want external links to be unfollowed by default, open in a new tab, or empty categories or files not indexed by default.
With the setup wizard alone, Rank Math has gained quite a bit of traction over Yoast SEO.
2. Office
The desktop or 'home' of the plugin offers different modules, which are only functional parts of the plugin, and which are distributed according to the chosen mode.
You can also find the options to import and export the configuration of the plugin, even if the migration from one plugin to another is much more precise and secure. Something both plugins have.
Modules in easy mode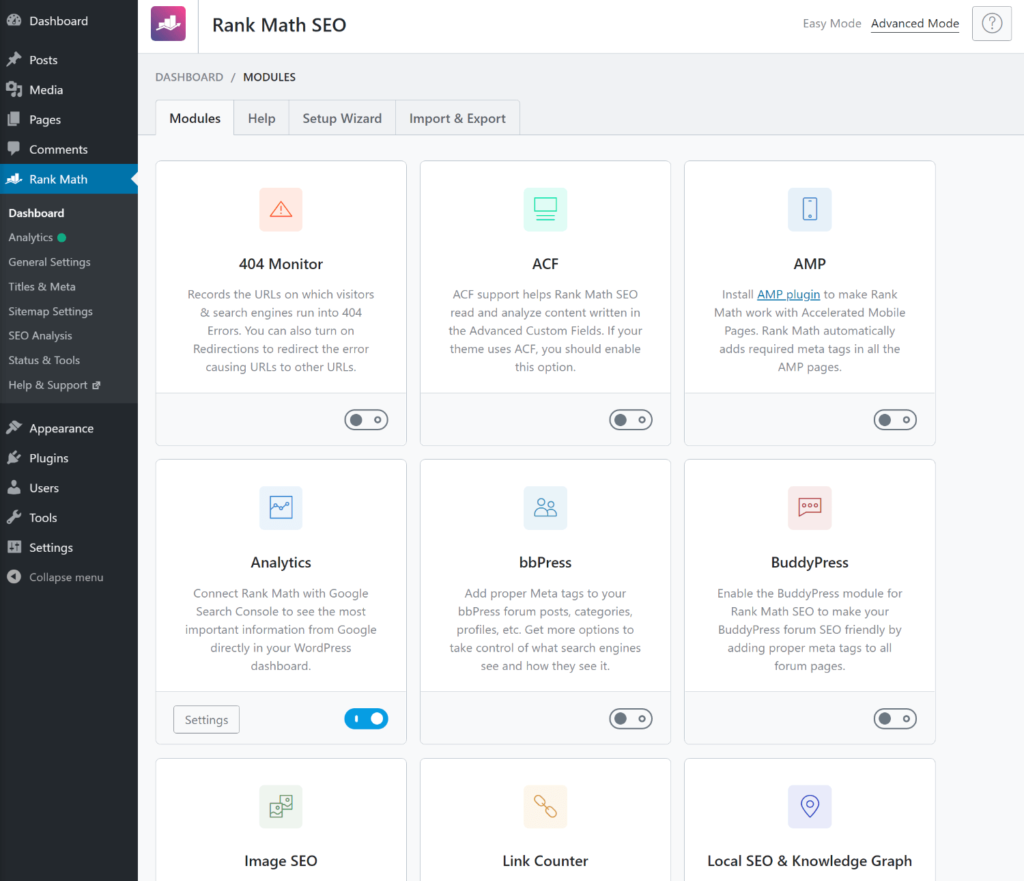 In this article, you will find all the modules for simple management of your website.
By activating them you will then be able to make the settings that seem to you and that are useful to you according to your site.
The most important are SEO analysis, sitemap, analysis, local SEO, among others.
Another great feature is the internal link and external link counter of your content. This will help you control everything (at least the related ones).
Advanced Mode Modules
As you can see, the advanced mode has a lot more modules to manage your page SEO.
Adds 404 error monitor, image referencing, redirects, new schemas and more.
Totally complete!
3. Analytics
Rank Math is extremely comprehensive, you can include your Google Analytics and Google Search Console codes and receive all kinds of your website metrics in detail.
As you can see in the image, it is available in free and paid version.
Of course, you need to connect your Rank Math account to its own database.
As seen in the image, the data is the same as what is displayed in your Google Search Console, but it also includes other very interesting data to take into account.
4. General settings
The general settings of the plugin are certainly customizable.
It goes hand in hand with the modules that you have previously activated.
Honestly, there is so much that can be done in this section that this would be an extremely long article.
Here is a rough description of what can be done here:
Manage external links
Include breadcrumbs
SEO image optimization, include ALT to those without, title, etc.
Check GSC, Bing, Alexa, Pinterest, etc.
Edit Robots.txt and .htaccess
Monitor 404 errors
Basic redirect settings
Basic Content AI Settings
5. Titles and purpose
Another incredibly useful and comprehensive part of this SEO plugin.
Its interface here in the titles and the meta part is much more user-friendly than its Yoast SEO pair.
The features here are also endless so you have to study all the options it brings on your own.
I want to make it a bit easier for you, so I'll summarize the essentials of the Titles & Meta category:
Global meta, where you indicate the main robots (indexes), thumbnails for social networks and separators.
Local SEO with all data about your company or business
Determine your profiles on social networks
Format of articles, authors and other pages
Predefined title and descriptions of pages, posts, etc.
Entry robots, pages and categories, etc.
Diagram of the same.
As you can see, there are many options offered by Rank Math regarding this point.
Investigating for yourself is the best option to choose what really works for you. If you want to dive into local SEO, take a look at the post I made on 
6. Sitemap
In this element of the Rank Math SEO plugin, the application allows you to indicate which content and taxonomies should be added to our sitemap.
If images, pages, tickets, products, among all the options you have on the web.
Indeed, you can also indicate the number of pages that each sitemap must have, whether it is from 1000 to 1000, from 200 to 200 (by default) or the number you want.
As if that weren't enough, you can exclude entries that you don't want to appear.
7. Monitor 404
Another option you have that you won't even remotely find in Yoast SEO.
The 404 Error Monitor will show us all the errors we have that give that response code so we can fix it, or at least know it exists.
8. Redirects
Another more than interesting option and here we go…
In this case, with the redirect manager, you can perform redirects with multiple response codes available in a very intuitive and easy way.
You indicate the source URL, the destination URL, the code and that's it! You have already made the redirect.
If you don't like tampering with .htaccess or have some respect for it, this way of doing it is very simple.
9. SEO Analysis
Here you can perform a kind of mini SEO audit with the plugin that will give you details of the main errors and the health of your website.
Very interesting if you don't have other types of tools to do it.
You also need to link your site to the Rank Math database   .
READ  How to Unlock WordPress 6.0 Maintenance Mode
10. Status and tools
Finally, in the configuration interface, an extremely useful section which is Status and tools.
On the one hand, you will be able to see all the information related to the versions of PHP, WordPress, themes, plugin, server, etc.
On the other hand, you can import or export plugin settings. Even import from Yoast SEO to keep your settings if you decide to upgrade to Rank Math. Everything is very easy!
Rank Math content interface
1. Meta title and meta description
Like Yoast SEO, Rank Math offers the ability to edit the title, slug or permalink, and description.
The good thing is that it has a chromatic scale that indicates green when it has the correct or appropriate characters.
You can also preview how your post will appear in search results.
2. Content analysis results
Simply put, your content results according to  Rank Math  offer super useful information for you to further improve your posts or pages.
You will see these results divided into several mini categories, Basic SEO, Additional, Title Readability and Content Readability.
As in  Yoast  , you will be able to see in green things that are done well, in yellow those that need improvement, and in red those that are lacking or need resounding improvement.
It can help you get an overall idea of ​​how your content is, but at no point should you take it as definitive or a holy word.
Rank Math, just like Yoast SEO, also offers internal linking suggestions in content creation.
3. Meta Robots and Canonicals
In the Advanced part, you can choose the meta robots of your content, whether to leave it in index, noindex, no follow, etc.
You can also specify the canonical, or even generate a redirect.
Very simple.
4. Schema Builder
In the free version of Rank Math SEO, you will have the choice between schemas and endless structured data.
It will be very useful and easy to use to tell Google what your content is about.
If it is a product, recipe, restaurant, article, course, book and many other options.
With this option, Rank Math takes flight 🚀
5. AI Content
This is a fairly new option in Rank Math, in fact it appears in the last quarter of 2021 and promises to be an incredible help for your content.
As you can see in the image, placing your main keyword will give you the estimated number of keywords they have for content that ranks on the first page.
It also shows the number of headers, links, images, and videos needed to outrank your competitors.
As if that weren't enough, it points out some keywords that you should place in your content.
It's a pass!
Very useful to further complete your keyword research process.
Even so, it only offers a few credits to use it, you will have to contract the paid version to get more.
Key Differences Between Yoast and Rank Math
Now that you are well acquainted with the main features of the two SEO plugins, it is time to show you in depth the main differences between Yoast SEO and Rank Math.
We continue with the epic battle between Rank Math SEO vs Yoast SEO.
1. Size and WPO
It's time to talk about the size of the two plugins, or rather their weight.
In SEO, WPO and plugin weight is something that drives a lot of people crazy, and they tend to turn out really well with the amount of plugins, with their weight, etc.
Personally, it's not something that keeps me up at night, however I recognize the importance of having the essential plugins, nothing more and as light as possible.
In this regard, Rank Math is much lighter than its counterpart Yoast.
It has a weight of 10.5 MB and instead Yoast SEO weighs 36 MB. The difference is brutal.
As for lines of code, the Yoast SEO plugin has 93,000 and Rank Math has 55.9,000 in total.
However, if you see all the functions of each, you will see that there is no correlation between more weight and more features.
Indeed, Rank Math, weighing 3 times less, has many more customization options and features.
2. Number of downloads and reviews
On the one hand, Yoast SEO has been active in the world of WordPress plugins for many years.
It has been available since 2010 and already has over 5 million downloads and active accounts.
Also, as can be seen in the image, it has excellent ratings (over 27,000, with an average of 5 stars).
This tells us that this is a very popular and used plugin in the SEO world.
Otherwise, the Rank Math plugin comes out in 2018, much newer, but its downloads and number of users and reviews keep growing day by day. And how !
It already has over 4000 ratings and over a million downloads and active users.
Sure, Yoast SEO wins here by a landslide but for how much longer?
3. User experience and interface
Although the free version of Yoast has a lot less to deal with than Rank Math, I still find the latter's user interface and ease of use to be infinitely superior to Yoast SEO.
Because?
Because aesthetically it is superior, its functionalities are arranged in modules that can be activated and deactivated at will, it is more intuitive and easy to use and much more.
Of course, learning how to use Yoast SEO is much faster and easier, it also has thousands of tutorials on the internet, mostly due to over a decade of existence.
4. Features
If you paid attention to the whole article, you will see that the amount of functions that both plugins have made a huge difference in favor of Rank Math.
I even dare to say that the free version of the plugin has more features than Yoast SEO Premium.
Some features that Rank Math SEO has in its free version that Yoast SEO does not have:
redirects
404 error monitor
AI content
Setup Wizard
Schema markup
Local SEO
SEO Images
Among others…
Nothing more to add in this section.
5. Performances
Both plugins work very well, it must be said.
Many have reported issues with Yoast SEO lately, however I haven't had any issues to point out.
Rank Math also delivers everything it sets out to do.
So I can conclude that both have excellent performance.
In this area, the Rank Math vs Yoast SEO rivalry has no clear winner.
6. Integrations
If we talk about the integrations offered by both Yoast SEO and Rank Math, both in their free version offer similar or similar integrations.
So there is no big winner in this case.
What's interesting for you is that Yoast SEO can be integrated with Semrush, and Rank Math with Divi and Elementor.
Yoast SEO Premium vs Rank Math SEO Pro
It's time to discuss the main features and differences between the paid versions of Rank Math vs Yoast SEO.
Yoast SEO  offers several paid versions of the plugin, in addition to the premium version of the free Yoast SEO Premium plugin, including:
SEO local
Yoast SEO News
Yoast Video SEO
Yoast WooCommerce SEO
And as for Rank Math, it offers 3 plans of its only paid plugin:
Rank Math Business
Ranking Mathematics Agency
As nesters, we are going to stop at the Yoast SEO Premium version and the Rank Math Pro version, which is more suitable for niche SEO profiles.
READ  How to index a site with Bing Webmaster Tools [guide 2022]
Features of Yoast SEO Premium
In the paid version of Yoast SEO, you will find some very interesting new things, including redirects, something that is found in Rank Math in its free form.
This redirection function is very useful if you don't want to touch .htaccess.
You can also integrate it with Zapier and share your posts across multiple platforms.
In the paid version of Yoast, you will have access to all the courses on its website and you can greatly improve all the content creation, with additional functions.
One of them is being able to place more than one related focus keyword in the content interface.
However, although it is a premium version, there is no doubt that Rank Math in its free version is capable of offering you much more than Yoast SEO.
Features of Rank Math Pro
In this image you can see all the SEO modules offered by Rank Math Pro.
Some that were not included are added and so many others are improved.
The most interesting of the paid version are the following functions:
Video sitemap
New schemes
Advanced GA integrations, Google Trends, and more.
Trackeo of 500 keywords
News sitemap
And many improvements to existing modules.
Without a doubt, Rank Math takes a leap in quality in its pro version, although honestly the free version is excellent on its own.
Rank Math and Yoast SEO Pricing
The free versions of Rank math and Yoast SEO don't cost a single penny. This is obvious.
However, its prices in paid versions are what we will look at next. advertisement. Instead, Yoast SEO has always flooded its interface with advertisements for its paid plugins.
Yoast Premium and Rank Math Pro Pricing
The Yoast SEO Premium plugin version is available at $99 per year per website.
If you subscribe to the Yoast paid plugin set every year, you have to pay $229 per year.
You can also pay for it monthly for the low price of $22.
Rank Math SEO, on the other hand, offers its Pro version at just $59 per year and unlimited personal sites are allowed.
Which makes it, without a doubt, an economical and extremely interesting version for niche SEOs like you or me.
In turn, it has round-the-clock support for any issues you encounter.
Otherwise, if you are an SEO consultant or work in an agency, you can consider the Business or Agency plan.
Which SEO plugin is the best?
Rank Math or Yoast, Yoast SEO or Rank Math, is the question that many ask and for which, despite the obvious differences, there is no correct answer.
Because?
Because both plugins have positives and negatives, and can be useful for one type of person or another.
I will recommend you, in my opinion, when it is good for you to choose Rank Math and when to choose Yoast SEO.
When to choose Rank Math?
Rank Math SEO is for me the most complete SEO plugin of all, however at Niche SEO I always use Yoast SEO.
And you will wonder why?
Simply because I started in the SEO world years ago and the only SEO plugin (or the most important by far) was Yoast SEO (called SEO by Yoast)
So I always use it.
Let it be clear that no SEO plugin will rank you by itself. This is one of the main SEO mistakes when we start.
We believe that by accomplishing everything Yoast or Rank Math says, we're going to be Google's Top 1 and it's not like that!
They are tools and can have a positive influence, but basically in this project I think I don't need Rank Math yet.
Old school might stick with Yoast SEO, for convenience.
However, if you've been in SEO for a while or started your first niches with Rank Math, it's best to keep using it or learn how.
It has more features, it is much more comprehensive, it will help you understand SEO and manage it from different points of view… and much more.
Of course, getting to know all of its features is harder, there are fewer tutorials, and there are a lot more things to worry about than when setting up Yoast SEO.
When to choose Yoast SEO?
If you're old guard, you've been nesting and positioning them with Yoast for a long time, so why change?
We know how easy it is to set up Yoast SEO, the features it has (enough for most projects) and that importing and exporting features (or starter websites) is set up in less time. 'a second.
If, some other way, you're starting to learn SEO and haven't got a clue about WordPress, or plugins, or themes, or whatever, you'll surely find more Yoast SEO tutorials than RankMath.
In fact, it will surely be much easier for you to learn Yoast SEO at first than its rival.
So the choice is yours.
My recommendation is that you learn to use both, as they will surely continue to be the SEO plugins that will dominate the market for many years to come.
Can you switch from Yoast SEO to Rank Math?
The good thing is that you can switch from Yoast SEO to Rank Math and from Rank Math to Yoast very easily.
Simply install the new plugin you want to start using and import data from the old one.
For example, if you have Yoast SEO but want to use Rank Math without touching anything, you install Yoast and import Yoast data.
And ready!
conclusion
In this article, I try to introduce you to the two SEO plugins in depth.
Try doing it from a more technical and descriptive point of view first.
So I showed you the main features of the interfaces of each of the plugins.
The configuration interface and that of the content part.
Both plugins have all the settings that will be essential for your business and search engine ranking.
Whether you are a niche, consultant, agency, or entrepreneur with a WordPress blog, you will need an SEO plugin or something.
In fact, after showing you all the features, I showed you the main differences between Yoast and Rank Math.
Later I gave you my honest opinion on the strengths of each plugin and that although Rank Math seems much more comprehensive to me, I still use Yoast SEO in many of my projects.
Choosing Rank Math or Yoast SEO will depend on many things, your level, how far you want to go, the type of business you have, and much more.
I hope you enjoyed the post as much as I did, and my final recommendation will always be that you try both and learn to use them both, it's possible that in the future you'll have to deal with projects with one or the other plugin.
And what do you think is better in the Rank Math vs Yoast SEO duel?