Businesses are racing to position themselves well due to the heavy competition they face today. For this, SEO strategies have quickly become the backbone of digital marketing. Among them, we cite netlinking, considered one of the most effective and beneficial referencing methods. However, its implementation requires some knowledge.
This Mini Guide will teach you the basics of netlinking, why it is important and what are the best techniques to adopt to strengthen your SEO.
What is netlinking?
Netlinking or "link building" is the strategic process of creating backlinks (inbound links from other sites) to a website. It is through these links that Internet users, and robots, understand the logical links between several contents and can navigate between different articles, pages and sites in complete autonomy.
The goal of netlinking is to have a positive impact on the optimization of your site in the evaluation process of a search engine. Simply put, it increases your chances of ranking well in search results (SERPs).
In other words, a good netlinking in SEO is a fundamental element, as for the content, because it is what feeds the visibility of your website, therefore its traffic, therefore its sales !
Considered en masse, all links to your site are called your 'link profile'. Having a varied and strong link profile will impress search engines like Google and help you rank well.
Keep in mind that the results of a netlinking campaign are a symbiotic relationship with your overall SEO. 
Think of link building as a critical step in a complex process. Without it, it is difficult to continue said process and see any form of results. In the long run, this can have a major impact, but only if you do it right. 
Don't worry, we'll show you how to do it!
But before talking about techniques, you need to better understand the benefits of link building.
What are the benefits of netlinking for your seo?
Netlinking is based on obtaining and/or creating links on other sites to reinforce the authority of a target site.
In order to better reference a site, netlinking must focus on a concept that presents no risk of penalization by Google. Nowadays, some SEOs opt for a quantitative strategy, including the insertion of several links in blog comments or in directories…
For its part, Google wants to offer quality content to its users. Thus, it focuses on the quality of the juice provided by the hypertext links of a website.
Google robots are responsible for analyzing the votes received by a site or page. In this specific case, it is the power of the link inserted by the netlinking which determines the importance or not of a site.
The majority of experts agree that both the quantity, quality and relevance of backlinks influence your SEO.
And developing a targeted linking strategy generates several benefits, which flow from each other:
• greater credibility in the eyes of Google;
• a better position for your site in the SERPs;
• more important and qualified organic traffic;
• gain in notoriety for your brand;
• a better conversion rate;
• growth in your turnover!
In this sense, a good netlinking campaign for your SEO offers the opportunity to capture your target visitors, your customers, directly on their favorite digital platform .
Before discussing link building techniques, there is, among other things, one thing to know: not all backlinks are the same.
What are the main types of links?
There are some links that point to other sites from yours, and others that point to your site from various other pages. Their values ​​determine how Google will view them.
rel="dofollow"
The Dofollow link tells search engine robots that it is to be followed. It transmits notoriety to the page to which it directs and is used to gain positioning with search engines.
When Google detects a Dofollow link on your site, it takes it into account in its algorithm and, based on your authority, assigns a certain value to the site it points to. In the same way, when an external Dofollow link points to your site, Google will consider it and also assign a certain level of authority to your site according to the notoriety of this external site.
rel="nofollow"
When the Google robot passes on a Nofollow link on your site, it simply does not follow it and continues to crawl your content. 
In this case, unlike the Dofollow link which can raise your site in the search results, a Nofollow link will have no impact on your natural referencing. NoFollow links are not negative, and it is even important that you have both types of links for Google to consider your netlinking as natural. 
It is important to keep in mind that your SEO / netlinking strategy must be intelligent and that the choice of your backlinks must be logical and thoughtful.
rel="sponsored"
The rel=sponsored attribute characterizes a sponsored link, or paid link, whose presence is only due to a deal or remuneration. Theoretically, this type of link is not taken into account by the Google algorithm to establish or transmit notoriety.
rel="ugc"
The presence of the rel=ugc attribute characterizes a link issued by visitors to the site and not its publisher, as in opinions, discussions or comments. Some exceptions exist on Wikipedia which are still taken into account by Google.
The anchor of the link
The anchor of a link, it is concretely the part of text, the word or the group of words, presenting a hypertext link on which the Net surfer can click to reach a content. This clickable text leads either to other elements on the same page, to other pages on the same site or to external sites.
The anchors must not just be optimized on the strategic keyword(s) of your activity (not to fall into over-optimization) but must be reinforced by other varied keywords (long tail, raw URLs and URL variants, brand name and various poorly optimized anchors such as "Visit our site", "Learn more", "Click here"…) that bring them value in order to form a panel of effectively contextualized anchors.
The right anchor text ratio for you requires some experimentation and analysis of your competitors as you develop a more complex SEO-netlinking strategy.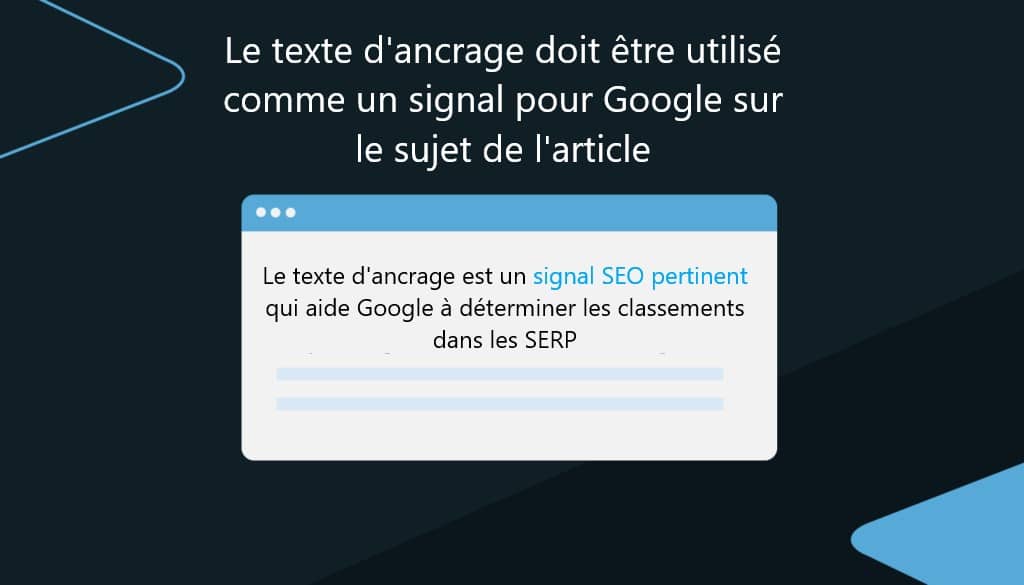 What are the best Netlinking techniques?
A quality link building strategy is critical when you want to increase a site's reputation and ranking in search engine results.
Directories
Searching for generalist and thematic directories, in order to register there, is a so-called "old" method of acquiring links. For more efficiency, favor specialized directories that relate to your sector of activity and submit a brief but different description for each directory.
guest blogging
This technique consists of having bloggers write articles about you. These articles only have weight in Google searches if their theme overlaps with that of your site and if the writing is of good quality. A link to your site must appear in these articles for the result to be achieved.
Press releases
In SEO, press releases are a good way to gain fundamental backlinks. You have the freedom to choose the link and anchor that suits you and these releases enhance your image and drive traffic to your site.
The broken links
Broken links are old links that point to pages that are no longer active and are great link opportunities. 
Although this is a more advanced strategy that will require the use of backlink tools, it can help you find link opportunities to raise your DA scores. The process is as follows:
1. Use a proper backlink analyzer tool to track down and recover broken links from other websites
2. Once the broken links are identified, it is necessary to filter those which correspond to the contents of your pages
3. Create content that can replace the missing resource (or identify this existing content on your website)
4. Reach out to webmasters to fix links with high-quality content as replacement resources
Brand/company mentions without links
Mentions of your brand or company on web pages that do not contain a link to your site are referred to as unlinked mentions. Google still takes them into account in your SEO, but a link has more SEO added value.
HARO
HARO, or Help a Reporter Out, is a very popular method of acquiring backlinks these days.
The principle is simple: find a niche topic that doesn't have a lot of coverage and reach out to experts in that industry to get quotes relevant to your topic.
Linkbait content (content that attracts links)
Writing and sharing content on a blog or on your social networks does not automatically generate backlinks. You need attractive content (very good articles, impressive visuals and others) that naturally invite you to send links.
Infographics
They have the advantage of synthesizing and facilitating the popularization of complex and dense information. They enrich your content and highlight your message.
Infographics are a great way to increase your brand visibility and earn backlinks organically.
Market research, data and case studies
Market research analyzes the market, supply, demand and the environment. In the eyes of the public, it establishes the credibility of those who make it happen. The case study collects information on a specific case to identify operating principles. It serves as an argument or confirmation for a hypothesis. 
The presence of such elements on a site represents proof of seriousness and reliability of the latter and, therefore, invites links.
Create a tool, calculator, etc.
Another increasingly common way to earn backlinks is to provide helpful tools to anyone who needs them.
The development of calculators, simulators or generators must be an integral part of your engagement strategy. It's hard to talk about SEO, SEO and optimized text, not to mention UberSuggest type keyword generators. 
The presence of these tools on your site specifically appeals to the Internet users concerned by your theme and this reinforces your authority and your notoriety.
The main tools for netlinking/SEO
Different tools are available online to help you with netlinking. Among them : 
Ahrefs, a varied set of SEO tools with website optimizer, competition analysis, study of customer research, content explorer and monitoring of your ranking;
Semrush, which develops your web visibility through SEO tools, content marketing, competitor research and social media marketing;
Moz, which offers SEO solutions through site auditing, performance ranking tracking for thousands of your keywords, backlink analysis, and target keyword research;
Majestic which scans the internet to provide you with link monitoring data and allow you to boost your SEO.
Paid Links: What Does Google Think?
At first glance, Google's position is clear and firm regarding the purchase of links on the Internet. In his guidelines on linking systems, he states:
"Any link intended to manipulate a site's PageRank or ranking in Google search results may be considered part of a linking scheme and a violation of Google's Webmaster Guidelines."
These guidelines imply that Google officially prohibits the sale of links that can "manipulate" its algorithm.
However, the use of "may be considered" leaves some ambiguity. 
Additionally, Google makes money from link sellers. Moreover, the search "purchase backlinks" or "netlinking price" brings out several Google Ads ads for the purchase and sale of links …
Ultimately, there are a few paid linking methods that can help increase traffic and build your brand when done correctly and used with care.
What is the best netlinking strategy?
You know why you need backlinks. 
You know how to get them. 
However, what is the best link building strategy?
The answer is quite simple.
The best netlinking strategy has two elements:
1. Build links at a reasonable and steady pace: Quick acquisition can trigger red flags for Google that you're trying to manipulate your site's rankings without focusing on improving your content.
2. Build quality links: High domain authority and dofollow links from reputable sites will always be more beneficial.
Conclusion
Backlinks are vital. They drive SEO, traffic, leads, and customers.
Generally, favoring quality over quantity remains the ADVICE to adopt! A bad backlink can be more disadvantageous than useful for your SEO and dissipate all your SEO/netlinking optimization efforts!