We have chosen today to take stock of all these acronyms. Well known to anyone with a bit of a nose in SEO, as a newcomer to digital marketing you may find it difficult to understand what they really mean. Many of us, despite our good knowledge of the Web, still reverse words, use one term instead of another, etc. Let's clear things up together!
What is SEO – natural referencing?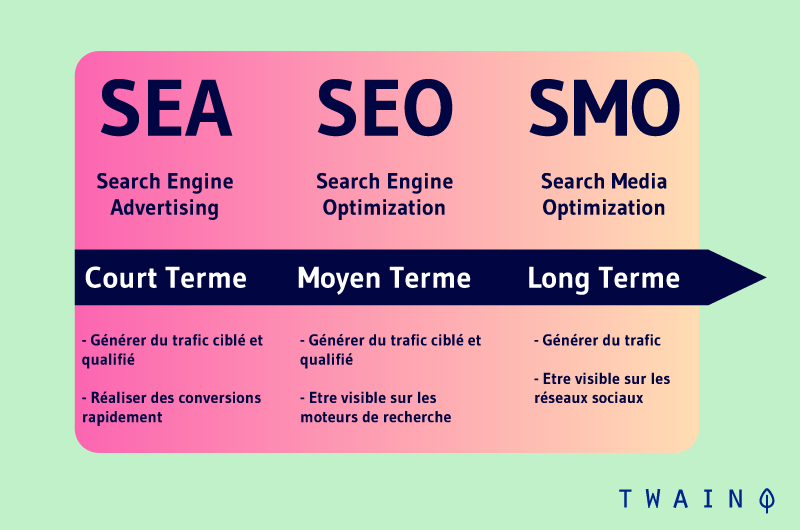 SEO stands for Search Engine Optimization and corresponds to the optimization of web content on search engines without having to pay. We also talk about natural or organic referencing. SEO allows a brand or a company to optimize its visibility on a keyword or on a key expression.
If you want to optimize your natural referencing , you will have to work on 3 essential elements: technique, content and popularity. This is how you will manage to position your content in the best results of Google.
In other words, you will have to optimize the technique by being very careful about the development aspect of your site, the servers and other elements used. Regarding the content, your texts, images, videos, etc. must be worked according to the good practices imposed by Google. Finally, for popularity, you will have to work on the visibility of your content, highlight it, and make sure that people talk about this content. Google takes into consideration the number and quality of links / sites that refer to yours, that talk about you.
Note that SEO is very dependent on updates to Google's algorithm. It uses hundreds of parameters to rank search results. The combination of these parameters is secret, but we know, however, that the quality of your hosting (site loading), the content (relevance, quality, recency), the notoriety (link creation or netlinking) and the behavioral data related to the navigation of Internet users (time spent on the site, number of page views, bounce rate, etc.) are essential for good referencing.
Because of this, in the organic results, there are no advertisements, no sponsored links, etc.
What are the benefits of SEO?
Natural referencing is an essential long-term source of traffic.
The results of a natural referencing strategy are sustainable over time.
SEO optimization is particularly linked to the optimization of ergonomics, navigation on the site. This also reinforces the customer experience.
What are the disadvantages of SEO?
Achieving a good position in search engines in SEO takes time and is really long term.
SEO is a constant job. It's about writing content regularly.
With SEO there is no guarantee of performance. You have no control over the positions that your website will reach and the different pages of your site. You are never going to stay in the same position of the SERPs for long.
What is SEA – paid referencing?
SEA stands for Search Engine Advertising. It corresponds to advertisements on search engines. Doing SEA or paid referencing consists of going for example through Google Ads in order to buy keywords and key expressions on which you want to appear when a user makes a request. The purchase of these keywords is carried out at auction (or Cost Per Click). The brand or company that pays the most for the keyword will get the highest ranking in the search results.
If you want to appear quickly in the best results of Google, choose the keywords that interest you, define your budget to spend per day, the amount you are willing to put for each click on your ad in Google (an ad that will return to your website) and write the ad that will appear and bring people to your site.
Note that there are different paid advertising formats : search (purchase of keywords) and display (advertising banners).
What are the benefits of SEA?
Thanks to SEA you have the possibility of appearing first in the search results very quickly. You just need to have the budget.
If you optimize your ads well, you can boost your conversion rate easily.
You can adjust your ads and bids in real time.
Your performance is easily controllable and above all you have perfect visibility on your investments and your key indicators of success.
What are the disadvantages of SEA?
Since the SEA ads system works by auction, it is possible that they will fly away if there is strong competition.
The results are not long lasting. You will stay at the top positions in Google only if your budget is not exhausted.
This does not correspond to a lasting investment but rather to an expense in an instant T.
There is strong competition in Google Ads.
What are the differences between SEO and SEA?
In order to distinguish between SEO and SEA, it is first a matter of looking at the search results in Google (it is called Search Engine Results Pages in the jargon). When we make a request in the search engines, results are displayed in order to propose solutions. These results can be categorized into two groups. First of all at the top of the page the paid advertisements, or paid referencing. Then, the organic or natural results are displayed (free referencing).
How to distinguish SEO and SEA on Google?
In order to distinguish between the two types of results in Google (SEO vs SEA), some indications can help you. Take a look at the screenshot of a SERP below. The results framed in orange are sponsored links. There is indeed "announcement" indicated just before the title. The results in green are organic results (natural referencing).
Should we oppose SEO vs SEA?
These two SEO methods should not be opposed in our opinion. When developing your digital strategy, you must use these two marketing levers in order to be as effective as possible in developing your visibility.
In order to choose between SEA and SEO, it is simply a matter of seeing what your priorities are. Are you more on a long-term or short-term visibility strategy? What is your budget ? What kind of resources do you have internally?
How to combine SEO and SEA?
What is SEM?
We have just seen two types of methods to optimize its visibility in search engines. Well these two levers constitute the SEM (Search Engine Marketing). This term encompasses SEO and SEA. It takes into account all the techniques to improve the positioning of a website in the SERPs.
Be careful because sometimes it happens that we confuse SEA and SEM. But the two do not mean the same thing. The SEA corresponds to the paid referencing while the SEM is a grouping of marketing techniques (SEO, SEA, SMO) allowing to improve the visibility of a site.
☆ FAQ SEO
How much does SEO cost?
SEO is a free marketing lever. That is, you don't have to pay to appear first in Google. However, it will be necessary to devote time to this type of optimization to have convincing results. For example by writing quality articles. It will also be necessary to devote time and find the skills to ensure that you deploy a relevant SEO strategy by choosing, for example, the right keywords for your activity. Efforts will then be necessary to optimize the whole.
How long to see SEO results?
Here the rule does not exist. It all depends on the keywords or key phrases on which you want to appear. The more competitive they are, the longer and more difficult it will be. In order to see the first results of your SEO strategy appear, count on a few weeks or months!
What are the essential principles for success in SEO?
In order to succeed in your SEO strategy, it is a question of starting with an SEO audit which will make it possible to identify the competitors on the key expressions you are targeting. This audit will also take stock of the strengths and weaknesses of your website. Then, the essential principles of SEO concern: the choice of keywords to use in the content, the optimization of tags and titles but also of the photos included in your content.
How to choose your SEO keywords?
In order to choose the keywords on which to position yourself in SEO, you must first identify the relevant keywords for your theme, those used by Internet users to search for you (google analytics will help you here) but also the interest that these keywords represent in terms of the number of searches performed. It will then be necessary to study the feasibility of these keywords by studying the competition.
How to name your tags for SEO?
The different tags are important for SEO (image tags, title tags, etc.). In order to optimize them as well as possible, you will also have to study here which keywords to place in these tags. It will be a question of using the keywords identified as interesting (quite sought after by Internet users), relevant (for your activity) and which are not too competitive.
How to write titles for SEO?
Similar to SEO tags, titles should include keywords that are relevant to you, that aren't too competitive, but are still fairly widely searched by people.
How to rename your photos to optimize your SEO?
Renaming your photos to optimize your SEO is essential. Your images must contain keywords (be careful not to put too many either). These same keywords identified before when you started creating your text content.
How to train in SEO?
SEO is a somewhat technical aspect of the web. Optimizing your natural referencing can be complex when you are a neophyte in the field. Before you start to embark on various optimizations, consider training in SEO . You will learn what are the essential technical factors, how to write quality content, effective internal networking, quality backlinks, etc. You will also learn how to track your SEO performance like a boss!
☆ FAQ SEA
How much does SEA cost?
An SEA campaign is necessarily paying off. Here, it is mandatory to commit a budget. The price can vary widely due to the keywords chosen. Indeed, for each keyword the competition is different. This determines (among other things) the price of the bid on the keyword (CPC).
How long to see the results of the SEA?
The results of an SEA strategy are very quick to observe. Once your campaign has been validated by Google Ads, your ads will already be able to appear in search results. In a few hours, you will be able to observe the first results of your sponsored links.
What are the essential principles for success in SEA?
If you want to develop an SEA campaign, you will have to use Google Ads. First, you will have to determine which products / services you want to highlight, what message you want to convey, which language page you want to use and what budget you have.
How to train in SEA?
Although paid search tools like Google Ads are easy to learn and very intuitive, it is quite difficult to optimize SEA campaigns. Training in SEA will allow you to learn how to set up your budget, write your ads, master the auction system and know how to monitor your performance (and the KPIs that go with it).