Large file sharing services are plentiful. However, few of them can claim to offer file sharing up to 100 GB and in a decentralized way! Well, that's what fastvaulta new completely free decentralized file sharing service. To learn more about this service and how it works, I invite you to continue reading this article.
Fastvault, a decentralized file sharing service
As you probably know, some large files cannot be shared by email or via traditional file hosting services such as WeTransfer whose limit is set at 2 GB maximum (in its free version). Therefore, you must necessarily turn to faster solutions like Fastvault.
Fastvault is a file sharing service that allowssend large files up to 100 GB. The service is reliable and does not require any registration. Moreover, it has a friendly user interface very easy to use. So you won't have any trouble using it.
With Fastvault, you can send up to 20 files at the same time within the limit of 100 GB maximum. Also, you have the option to share files in two different ways. You can either email the files download link or copy the URL and share it with whoever you want. Note that you also have the option of protecting your files with a password to be sure that only the recipient is able to download the files.
As you will have understood, Fastvault is a simple file sharing service, but equipped with essential features.
Blockchain technology at the heart of the service
Unlike traditional file sharing services, Fastvault is based on blockchain technology to store, encrypt and distribute your files. This is called a decentralized file sharing service. This means that your files are spread over different servers. This approach has several advantages over centralized file sharing services.
First of all, decentralized file sharing is much more secure than centralized systems. Since there is no single point of failure, it is much harder for hackers to access files or disrupt service. So you can be sure that your files are stored safely and cannot be accessed by third parties.
Finally, decentralized systems are more efficient than centralized systems. Files can be distributed more evenly across servers, which means faster download speeds and lower bandwidth usage.
That being said, let's now see how to use Fastvault. Follow the leader !
1. start with go to the website of fastvault.
2. In the box on the left of the screen, drag and drop the files you want to share. Note that you can share up to 20 files within the limit of 100 GB maximum.
3. Then you can access optional options by clicking on the broken square icon (next to the "Send Now" button). From there you have the option of password protect your files, choose the shipping method (by email or via a link) orself-destruct your files after 24 hours or once downloaded by the recipient.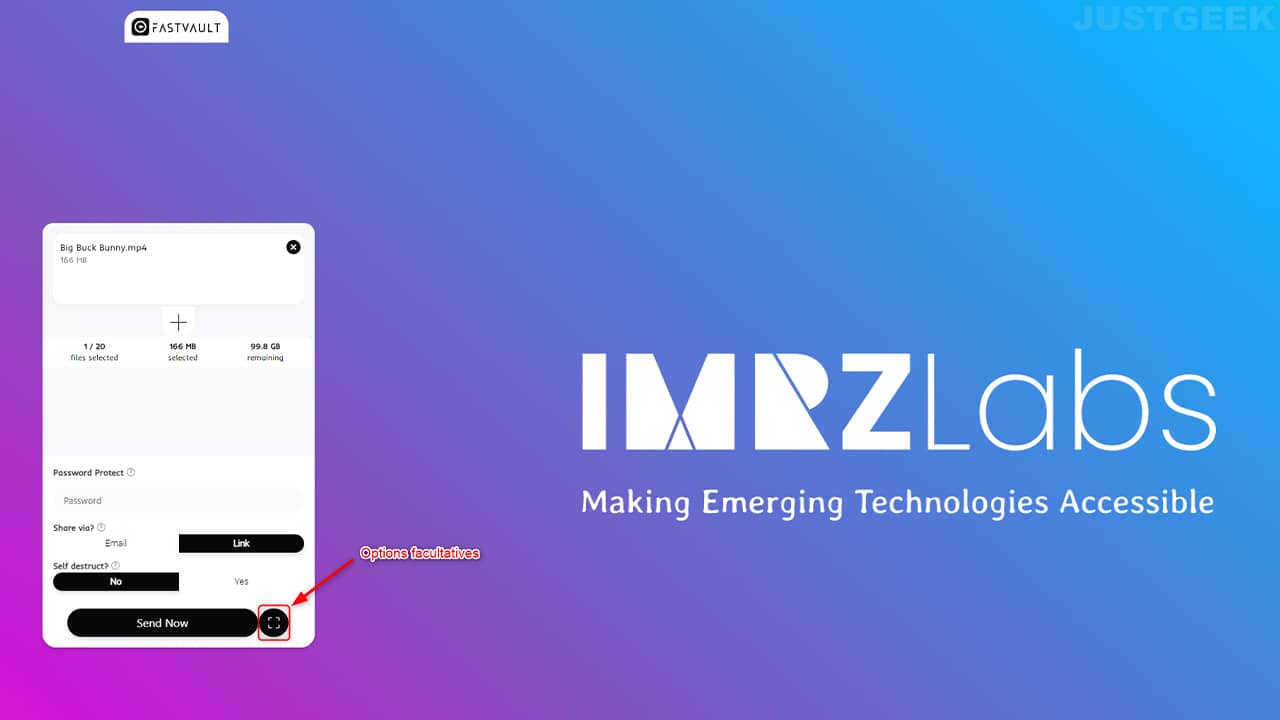 4. Finally, all you have to do is click on the " Send Now and share your files.
What you must remember
Overall, Fastvault is a great way to send large files quickly and easily to family, friends, or co-workers. It's easy to use, completely anonymous, and offers a more than comfortable file size limit! What more ?! 😎