Remote shutdown of computers is not very useful for individuals, but some can not do without. Whether for a video surveillance system, to let processes run (video export, backups, etc.) or to use a machine as a server, being able to shut down a pc remotely sometimes turns out to be very useful. However, existing techniques (such as the command prompt) or the use of third-party tools are rarely easy to implement. Therefore, we recommend using Remote Shutdown Manager to control a computer remotely!
Shut down your computer from anywhere with Remote Shutdown Manager
Remote Shutdown Manager is a Windows software that simplifies remote control actions such as shutting down, putting a machine on standby or suspending activity. The tool also allows turning off the screen only.
To use it, you need download .zip file, unzip it and run the program by clicking on Karpach.RemoteShutdown.Controller.exe. Windows Firewall may ask for permission; accept it. The program will display in the notification area.
Then, to make the computer always accessible remotely, you must click on the "Auto load at Windows startup" box which will launch the application as soon as Windows starts, which will save you many oversights. You can also set a default action from the notification area: hibernate, shutdown, etc. Finally, it is possible to set up a secret code in order to be the only one who can perform one of these operations remotely.
Once configured, all you have to do is go to the following addresses from another computer or mobile to perform one of the control actions, while taking care to note the exact name of your machine.
>> Replace the "name-of-my-pc" and "SECRET" commands with the name of your computer and your secret code.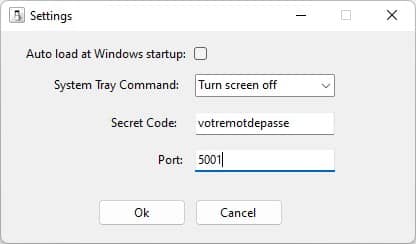 Here are also some useful links for remote control of your PC:
Turn off the pc if there is no code: http://name-of-my-pc:5001/
Shut down the pc with a code: http://name-of-my-pc:5001/SECRET/shutdown
Suspend computer activity without code: http://name-of-my-pc:5001/suspend
Turn off computer screen without code: http://name-of-my-pc:5001/turnscreenoff/
Lock the computer without code: http://name-of-my-pc:5001/lock/
Force shutdown without code: http://name-of-my-pc:5001/ForceShutdown
You may have guessed it, you can perform all these actions by having a secret code that you will include between ":5001/" and the action of your choice (take the example of the second command above).
And you, what program do you use to intervene on your computers remotely? Let us know your solutions in the comments to this article.