If you use the Internet a lot, whether for your personal or professional use, you must surely be required, like me, to transfer more or less voluminous files . For this, emails quickly show their limits: the volumes they allow to exchange are rather low, and you must, by definition, have an address to send them to. Not always easy if you want to talk to people you are not close to. This is where file hosting services come in .
Send a large file very easily with online hosts
Thanks to online hosting tools, sharing a file , even relatively large, and without having the recipient's email, becomes possible in a few clicks. One of the most reputable sites in the industry is called WeTransfer . It allows to exchange files up to 2 GB without any registration, by a simple drag and drop, file which can then be shared via a simple link.
A major advantage of WeTransfer is that it can be used without any prior registration. No need to fill in an email, to validate a registration: a simple selection of the file to share, and voila!
Swiss Transfer: an ambitious newcomer in the field of file hosting
A little new never hurts. This is how I was pleasantly surprised by SwissTransfer.com , a more than serious alternative to We Transfer. The operation is just as simple, and accessible without any registration . On the other hand, Swiss Transfer is distinguished by the possibility of hosting files up to 50 GB for free ! For comparison, if you want to send a 50 GB file on We Transfer, you must subscribe to a paid subscription of 12€/month.
Your files are end-to-end encrypted and are stored for a maximum of 30 days on secure servers based in Switzerland. In addition, you have the option of protecting your files for free with a password, and sharing can be done by email, link or Slack. Here again, Swiss Transfer takes the advantage over We Transfer.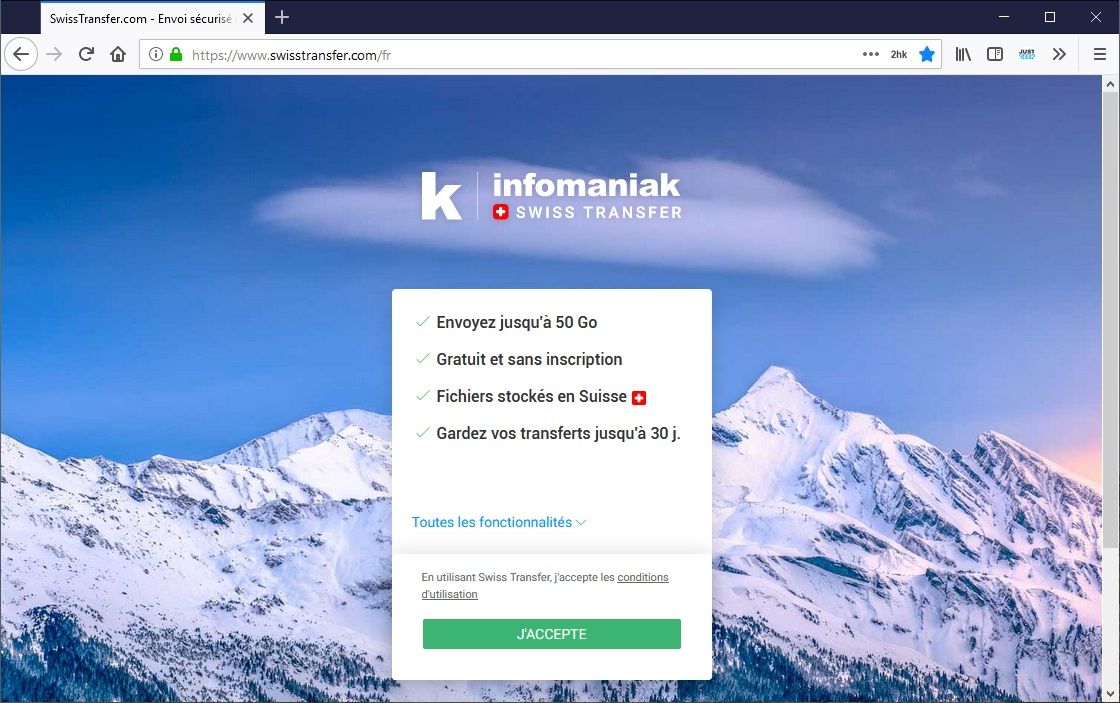 Comparatif Swiss Transfer vs We Transfer
Round 1, fight! As you can see in the comparison table below, Swiss Transfer offers a larger volume of data per transfer than its competitor in its free version with respectively 50 GB against 2 GB for We Transfer. So it's 1 – 0 for Swiss Transfer!
Round 2, fight! If you transfer a file to Swiss Transfer, you have the option of keeping it for a maximum of 30 days compared to 7 days at We Transfer. And 2-0!
Round 3, fight! Swiss Transfer allows free password protection of the files you transfer to its servers. We Transfer does not offer this service in its free version. We are therefore at 3 – 0 for Swiss Transfer.
Round 4, fight! Both services allow you to transfer files without having to register on their site. Result: 4 – 1, still in favor of the Swiss host.
Round 5, fight! Finally, Swiss Transfer allows you to limit the number of downloads to 200, while its competitor only offers 3 downloads. Final score: 5 – 1 for Swiss Transfer.
And the winner is… SWISS TRANSFER !
| | | | |
| --- | --- | --- | --- |
| | Swiss Transfer (free) | We Transfer (free) | We Transfer (paid) |
| Data volume per transfer | 50 Go | 2 Go | 20 Go |
| Data availability | 1, 7, 15 or 30 days | 7 days | 1, 2, 4 weeks or indefinitely |
| Password protection | YES | NO | YES |
| Registration | NO | NO | YES |
| Number of downloads | 200 | 3 | 50 |
| Send via | email, Slack, link | email, link | email, link |
| Location of servers | Swiss | USA & EU | USA & EU |
Conclusion
In summary, SwissTransfer is arguably the best WeTransfer alternative you can find. The Swiss host is as rich, if not more, than the paid version of We Transfer, and this from its basic version. Moreover, SwissTransfer is free and ad-free and will remain so forever. Transferring files to share them with whoever you want has never seemed so easy! Note that if you have any suggestions regarding the service, you can do so at this address .
If you liked this article, please subscribe to our reddit community to discuss it. You can also find us on Twitter and Facebook.