What is an NFT
marketplace
?
An NFT platform is an online space where NFTs can be bought, sold or minted (English term widely used in the world of NFTs and meaning "create an NFT"). Concretely, this is the space you should turn to if you want to get started with NFTs.
In reality, NFT platforms can easily be compared to "classic" marketplaces, such as eBay for example. The concept is quite similar in form : users can view, sell, or buy items (or NFTs, for that matter).
However, a major difference exists: NFTs are stored on the blockchain , and therefore decentralized. This involves, most of the time, having to log in to the platforms using a crypto wallet such as MetaMask.
Moreover, in the majority of cases, NFT purchases are made in cryptocurrencies , Ethereum being the most popular of them but far from being the only one. Some marketplaces also allow NFTs to be purchased via credit or debit cards, which is a good alternative for people just starting out.
NFTs are now an undeniable trend . If you have any interest in cryptocurrencies and decentralized finance, you must have heard about them in the past few months. And it's a safe bet that you are looking to go further, to take the plunge and buy your first NFT.
But then, which platform to turn to ? How to buy NFTs? This guide aims to help you see more clearly at all levels, and to share with you the platforms best suited to your needs.
How does an NFT marketplace work?
Since NFTs are digital assets, the operation of NFT marketplaces is somewhat different from other assets. As we mentioned in the previous section, it is necessary to create a cryptocurrency wallet before anything else. This will allow you to store and collect the NFTs you buy.
In addition to this wallet, you will also be required to obtain the cryptocurrencies relating to the NFTs that you wish to obtain. For example, if you want to buy NFTs on the Ethereum Blockchain, you will necessarily need ETH.
There are other cryptocurrencies popular in the NFT community that you may need, such as Solana (SOL) or Tezos (XTZ), among others.
Anyway, NFT platforms allow you three major things, namely:
Buy NFTs: Users can buy NFTs in two ways. Either via a fixed price, established by the seller, or via an auction. The NFT will be automatically transferred to the user's wallet once the purchase is made.
Minter of NFTs: There are many interfaces allowing users to create their own NFTs. This is called a mint . This corresponds to the fact of converting a creation, whatever it is, into a digital asset on the blockchain.
Selling NFTs: Finally, it is possible to sell your NFTs on a specialized platform. When this is done, it is asked, most of the time, to pay a fee to the platform. The creators of the Non Fungible Token in question will also receive royalties from secondary market sales.
The different types of NFT
marketplaces
Before even buying NFTs, it is important to know which NFT marketplace to turn to. And this can of course change from one user to another, depending on the expectations of each.
This is why it is crucial to know the different types of interfaces available to you, especially when you know how much they multiply over time.
Art
These interfaces are exclusively dedicated to NFTs related to art . You can also find collections (such as Bored Ape Yacht Club or Doodles) or unique pieces, called 1/1 (like Beeple's famous NFT sold for $69 million last year).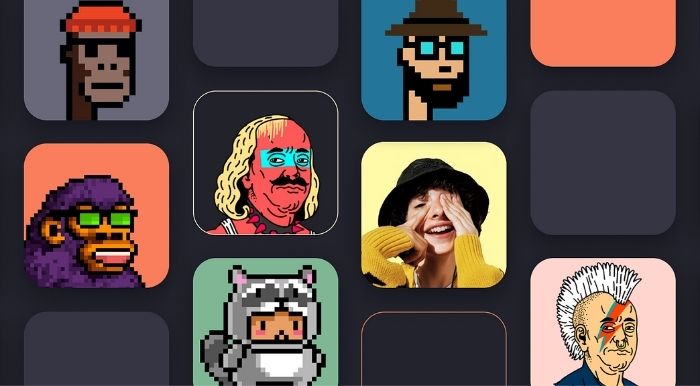 The music
Although quite underrated and "under the radar" by now, music NFTs have huge potential. Indeed, music NFTs could have an immense impact and revolutionize the way we consume music, while being much more advantageous for artists (and especially independent artists) than current mainstream platforms.
Ethereum
As their name suggests, these interfaces are based on the Ethereum blockchain and therefore offer to buy and sell NFTs in ETH. To date, the largest existing Ethereum NFT platform is OpenSea, but there are many others. We can notably cite Superrare .
Recall that ETH is the most used cryptocurrency for NFTs, generating several billions in sales each month.
Solana
Solana is also a widely used cryptocurrency for NFTs, second only to Ethereum. It must be said that Solana is an excellent alternative to ETH and is even a more interesting choice when taking into account certain points such as network costs, which are much lower on the SOL side.
As a result, there are interfaces on which to buy art NFTs in Solana. We can notably mention MagicEden, SolSea or Solanart. OpenSea also recently integrated Solana into its platform.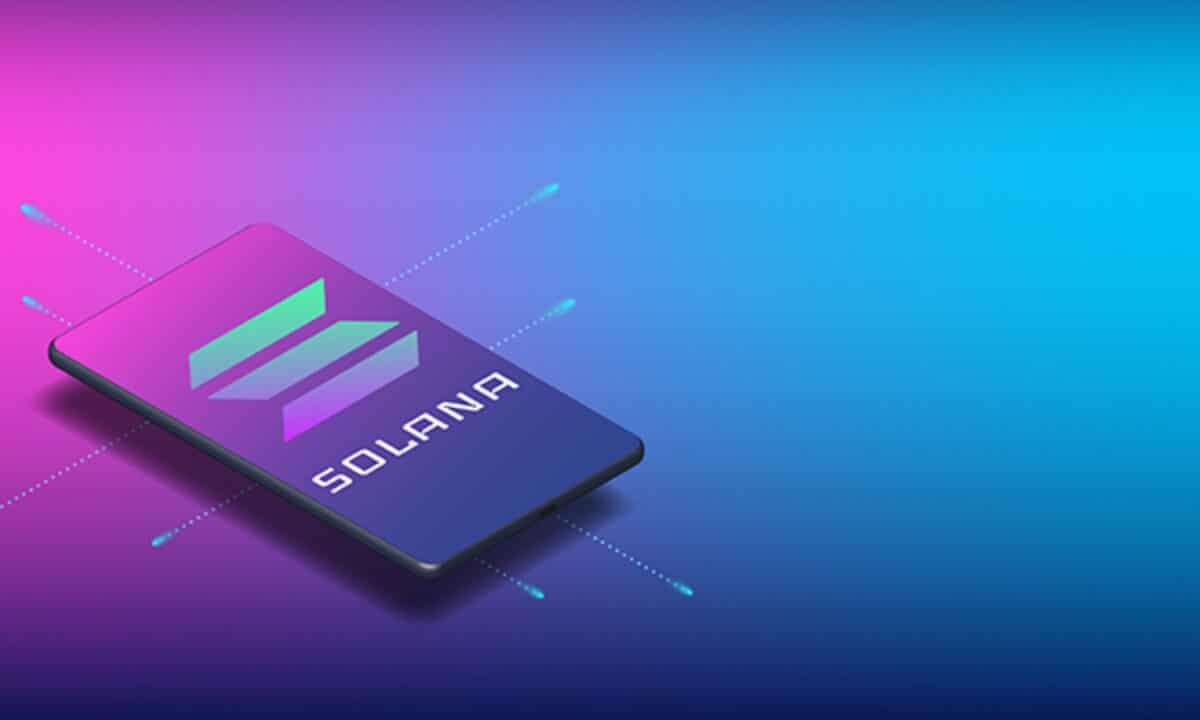 Algorand
Algorand is another blockchain that has recently jumped on the NFT bandwagon. As a result, several NFT Algorand marketplaces have emerged in recent months.
With a very low carbon footprint and a much greener transaction system than the Ethereum blockchain, Algorand is considered a more responsible and environmentally conscious choice. However, it must be admitted that the choice in terms of NFT is much less compared to Ethereum to date.
Tezos
Tezos is an open-source blockchain that is constantly growing when it comes to NFTs. Multiple Tezos NFT platforms exist, and these have greatly increased in popularity over the past year. In addition, some major interfaces like Rarible have recently accepted Tezos-based NFTs.
BNB
Finally, NFT BNB platforms benefit from the immense popularity of Binance, one of the largest cryptocurrency platforms, and the one behind BNB (Binance Coin). The most prominent NFT BNB platform is none other than Binance, which has decided to integrate NFTs into its already well-developed cryptocurrency platform. A boon for BNB holders.
What are gas fees?
One of the points that is largely unknown to new users and which can be quite confusing when buying your first Non Fungible Token concerns " gas fees ". Concretely, when you buy NFT on a blockchain, most of the time, you will have to pay fees. To put it simply, these fees are related to the computing power needed to carry out your transactions.
In particular, you will encounter these fees when you buy NFTs on OpenSea or on a platform based on the ETH blockchain. NFT platforms based on other blockchains such as Solana also charge fees, but these are considerably lower than for Ethereum.
Note that these fees may vary depending on the time of day or activity. To know their current state, you can use a " gas tracker ", a service offered by many sites such as Etherscan. Most of the time, fees are measured in Gwei. The lower this unit, the lower the fees.
Finally, be aware that there are different types of Gas Fees: one-time fees and recurring fees . These come in at different times, and we'll walk you through how to tell them apart.
One-off fees – One-Off Gas Fees
One-time fees, or "One-Off Gas Fees", are fees applied by certain marketplaces such as OpenSea and which will only be requested from time to time. For example, you will have to pay to put an NFT on sale for the first time. These are variable but generally quite high . Count several tens of dollars at a minimum.
Recurring Fees – Recurring Gas Fees
In some cases, you will have to pay a recurring fee when you perform certain actions . These take place in particular when you buy an NFT, but also when you accept an offer to buy made by others, or in the event of cancellation of the sale of an NFT or an offer that you have made, among others.
How to buy an NFT on a marketplace?
Now that you understand how these marketplaces work, you want to buy your first item but you would like to be guided for it? That's good, this section is made for that!
We chose to make this tutorial on Crypto.com because it is, for us, one of the best Ethereum NFT platforms (if not the best), especially for beginners, and that we strongly advise you to turn to this one first. Without further ado, let's go!
Opening an account
Opening an account at Crypto.com is an extremely simple process. To do this, simply go to www.crypto.com/nft and then click on "Sign Up", at the top right.
Once done, you will need to enter some basic personal information (Last Name, First Name, email address) and choose a nickname and password.
Verify your account
Once you sign up, Crypto.com will suggest you verify your Crypto.com account by linking it to their mobile app. Thus, you will be able to take advantage of all the features : purchases, sales, withdrawals of funds.
Concretely, you will have to download the Crypto.com application on iOS or Android depending on your device, then connect from it. You will then receive an email through which you can verify your account.
Note that you will also be asked to provide additional information: your phone number, a photo of an ID and a selfie, so that the platform can ensure that it is indeed you. Verification may take up to 24 hours .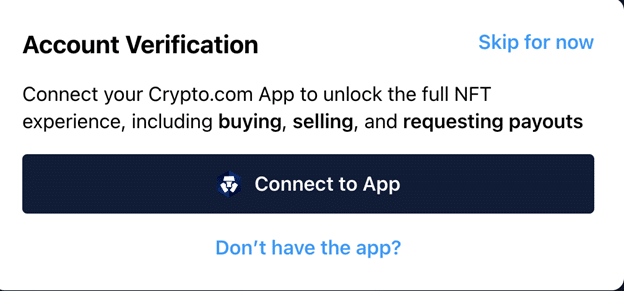 Browse NFTs
While waiting for your account to be validated, you can browse Non Fungible Tokens on Crypto.com via this link: www.crypto.com/nft .
Here are listed the top collections of the moment as well as the top designers. You can also search for specific collections via the bar provided for this purpose, at the top of the page.
Buy an NFT
Finally, to make the purchase, simply click on the item that interests you. At the bottom of the page, you will have 2 options: buy it directly, at a fixed price (if this item is currently on sale) or make an offer.
Making an offer can sometimes be very interesting because, in addition to getting your Non Fungible Token at a discounted price, it is up to the person who accepts the offer to pay the fee, not you.
List of Best NFT Platforms
In recent months, and following the growing euphoria around NFTs , many platforms have emerged, some more niche than others. Here are the marketplaces that are both reliable and among the best to date:
Crypto.com
NFT Launchpad
Binance
OpenSea
Nifty Gateway
GameStop
DraftKings
Rarible
SimpleMarket
Foundation
Reviews of the Best NFT
marketplaces
In order to see a little more clearly among all these interfaces, we are going to explain the specificities of each of them.
Crypto.com, the best marketplace in 2022
Initially reserved for cryptocurrencies, it was only recently, at the end of 2021, that Crypto.com extended to NFTs . Crypto.com's NFT marketplace is one of the largest around . You can get NFTs of all kinds, in various categories such as art, gaming or music.
As far as the shopping experience on Crypto.com goes, it's really nice and simple. Signing up won't take you more than a few minutes. The interface is ergonomic and ideal for beginners. The mobile application is also very well made, so you can enjoy an equally qualitative experience from your smartphone.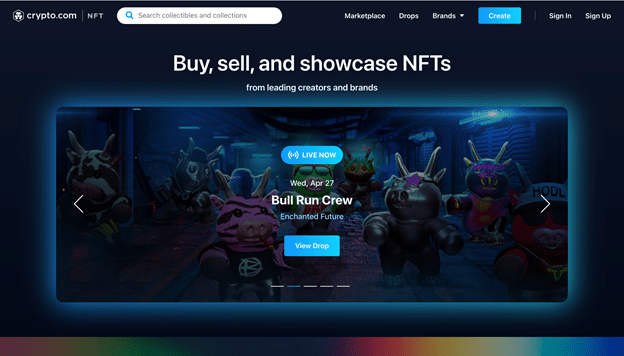 On Crypto.com, you can buy Non Fungible Token either using cryptocurrencies such as Ethereum, through their gateway, called " Crypto.com Pay ", or by using a credit card (or debit).
Finally, one of the great strengths of the Crypto.com platform, and one of the points where it really stands out from the rest, is that there are no transaction fees . Ultimately, this can create a real difference with other interfaces and save you a lot of money.
What we appreciate:
Relatively low selling fees (1.99%)
The ability to purchase NFTs with a credit or debit card

A very good quality mobile application.
NFT Launchpad, interesting collections
NFT Launchpad is one of the most promising interfaces around, and we're excited about it for a lot of reasons.
First of all, this platform, offering NFTs on the Binance and Polygon Blockchain, payable using Wrapped BNB (WBNB), has an extremely easy to use interface , which is, as we have already mentioned, a crucial aspect to take into account to attract new people. You can connect your MetaMask wallet to it in no time, and make purchases, sales, or mints just as easily.
In terms of purchases, again, the process is disconcertingly easy. It is possible to buy Non Fungible Tokens in various ways: traditional auction, decreasing auction or a classic purchase, at a fixed price, decided by the seller.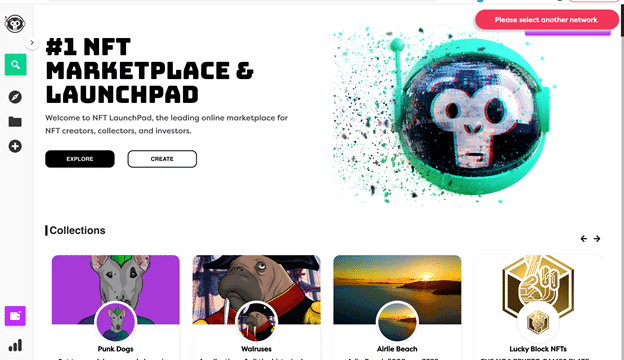 If you want to create your own collection , you can do it easily. In addition to this, it will even be possible for you to set up an information page relating to your collection, in order to present it as it should. A very interesting feature, which will please many users!
Then, despite its very young age (the platform having been launched in February 2022!) , the interface is already functional, of high quality, and has aroused the curiosity and interest of very many investors. In short, the growth potential of NFT Launchpad is colossal. It is definitely an interface that you should not neglect and, on the contrary, follow very closely.
What we appreciate:
The ability to create a page about your collection
An ergonomic and functional interface despite its young age
Accepts NFTs based on BSC and Polygon
Binance, low fees applied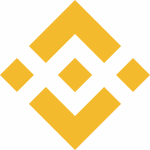 Originally, it was a platform reserved for cryptocurrencies (and not the least, since, according to Coinmarketcap, it is the largest in the world). The latter
has developed its activity to Non Fungible Tokens recently
. And the least we can say is that this integration is more than successful.
First of all, it is based on 2 Blockchains: Binance Smart Chain , of course, but also Ethereum. This offers him a huge diversity in terms of collections and items, which is a big advantage.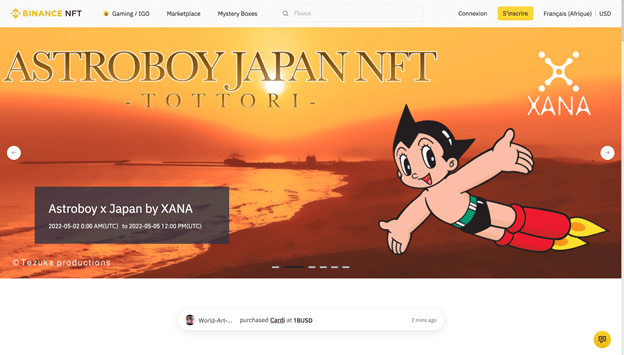 In addition to this, the marketplace also excels on fees, since these are very low. Thus, the transaction fee is only 1%! Apart from these undeniable qualities, Binance's interface is otherwise of high quality , which is not surprising for a company of this size. Navigation is both simple and pleasant.
On this platform, you can buy, sell and mint NFTs. Mints can be made at low cost using BNB, the platform's native token. Finally, the Mystery Boxes, or mystery box, are an exciting and original feature. By using it, you will get a random Non Fungible Token, the rarity of which can range from very common to ultra rare.
Also, note that you won't need to create a new account if you already had one for cryptocurrencies, which makes the process even easier.
What we appreciate:
Very attractive transaction fees

The original and fun "Mystery Box" feature

No need to create a special account.
OpenSea, the widest choice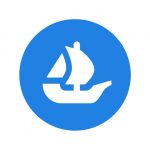 OpenSea is also, undeniably, one of those interfaces that it is impossible not to mention since it is, purely and simply, the
leader in this sector
in terms of volume and popularity.
With more than 1 million users to date, OpenSea has largely contributed to the democratization of Non Fungible Tokens, playing a major and decisive role in their introduction to the general public, thanks to certain flagship collections.
Currently, OpenSea is built on the Ethereum Blockchain, but an integration of the Solana Blockchain has recently taken place. On OpenSea, you can find all types of NFTs . From essential collections like Doodles, CryptoPunks or the Bored Ape, to unique works of art, passes for different services or games, domain names, and much more!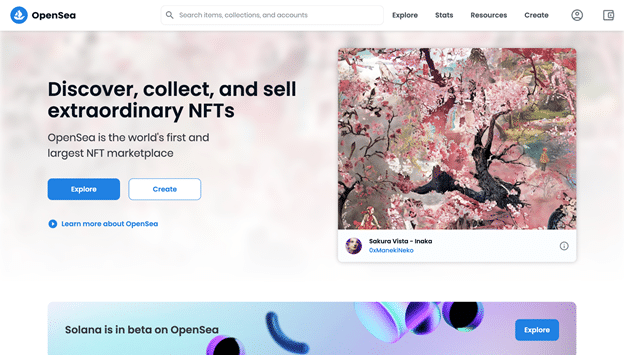 Transaction fees are not the best on OpenSea (2.5% for sellers) but this is compensated by the immense content and diversity offered on the interface. As for its ergonomics, there is nothing to complain about. Anyone can find their way around OpenSea, without any problem.
Finally, in terms of possibilities, like on most other major marketplaces, you can buy, sell and mint NFTs in a few clicks. Overall, despite some minor flaws, OpenSea remains a quality platform and, above all, the largest marketplace to date, which it would be difficult to do without to get started in NFTs.
What we appreciate:
The biggest NFT marketplace
Huge amount of NFTs
Diversified categories
Nifty Gateway, specializing in rare items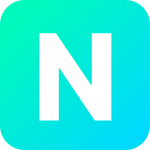 Nifty Gateway focuses on
"premium" NFTs
. This corresponds to NFT releases with a quantity of items limited to one or a few copies.
Nifty Gateway is a platform belonging to Gemini, the famous cryptocurrency exchange platform created by the Winklevoss brothers, which gives it some credibility. The platform has also highlighted artists of all genres, such as Grimes and Steve Aoki .
As for the interface itself, nothing to reproach Nifty Gateway. The interface is basic, but in a good way, because it makes it easy to navigate.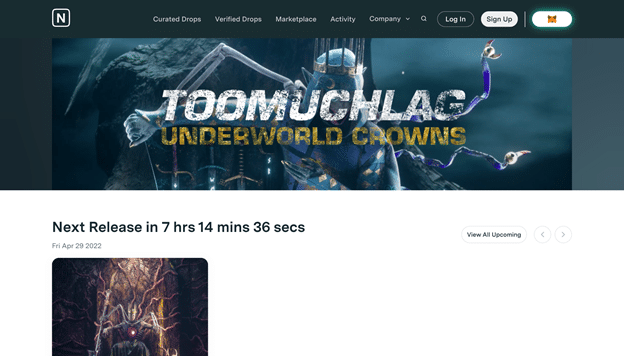 People residing in the United States have the option of purchasing NFT using their credit or debit card, which is much appreciated, but unfortunately limited to few users so far. Hopefully this will be rolled out to the rest of the world in the near future!
As for transaction fees, these are very low: 30 cents for each transaction . However, you will be charged 5% commissions if you sell NFTs on the platform, for each sale.
In short, if you are looking to obtain rare and limited NFTs, Nifty Gateway is probably the best choice you can make, since the platform is precisely designed for this.
What we appreciate:
A good reputation because it is related to Gemini
Many famous artists on the platform
The perfect marketplace for rare items
GameStop, a promising marketplace for gaming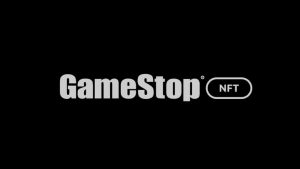 The announcement of the Gamestop NFT platform is great news for both Non Fungible Tokens and
video games
. This should see the light of day this year (by the end of July according to recent announcements).
With this project, Gamestop seeks to expand its business, not only depending on video games as people mostly know them, but learning about NFT games . This could greatly help NFTs to democratize , especially NFT games, which are not as popular as digital art.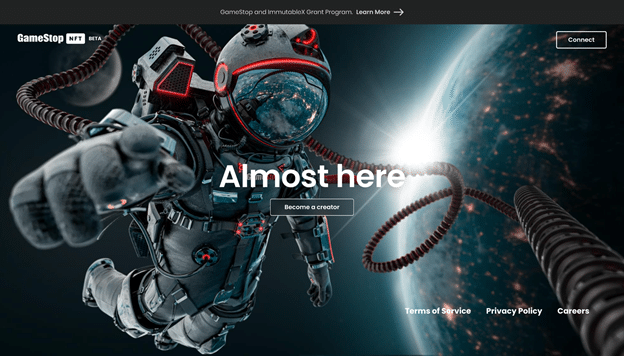 Rumor has it that GameStop's ambition is to team up with big-name video game developers to offer weapons, costumes, and other such items as NFTs. The platform also aims to open a fund to finance game developers, which would be a great idea.
If we can not yet ensure that this project will be successful, it looks more than promising, and that is why we include it in this list. Case to follow!
What we appreciate:
Beneficial for video game NFTs
Potential partnerships with major developers
The creation of a fund for game developers
DraftKings, ideal for sports fans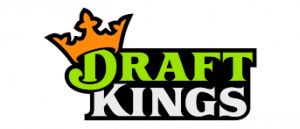 Originally an American betting company mainly
focused on sports betting
, DraftKings turned to Non-Fungible Tokens in late 2021, while remaining focused on its niche, as it is NFT related to sports.
Thus, you will be able to find rare and coveted NFTs , and limited edition items from many athletes such as Tom Brady or Tony Hawk, to name a few. To date, you can find over 300 items there, some with a much higher value than others.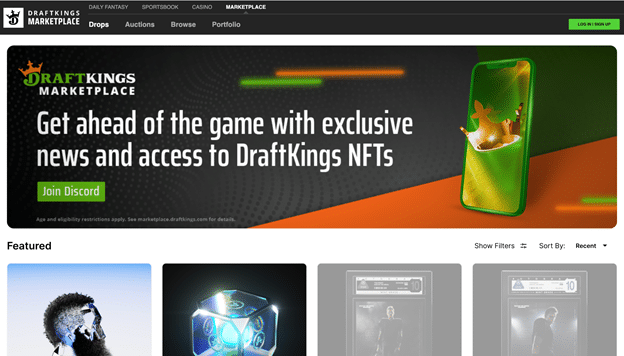 Buying NFTs on DraftKings is hassle-free. Users with a DraftKings account for online betting can log in here. Clearly, it is a platform particularly suitable for sports fans who wish to extend their passion through NFTs.
What we appreciate:
Perfect for sports fans
Ability to purchase NFTs via PayPal
Partnerships with big names
Rare, for art lovers
Rarible is a very popular platform and loved by users, especially for art lovers. Rarible has a huge variety of art, but also photos, music, video games, and even domain names.
It is therefore a versatile interface , and this is also true at the level of accepted currencies, since Rarible accepts Non-Fungible Tokens based on Ethereum, Tezos and Flow, but also credit or debit cards. At the wallet level, Rarible accepts several, such as Coinbase or MetaMask. Enough to satisfy the vast majority of users!
As for fees, Rarible charges both buyers and sellers 2.5%, which is quite high but not unreasonable.
What we appreciate:
A wide variety of art
Credit/debit card available
Various wallets accepted
SimpleMarket, easy to use interface


Admittedly, SimpleMarket is not the most well-known NFT platform, but it is still relatively interesting , hence its place in this list.
Based on the WAX ​​blockchain , which was born in 2017, the NFT SimpleMarket platform offers more than 140,000 assets and which has also been used by some hyper-reputable companies when minting their NFT. This is notably the case of Atari and Sony . It is therefore an ecosystem that works, and which has, in a way, proven itself.
Most of the Non-Fungible Tokens you will find on SimpleMarket are in WAX, simply because it is the network's native token. As for transaction fees, these amount to 2% on the secondary market. SimpleMarket thus has certain qualities and is definitely worth a look.
What we appreciate:
More than 140,000 items available
An interface that has been used by large companies
Compatible EOS
Foundation, marketplace dedicated to art
If you're looking to get real exclusive works of art , made by generally recognized artists in the industry, Foundation is one of the best choices in this field.
Indeed, Foundation is a marketplace based on the Ethereum blockchain which mainly focuses on works of art in the form of Non Fungible Token. These are sold via auctions , the duration of which is usually 24 hours following the first bid placed.
Foundation's interface is very successful, since it is both elegant to recall the "premium" niche of the platform, but also very practical.
As for transaction fees, these are, let's face it, high, as no less than 15% of fees will be charged to you on each sale. These are therefore the most substantial costs among the various marketplaces on our list, but this should be put into perspective, since most of the Non Fungible Tokens that are sold on Foundation are also at a high , even very high price. Additionally, as a seller, you will earn 10% royalties for each sale of your NFTs, so this can potentially compensate, if you are an artist.
What we appreciate:
The perfect place for NFT artwork
10% royalties on sales
Accepts various wallets