Have you ever wondered what your website visitors are doing on your pages? Where do they click? What catches their attention? How do they move their mouse cursor? So many questions that heatmaps can answer.
A heatmap – which can be translated as "thermal map" – makes it possible to identify the hot zones on your web pages, that is to say the places where your visitors interact the most with your site.
By understanding what interests people the most and what doesn't, you can greatly improve your website's user experience .
In this article, let's see together the usefulness of designing a "heatmap" to improve the user experience, as well as 10 heatmap tools to test!
 
What is a heatmap?
A heatmap is a graphical representation describing the navigation of visitors to your website. Via a color code, you identify the most visited and least popular sections of your pages.
In general, warm colors represent places frequented by your visitors. Cold colors refer to those that do not hold their attention.
There are different types of heatmaps:
click maps
A popular heatmap format, click maps show you the areas where users click.
The information provided helps you optimize the placement of your call-to-action buttons and remove areas of friction. The goal is to improve the progress of visitors towards the act of conversion (purchase, download of content, subscription to the newsletter, etc.).
scroll maps
As their name suggests, they represent the scrolling of visitors on a web page.
Scroll maps tell you how many visitors have scrolled to the bottom or left before. They help you determine the ideal length of your content . It can also help you decide where to place important elements on a page.
movement cards
Movement maps analyze the mouse movement of your users. They help spot frustrated users by showing where they hover, hesitate, or wiggle their cursor.
This type of heatmap helps you improve navigation by optimizing buttons or dynamic elements that hinder the experience. It can also help spot broken links or design issues.
Error click maps
Experiencing errors or issues on the site can be frustrating for your users.
Error click maps allow you to quickly discover and fix bugs. Which dramatically improves the user experience… and their progress towards conversion.
"Dead" click cards
Sometimes visitors confuse non-clickable elements on a website with a button, resulting in a dead click. These maps reveal non-functional elements of your page to reduce user confusion and frustration.
They can also help understand behavioral trends over time. You identify new opportunities as buttons or sections to place in a specific location on the site.
AI-generated heatmaps
AI-powered maps predict which sections of your website users are likely to engage with. They mimic the first 3-5 seconds of visitor attention to identify which elements are most viewed and which are completely ignored.
However, AI-powered heatmaps work best on high-traffic pages. The more data to analyze, the more accurate the algorithm.
Why use a heatmap?
Heatmaps help you visually track visitor engagement. Goals ? Better understand the behavior of Internet users and check if your calls-to-action are well placed, in order to improve the conversion path.
With a heatmap tool, you will know:
Where visitors clicks to reach the final page
If people are having trouble finding your CTAs
If there are any issues based on device type or browser
What are the non-clickable elements that create distractions and hinder conversion
What are the most clicked links
Top 10 heatmap tools
Now that you know more about these tools, let's find out which ones you can use.
 
1. Crazy Egg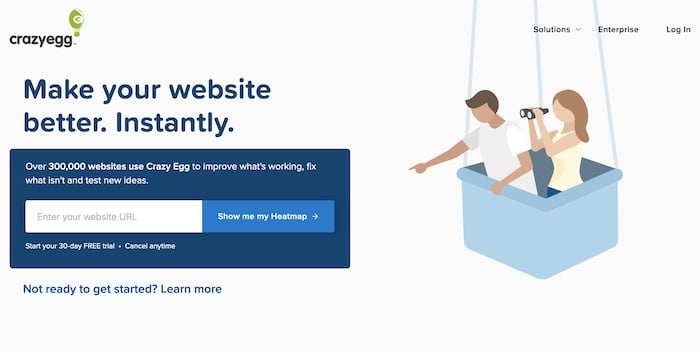 Crazy Egg is defined as "a pair of X-ray glasses" that allows you to see exactly what visitors are doing on your website.
If it allows you to analyze scrolling and clicks thanks to its heatmaps, the tool also helps you to know where your visitors come from and where they click the most.
For example, you can deduce the preferences of your visitors from Facebook and compare them to those from Twitter, and thus adapt your publications on social networks to optimize their performance.
The price: For $9 a month, you'll get access to the essentials. However, the higher plans (starting at $49/month) provide access to interesting features, including mobile heatmaps.
2. Contentsquare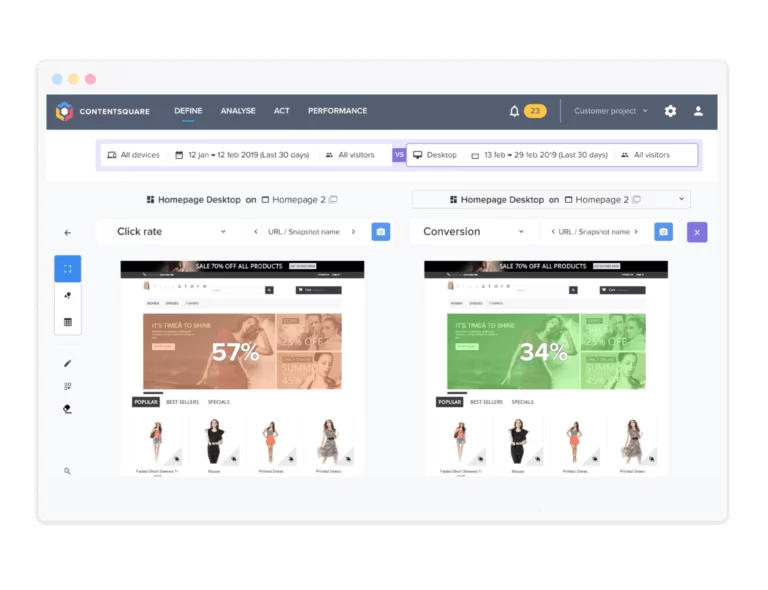 Contentsquare (formerly Clicktale) allows you to create very precise heatmaps, whether on computer, mobile or tablet.
Click zones, mouse movements, page scrolling: everything is there.
Plus, for those who prefer to learn by text and numbers rather than visuals, Clicktale offers data-rich and stat-rich reports to understand your visitors' behavior.
The price: Tailor-made.
3. Lucky Orange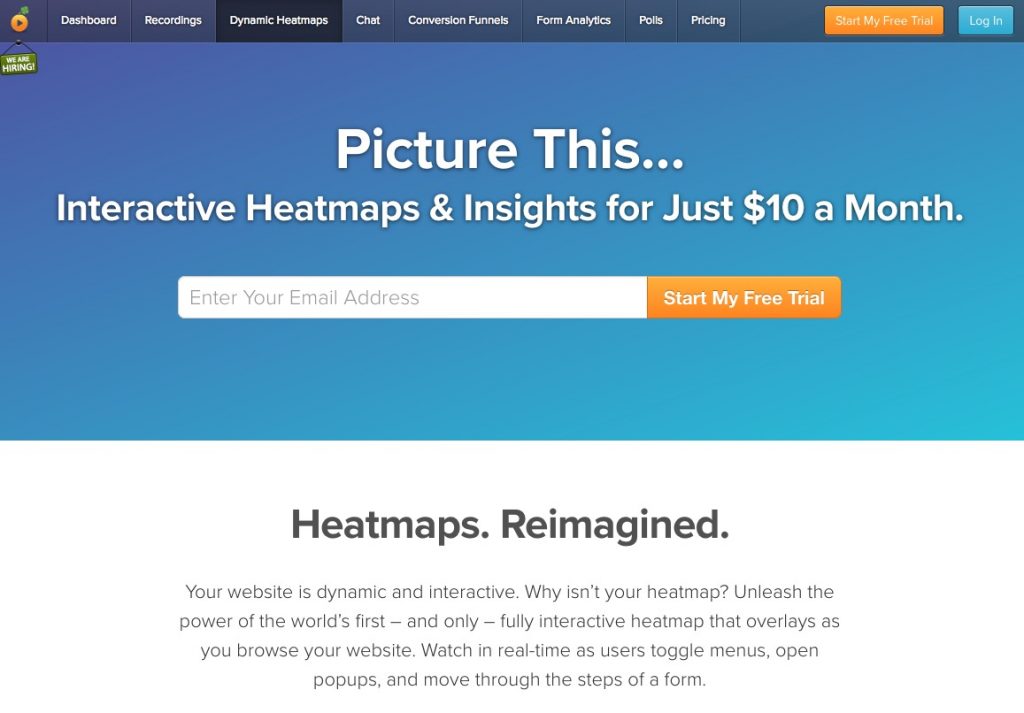 Lucky Orange heatmaps have the particularity of being dynamic and interactive, which means that you can follow them and get interesting data in real time.
The tool also has advanced segmentation possibilities to better understand the visitors to your website.
Lucky Orange includes other very interesting features. For example, it automatically takes a video screenshot of each of your visitors: a very good complement to heatmaps for analyzing navigation on your site.
The price: You will be able to take full advantage of Lucky orange starting at $10/month.
4. Heatmap for WordPress

Heatmap for WordPress is a WordPress CMS plugin that helps you understand what your top performing content is through heatmaps.
It memorizes the clicks of Internet users on your website, but also the interactions on tactile media, and gives access to statistical analyzes in real time.
The price: The tool offers a free version limited to 5 web pages and 1 visitor. It will be necessary to turn to the premium version at $100/month to benefit from an unlimited number of heatmaps and additional features.
5. UXWizz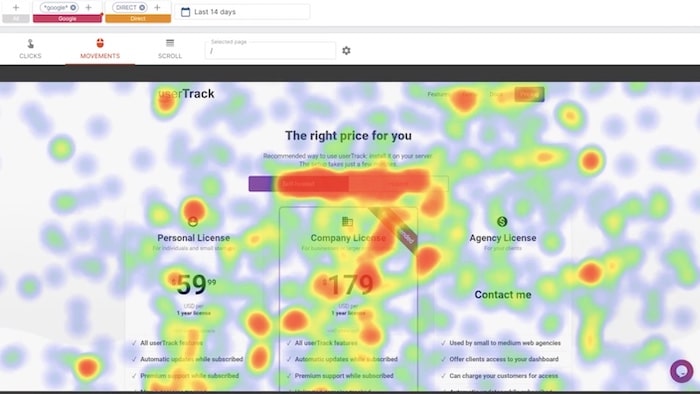 UXWizz (formerly called userTrack) is another great tool for creating heatmaps and analyzing your website navigation.
It generates heatmaps from your visitors' clicks, mouse movements and page scrolls.
The price: Unlike the previous one, this plugin is 100% paid, but its price is rather advantageous since it is not a monthly subscription. You will therefore be able to access it definitively for 79 €.
6. Mouseflow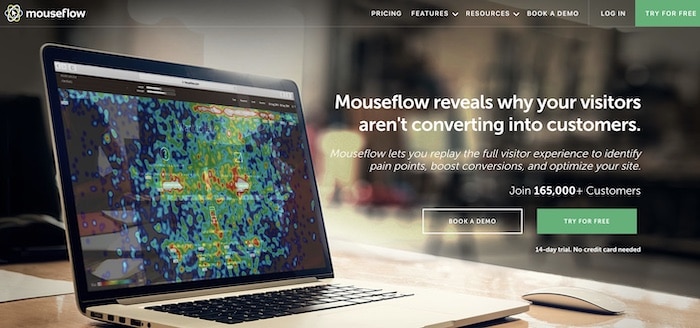 Mouseflow gives you more than heatmaps. In addition to the click and scroll zones, it reveals to you the journey of a visitor from one page to another.
Thanks to a replay session, Mouseflow shows you, in real time, the engagement of users, so that you can follow its behavior and pilot your future decisions.
Very intuitive, this heatmap tool offers you the possibility to filter the data according to the location, the duration and the source of the traffic. You can even compare the behavior of new and returning visitors.
The price: Beyond a free plan, Mouseflow has a paid plan starting at $24.
7. Hotjar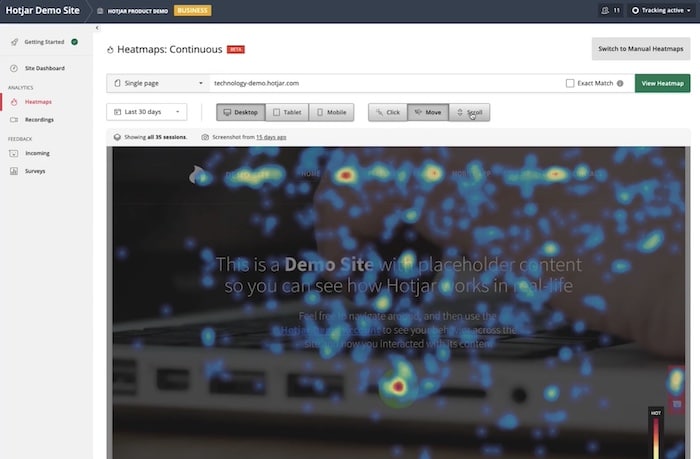 With Hotjar , you can create heatmaps that highlight clicks, mouse movements, and taps on the page. Heatmaps are built on both desktop and mobile, allowing you to improve the user experience on both counts.
Hotjar makes session recordings that you can share with your team members. The goal is to help you improve the web design and content of your pages or forms.
Price: For personal use, Hotjar remains free. Its Plus version costs $39 per month. For companies with specific needs, you can obtain a tailor-made formula.
8. Inspectlet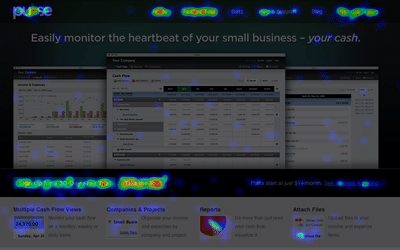 Inspectlet uses eye-tracking to make heat maps. The basic principle of the tool is that the eye moves with the mouse cursor. The idea is therefore to really put yourself in the visitor's shoes, by seeing through their eyes. These advanced heatmaps are also interested in page clicks and scrolls.
The tool records user sessions for you to view at your leisure and with your team. Many options allow you to filter them according to the duration of the visit and the browsing path. These are very useful for improving your conversion funnel.
Finally, know that Inspectlet has a function to perform A/B tests and build better performing landing pages.
Price: Inspectlet offers a free version. Paid plans start from $39 per month.
9. FullStory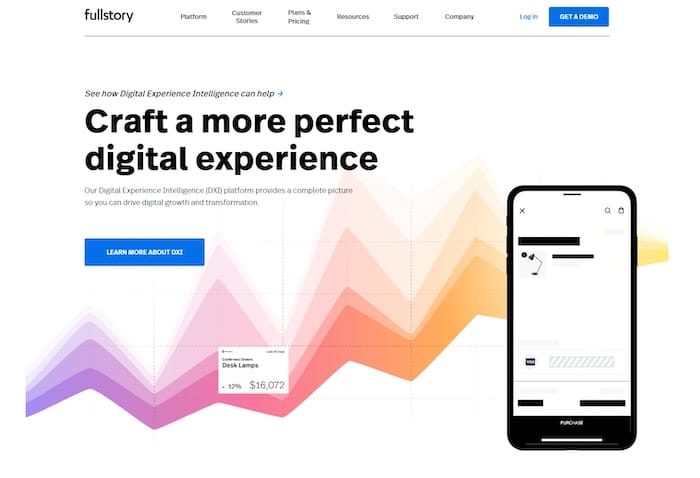 A complete user experience analysis solution, FullStory   gives you an in-depth view of user behavior. This heatmap tool highlights frustrations and funnel dropouts. Its smart journey-to-purchase analysis offers insight into why website visitors didn't convert.
Of course, you will also have the possibility to create click and scroll maps to discover the hot and cold points of your pages.
The price: FullStory offers a free plan for 1,000 sessions per month. For a larger offer, you must contact customer service.
10. Clicky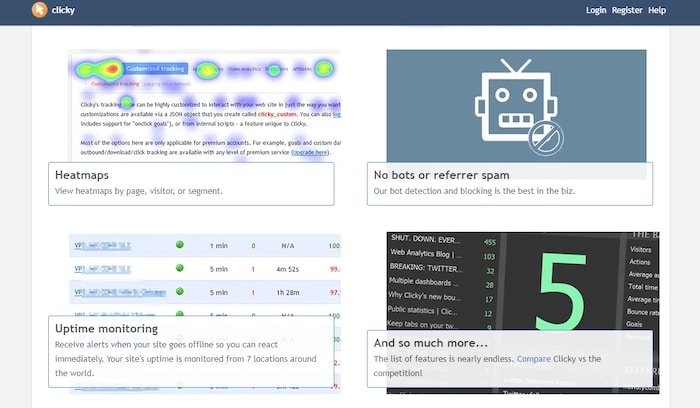 Specialized in web analytics, Clicky also offers a heatmap tool. Its clean interface allows you to take it in hand very easily.
With this solution, you can filter heatmaps by visitors, pages, or events. This will help you easily follow the journey of visitors to understand how they convert (and why some don't make it to the end of the tunnel).
The price: Clicky reserves its heatmap tool for users of the Pro Plus plans and higher. They start at $14.99.
Conclusion
If all these heatmap tools can help you better understand your visitors and their behavior on your site, carrying out a user test is also a good solution.
Then, all you have to do is find a freelance web designer to improve the user experience of your website.