When you browse the internet, many files such as cached data or cookies accumulate on your hard drive. Added to this are the backups of applications and software that you use frequently or the residual files kept from those that you have uninstalled. All this data, often useless, takes up a significant amount of your computer's storage space, which can even cause it to run slowly. But rather than buying an additional hard drive/SSD or changing PCs, have you considered installing free cleaning software? In addition to freeing up space, software computer cleaning also optimize the performance of your device. If you are interested in installing such software, but you don't know which one to choose, this article is for you!
6 Free PC Cleaning Tools (2022)
Do your applications take a long time to start? Do you feel like your PC is "sluggish"? Is your storage space insufficient? All these problems will soon be a distant memory! The PC cleaning software that you will discover in this article will allow you to boost the performance of your machine while increasing its lifespan. Note that all the software presented below is compatible with Windows 11, Windows 10 or Windows 7.
BleachBit
BleachBit is a particularly interesting software, because it is very easy to use. Its free features rival those of other paid software, making it one of the most exciting cleaning tools today. Its longevity is also one of the proofs of its reliability. Perfect for freeing up space on your hard drive, BleachBit clears temporary files, your web browsers' cache (history, traces, cookies, etc.), log files and empties the trash.
Besides, note that BleachBit is much more than just a PC cleaning software. It also has a tool that allows you to permanently destroy files or folders. Thus, no one will be able to recover the sensitive files and folders on your PC.
The latest version of BleachBit software (Ver 4.4.2) was released on November 13, 2021, a sign that the software is still constantly improving.
PrivaZer
Despite the very rudimentary interface of his site, you should not trust appearances! Indeed, the level of cleaning offered by PrivaZer is more than honourable. With over a hundred scanning and cleaning operations, this free software permanently erases your junk files while protecting your sensitive data.
PrivaZer relies on a rigorous cleaning of the "traces" that you can leave during your web browsing, sometimes leading to the piracy of your data. If this is attractive, note all the same that cleanings can be quite long with this software, but it is the price to pay for a thorough elimination of files.
In addition, note that the PrivaZer software allows you to create a restore point before deleting unnecessary data. This way, if you encounter any problems after cleaning, you can easily restore your computer.
Finally, the software also allows you to schedule cleanings of your PC at the dates and times you want. An option that is rather practical for regularly cleaning your PC without the slightest effort on your part.
Glary Utilities 5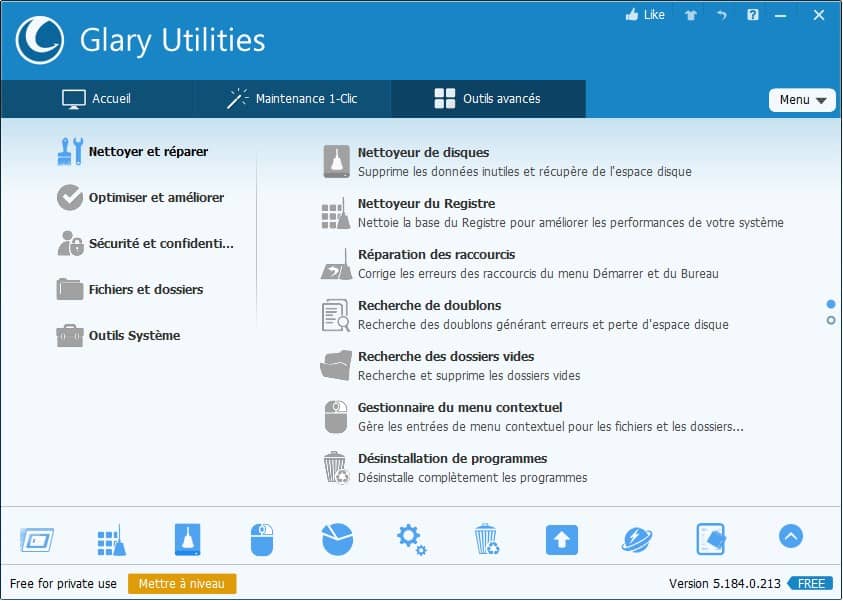 This software, recognized in the computer world, is very popular among our Anglo-Saxon friends. Also recommended by the Download.com reference site. Glary Utilities 5 is a true digital Swiss army knife! Whether your computer is slow, buggy or showing you recurring errors, this software will bring your PC back to life with its arsenal of tools dedicated to optimization and cleaning.
If the free version of Glary Utilities 5 is already very powerful, it will be necessary to turn to the Pro version (and therefore paid) to unleash the full potential of the software. Note that it also allows you to automate some frequent options.
Thanks to Glary Utilities 5, you can, among other things, delete unwanted data from your PC in order to recover disk space. You can also clean the registry to remove obsolete entries or search for unnecessary empty folders.
In addition, Glary Utilities 5 includes a tool that allows you to cleanly uninstall your software without leaving traces, a file shredder, a deleted or lost file recoverer, a context menu manager or a tool to update your software.
As you will have understood, Glary Utilities 5 is in a way the Rolls-Royce of PC cleaning software. To learn more about Glary Utilities 5 and how it works, I invite you to read our dedicated article.
Wise Disk Cleaner
Wise Disk Cleaner is one of the oldest cleaning software on the web and its effectiveness is well established. If you want to make your computer faster, and this, for free, it will do the job perfectly! Wise Disk Cleaner is the ideal tool for those who want to perform a quick and efficient cleaning of their PC using an easy to use software.
Just like Glary Utilities 5, Wise Disk Cleaner offers an option that allows scheduled configuration; this way you can plan in advance the time at which your software should perform its cleaning work (for example, every day at 10 p.m.). You also have the option of creating a "clean in one click" icon on your desktop, to optimize your machine without even having to open the software.
Wise Disk Cleaner allows you to clean Windows system files (temporary files, log files, cache, error report, etc.), but also all traces of your Internet browsing (browsing history, cache, etc.) . You can select all the items you want to get rid of.
Cleanmgr+
Cleanmgr+ is an enhanced version of Windows 10/11 native software "Disk Cleanup". The latter has evolved in parallel with the operating system, so that the developers have relied on this solid base to create a more powerful tool. Thus, Cleanmgr+ allows you to safely remove files deemed unwanted from your PC. It allows you to push the functionality of the Windows tool installed by default further by choosing precisely what you want to delete (obsolete files, temporary files, cached data, residues of deleted software, etc.). However, the possibilities of this tool are limited to that and you should not expect new optimization options.
To learn more about Cleanmgr+ and how it works, I invite you to read our dedicated article.
Emjysoft Cleaner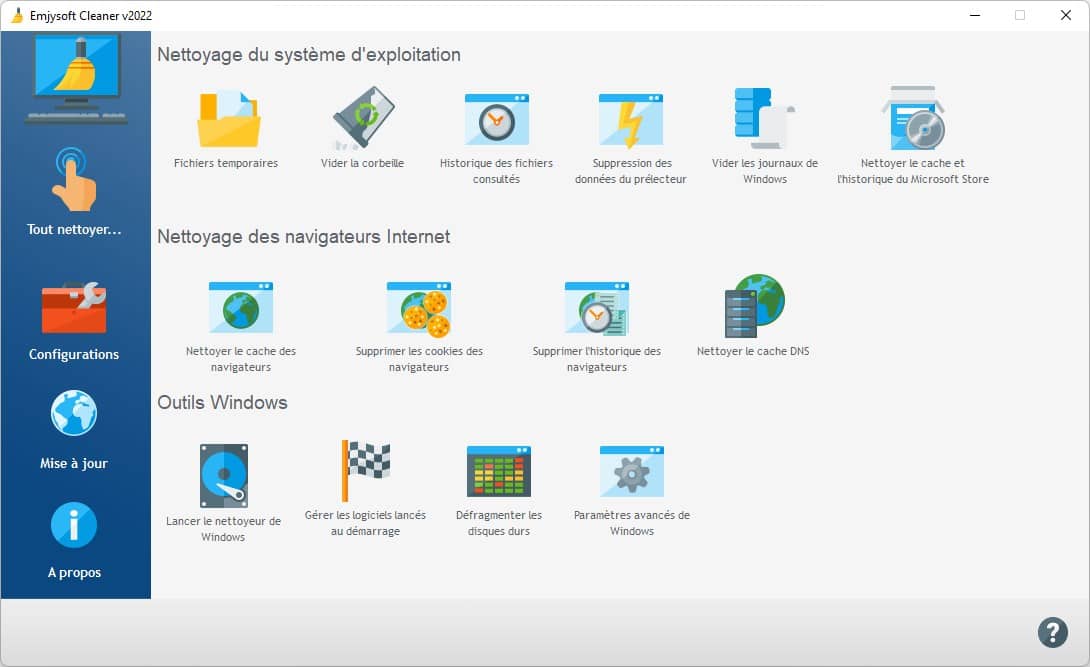 For the latest software in our election, we have chosen to highlight Emjysoft Cleaner, developed by the French company of the same name (cocorico!). Emjysoft's reputation, as well as its experience in software development, is comparable to that of American tech giants.
The features offered by Emjysoft's cleaning tool make it one of the most attractive: automatic cleaning in one click, deletion of temporary files, cleaning of browser cache, browsing history, cookies, automation of many operations and more. This software, as complete as it is intuitive, can be used by professionals as well as individuals.
In short, Emjysoft Cleaner has its place in the best PC cleaning software. To learn more about its features and use, I invite you to read our full article.
What is the best free cleaning software?
It's hard to say that one cleaning tool is better than another. Especially since the habits of each user make this judgment subjective. To find the ideal software, you can test the ones we have presented to you below, but be aware that there are many others (free or paid). While some allow you to perform a quick cleanup daily to keep your PC running smoothly, others allow for more in-depth cleaning operations. Thus, the choice of a particular software will depend above all on your needs.
In this regard, if you use free cleaning software that we have not mentioned here, feel free to complete this list from the comment area!