Video media is currently the most consumed media. To be convinced of this, it suffices to note the success of streaming platforms or social networks offering videos in "short" format such as TikTok, Instagram or more recently YouTube. Speaking of which, YouTube is currently the second largest search engine after Google. Thus, having a presence on the Net is very often associated with the creation of video content. That is why, in this article, we offer you 5 free video editing software which will allow you to edit your rushes, movies and other audio/video files.
5 must-have free video editing software in 2022!
While video is the hottest digital content right now, it's not the easiest to produce. Anyone can write text content using their keyboard, but editing a video is a whole different ballgame! To help you do this easily, here is our selection of best free editing software still offering many editing possibilities.
Kdenlive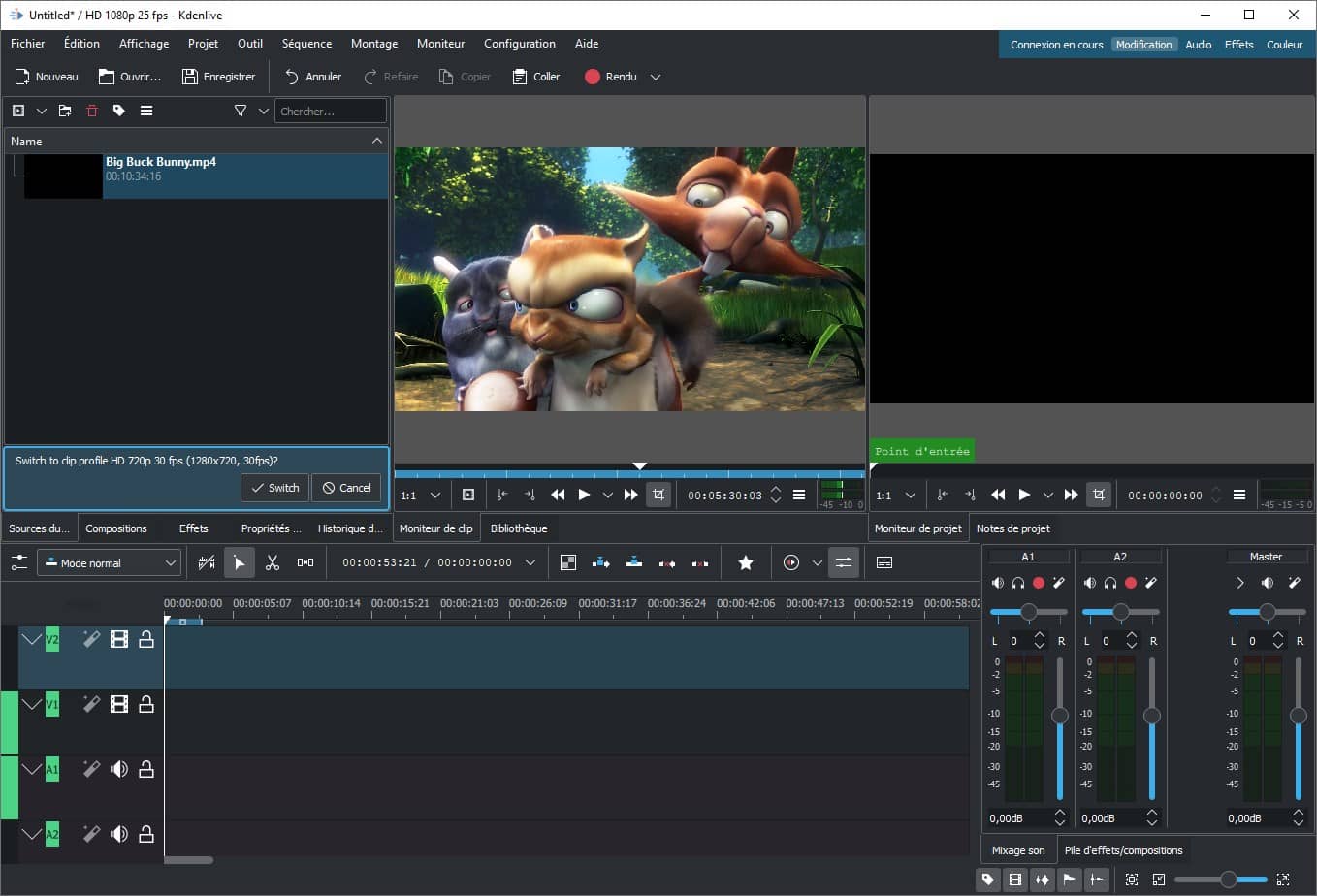 The tool Kdenlive is a free and open source video editor. Its presence on the Net is not recent since the tool dates from 2003. However, it ranks among the most efficient, even in 2022. It is a multitrack editing software, that is to say it allows you to layer multiple audio and video tracks, lock, trim and arrange them as you like.
The software works on the basis of the FFmpeg library including many resources. So you can work with almost all types of audio and video files without having to convert them.
What is significant with Kdenlive is the fact that the software offers many customization possibilities such as creating keyboard shortcuts, editing a title screen or custom transitions, or choosing the theme of the game. 'interface.
Downloadable in one click, we can only invite you to test Kdenlive to discover its full potential (the handling is very intuitive).
To read : 👉Kdenlive: an open source video editing software
OpenShot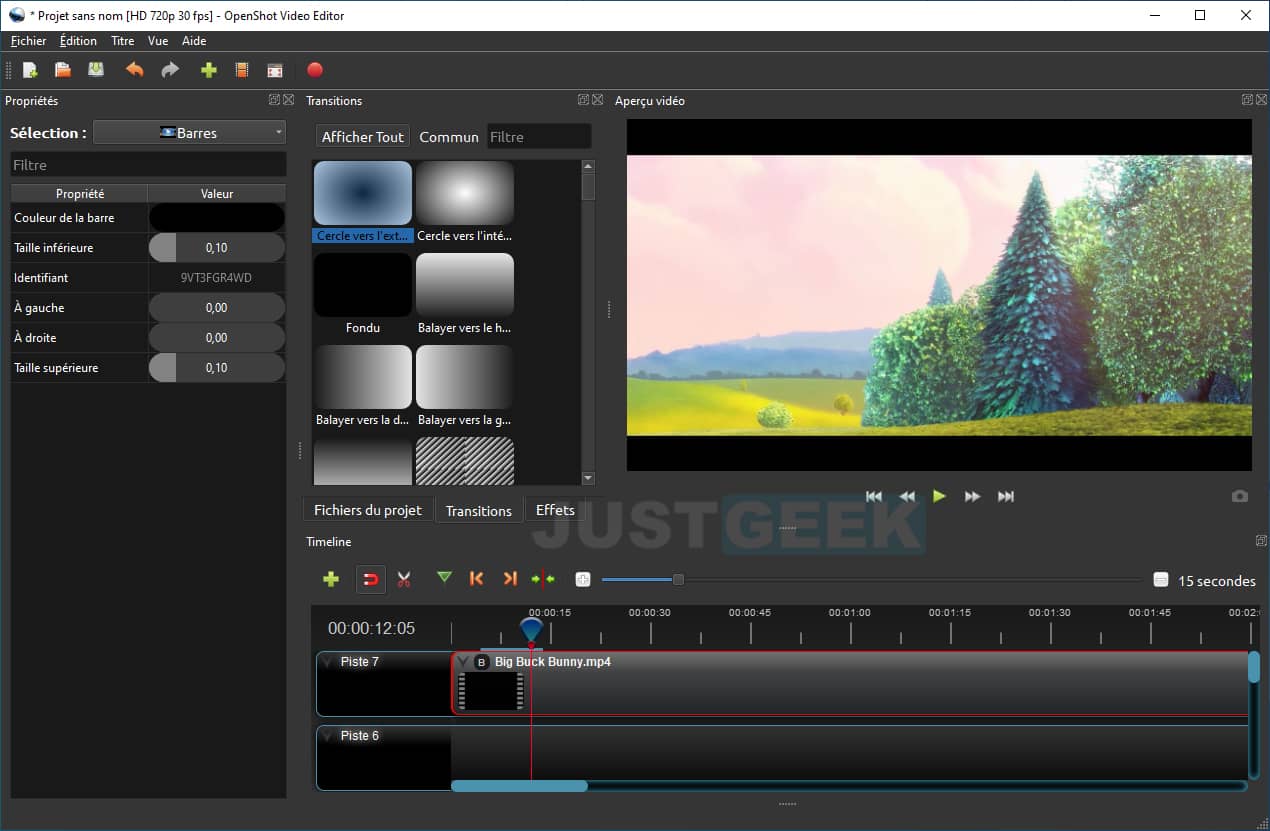 OpenShot is a totally free, open source and free second video editing software. According to the developers, the tool was developed with one word in mind: simplicity! However, OpenShot is no less powerful in terms of possibilities.
Also multitrack, it allows you to work with an unlimited number of tracks! Besides that, the tool is a real Swiss army knife of video editing, allowing in particular to remove the background, play with colors, brightness, contrast, sound effects, animations, dimensions, etc. . It also provides users with a 3D animation library as well as a title editor.
OpenShot is compatible with all operating systems (Windows, macOS, Linux, etc.) and available in more than 70 languages.
To read : 👉OpenShot: a cross-platform and open source video editing software
shotcut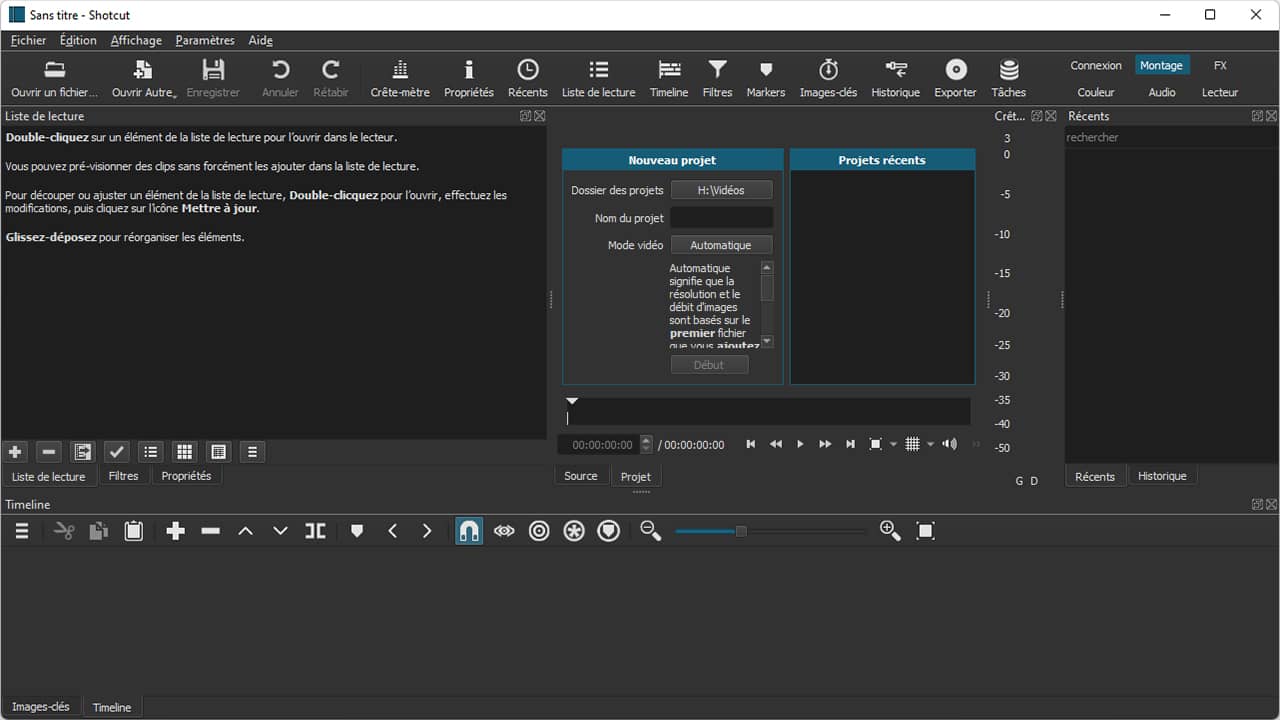 free video editing software shotcut has nothing to envy to those presented so far. Also working on the basis of the FFmpeg library, the addition of codecs will not be necessary; you will be able to work with almost all types of audio and video files. The tool supports videos with resolutions up to 4K. You can therefore edit your rushes without fear that these funds will lose quality.
Add to this that Shotcut allows processing video streams related to webcams as well as video screen capture tools and audio capture tools. Although Shotcut's interface remains very intuitive, it is slightly more complex to understand than that of the two previous software. The most "jack of all trades" will appreciate discovering the many features of this semi-professional and yet free tool.
All in all, it is one of the best video editing software for Windows, macOS and Linux.
To read : 👉Shotcut: a free and complete video editing software
Avidemux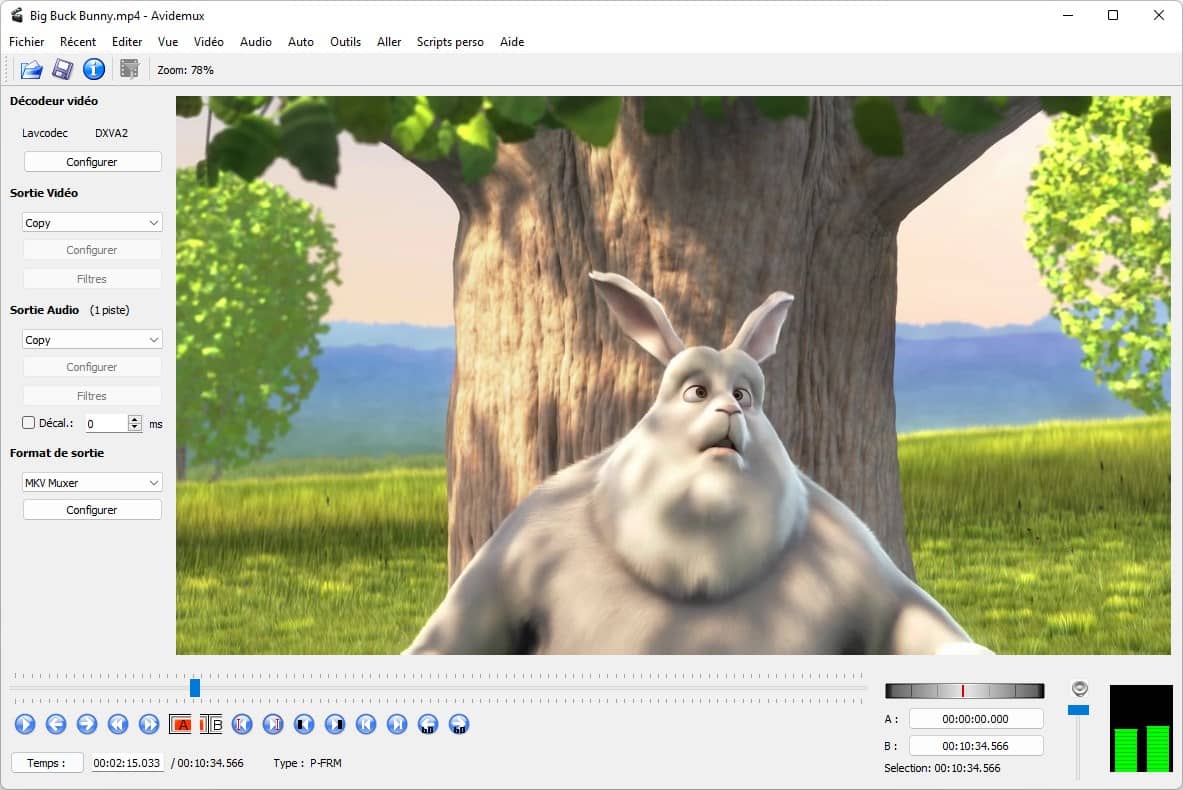 If you're looking for an easy-to-use video editor, you'll be happy to use Avidemux ! The latter is primarily designed for simple video editing, encoding, filtering, trimming and editing tasks.
Avidemux also offers a rather interesting task automation feature related to creating projects. You can also prioritize your editing operations by arranging them as you wish in the queue. Don't be fooled by the somewhat "dated" home page of the tool's presentation site; if you take a look at the screenshots of the editing software, you will find that its clean interface makes it easy to perform your basic editing operations.
Avidemux is mainly intended for Linux and thus federates a community of users loyal to this operating system. In fact, you will easily find help and answers to your questions relating to this editing tool on the forum dedicated to it.
Olive Video Editor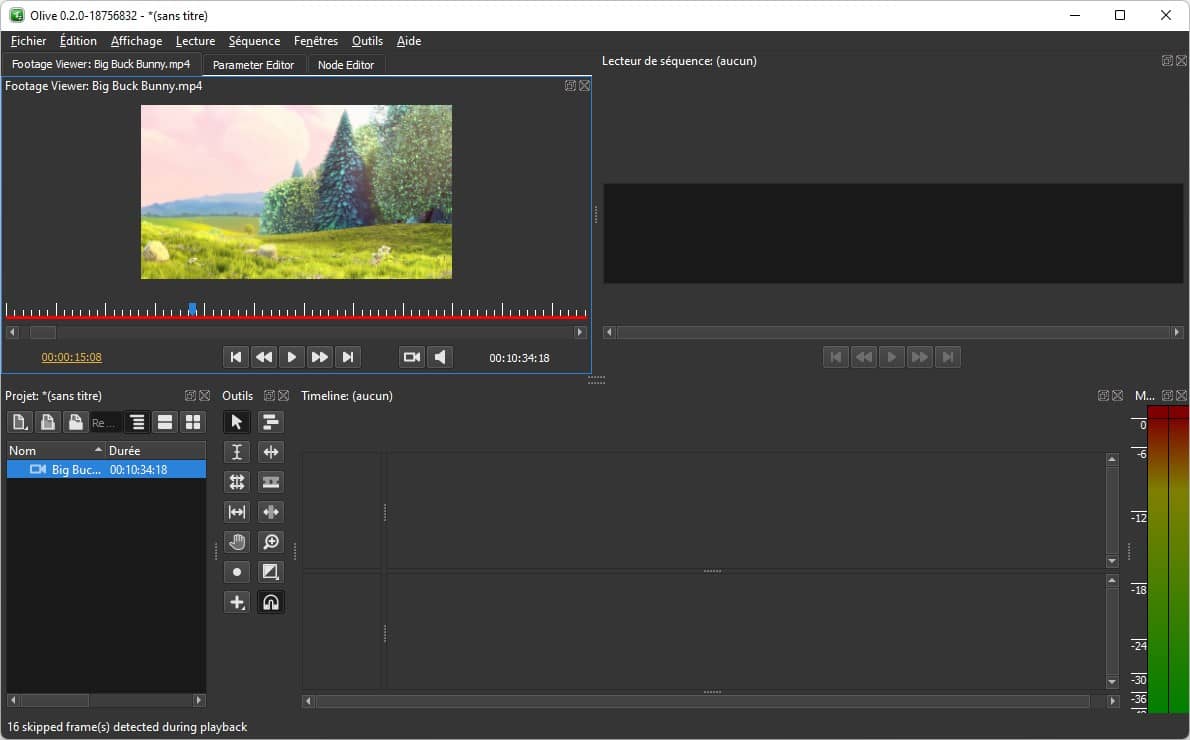 The Olive 0.1 video editing tool has recently been revamped to make room for Olive 0.2. The tool now offers an original way to approach video editing. Indeed, editing can be organized by creating a flowchart to execute an algorithm. If all this seems complex (especially if you are not very comfortable with computers), rest assured, it is not so; you won't need to type a single line of code. The flowchart is created very simply and all actions can be linked to each other. This allows you to have total control over the editing, but above all to establish a structure that can be duplicated to produce other videos on the same model.
Olive 0.2 also has more advanced features when it comes to color management. Its performance has been optimized compared to the previous version, thus minimizing the resources consumed. To put it another way, the software now runs faster (which is very practical for previewing your rushes without cuts).
Here are the 5 video editing software we wanted to introduce to you. We hope that these will help you to carry out your editing operations and to correctly process your multimedia files. If you ever feel that other software deserve their place in this ranking, feel free to mention them in the comments!
Picture credits: honeycombhc