Any computer connected to the internet must have a anti-virus effective for the protect against malware and other cyberattacks. The antivirus will analyze data, web pages, files, software and applications that pass through the network to your device. It will search for known cyberthreats and will monitor the behavior of all programs in order to mark those that seem suspicious to it. However, over time, viruses and malicious programs have become increasingly difficult to detect, hence the need for a good antivirus, constantly updated. Rest assured, paying is not an obligation to be well protected! There are many free antivirus software. In this article, we have selected for you best free downloadable antivirus 2022.
Antivirus: is it really useful in 2022?
When you buy a new computer, a default antivirus is almost always installed. This is the case of Windows Security (Microsoft Defender), Microsoft's antivirus. However, it is legitimate to wonder whether additional computer protection is necessary. Indeed, the antiviruses installed automatically perform certain basic functions such as real-time threat detectionthe firewall and the network protection or even the parental control.
However, these software are not perfect and some users find them insufficient in terms of protection. The arguments put forward are often:
Low malware detection rate.
Parental control is limited to certain browsers.
An unergonomic user interface.
It lacks additional tools offered by third-party antiviruses, such as a VPN or a password manager.
The choice of a more efficient free antivirus is then a necessity for many Internet users, especially for those who surf the web a lot. If you are concerned about your computer security, installing a better antivirus is a necessity for you too.
4 free antiviruses to avoid hacking
Whether your computer is under Windows or macOS, it will be necessary to install an antivirus in order to strengthen the security of your device. If you don't necessarily have the means to subscribe to an antivirus provider's subscription, don't worry. Here is a selection of 4 Best Free Antiviruses for the year 2022. What avoid hacking !
Avast One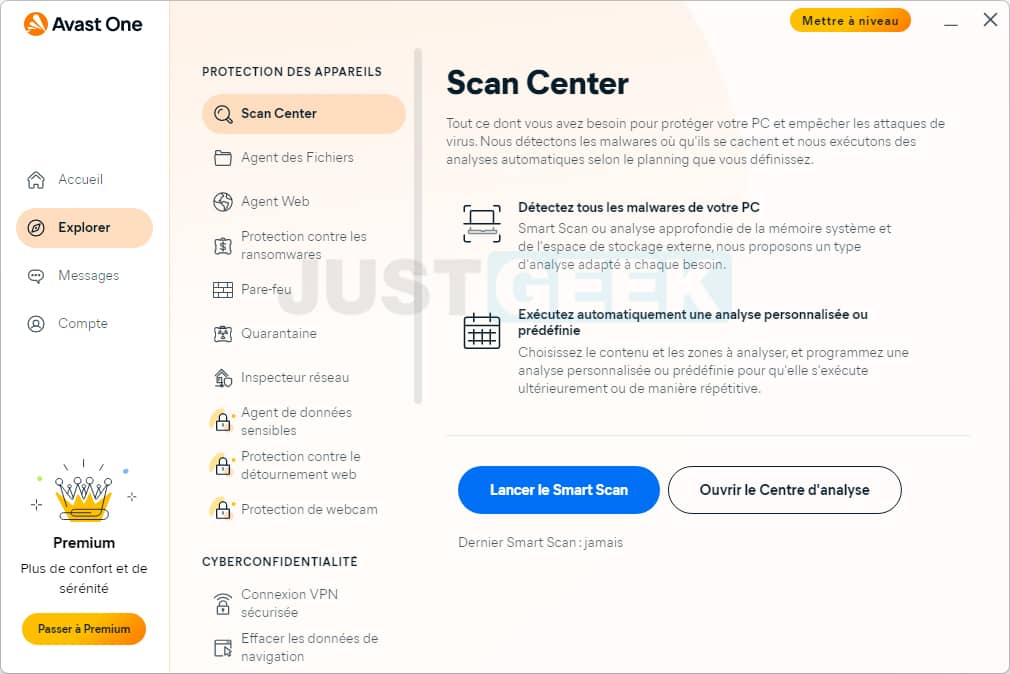 Created in 1988, Avast One is one of the oldest cybersecurity companies on the Net. Today, everyone knows the name of his famous free antivirus and for good reason ; Avast already had more than 400 million users worldwide in 2016. The reasons for its success are partly its fluidity, its design and its ease of use. Add to this that the software is updated daily and still offers effective protection against cyber threats.
This free antivirus offers various features deemed essential by some. Among these, there is obviously themalware removal and the protection against malicious websites and downloads. Avast also offers real-time protection against attacks on your computer. The software has a VPN function, protection against spyware, against phishing sites, and more. In short, Avast One is undoubtedly one of the best free antiviruses that offers effective and more than complete protection.
Avira Free Security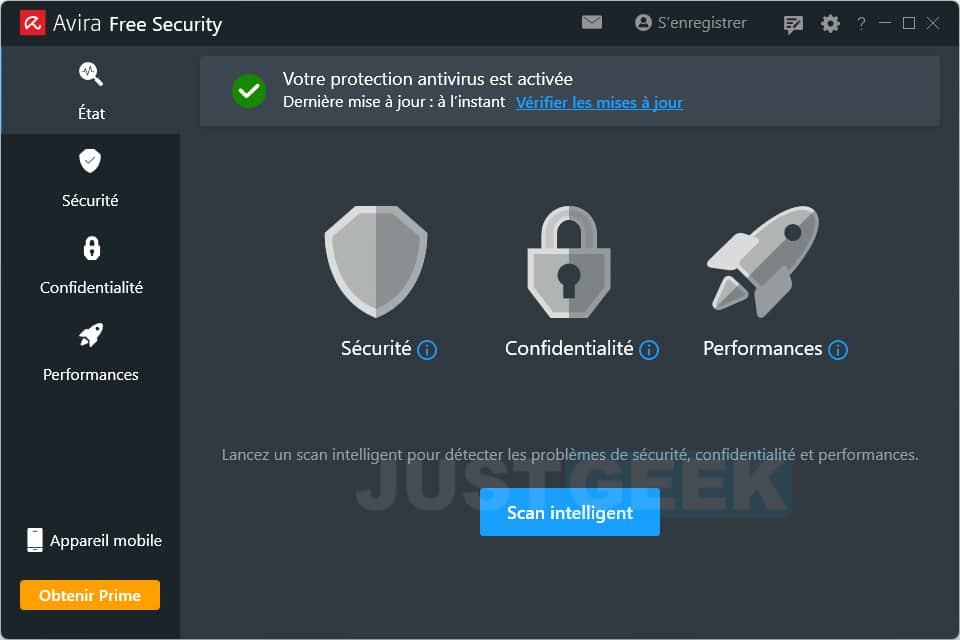 In 1988, the German company Avira released the antivirus Avira Free Security which today has a base of more than 100 million users. This software free antivirus is renowned for its extreme reliability and his analysis accuracy. It consistently scores 100% on malware detection. Its use is simple, and the corrective actions it offers in the event of a problem are just as simple. You can also set scans to run automatically.
Among the different features that this antivirus has, we can mention: an analysis based on Cloud data of emerging threats, a VPN, a password manager, file cleaning and optimization of the performance of your device. Avira antivirus is available for free on Windows, macOS and Linux.
AVG Free Antivirus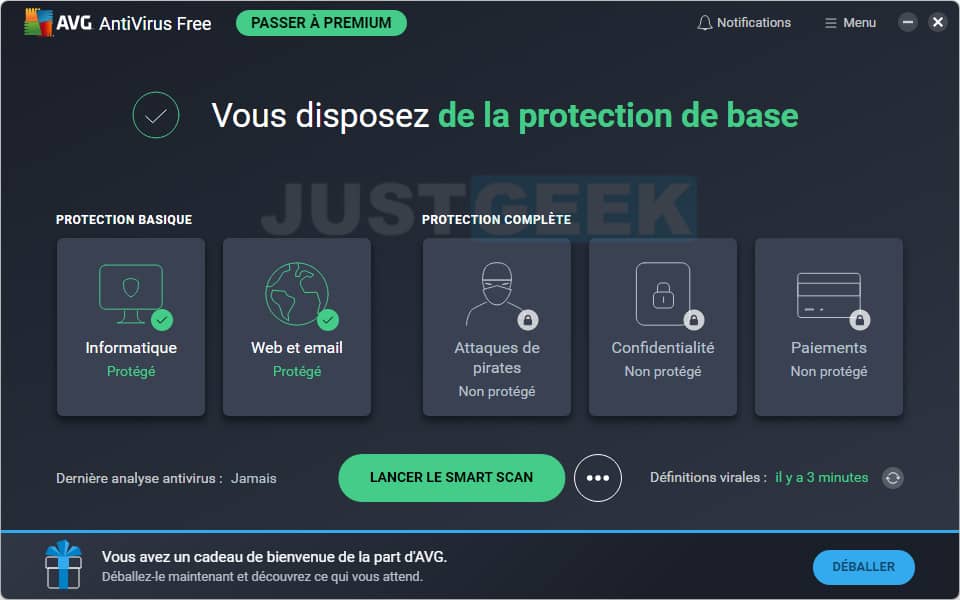 Created by a team of Czech developers, AVG Free Antivirus today weighs nearly a billion dollars. Released in 1991, this antivirus is among the best on the market, and this for many reasons. The antivirus editor has nearly 24 different products, all specialized in a particular type of computer protection. In this, we can legitimately think that the know-how of the team behind AVG is well established. Moreover, the antivirus is regularly voted product of the year by various organizations specializing in product testing.
This free antivirus software is compatible on Windows, macOS, Linux, Android and iOS. The main features of this antivirus are obviously blocking all types of malicious software (viruses, malware, ransomware, spyware, etc.), blocking suspicious downloads, analyzing your machine's performance and reminding you of updates of security.
Panda Free Antivirus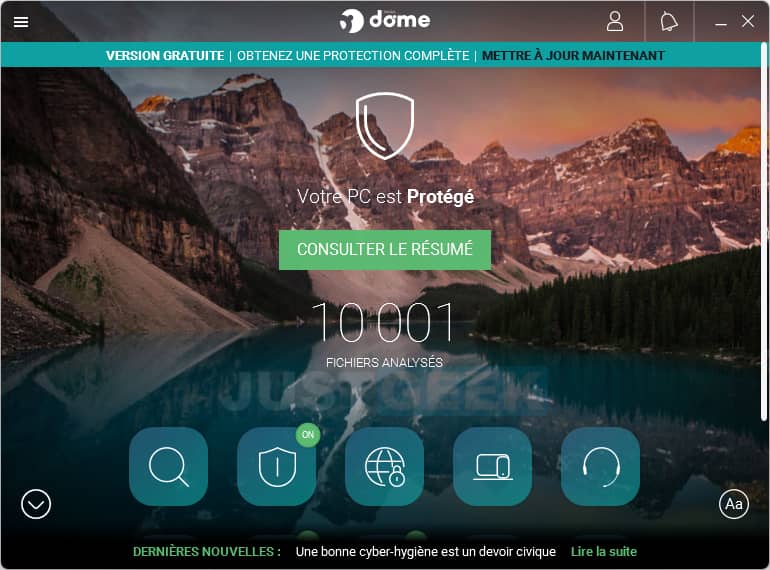 The software Panda Free Antivirus is a product of the WatchGuard brand specialized in computer security. Like all the antiviruses presented so far, the latter is not recent since its creation dates back to 1990. Originally, WatchGuard only developed antivirus software before extending its product line by integrating firewall protection, spam, spyware and unwanted content filtering systems, as well as edge protection devices and security management solutions.
Suffice to say that the reliability of the Panda Free antivirus can only be excellent (which is indeed the case). The latter offers a real-time threat and spyware protection and also allows you to schedule periodic scans. It also has a usb protection which prevents automatic execution of malware from USB media.
Finally, the "Panda Rescue Kit" is a free computer system restore which runs an advanced scan of your machine. The functionalities of this antivirus are accessible free of charge on all operating systems and all devices (computers or mobiles).
What is the best free antivirus in 2022?
The free antivirus market is relatively large. To help you make your choice, the best thing is to try them one after the other for a period of about 30 days. In addition, you can also check reports from independent organizations specializing in antivirus software such asAV-Test. You can then determine which solution suits you best in terms of functionality, performance, but also and above all in terms of efficiency.
If you only need antivirus, software with limited functionality will be enough for you and won't eat up your storage space too much. However, if options such as VPN, password management or performance analysis interest you, antiviruses such as Avast or Avira will probably be the most suitable. And if you know of free and reliable antiviruses that we have not mentioned? Share them in the comment space!