A new Windows 11 update has just been rolled out and it fixes one of the most critical bugs encountered through the operating system. This one left many PCs brain dead – with a reboot only happening after 40 minutes of waiting. 
Normally Windows 11 should only take a few seconds to load. It is therefore unacceptable to have to wait for almost three quarters of an hour. Fortunately, the optional Windows 11 KB5012643 update should fix this problem.
Since this is an optional update, it won't be installed automatically, but it's worth getting if your Windows interface is taking too long to appear.
The update also includes fixes for various other issues, including misaligned video subtitles and app window resizing issues.
It's worth checking Microsoft 's release notes related to this update. If an issue you are experiencing is listed, waste no more time and install this valuable patch.
How to download the latest Windows 11 update?
To download the KB5012643 update, you must first ensure that you are running the latest version of Windows 11 available.
To do this, go to Settings > Windows Update and click "Check for updates". If you see a message saying "You are up to date", you can continue to download the KB5012643 patch. Otherwise, download and install any pending updates.
Once this task is complete, click "Advanced Options" from the Windows Update screen, then click "Optional Updates" and you should see "2022-04 Cumulative Update for Windows 11 for x6-based Systems (KB5012643)" appear .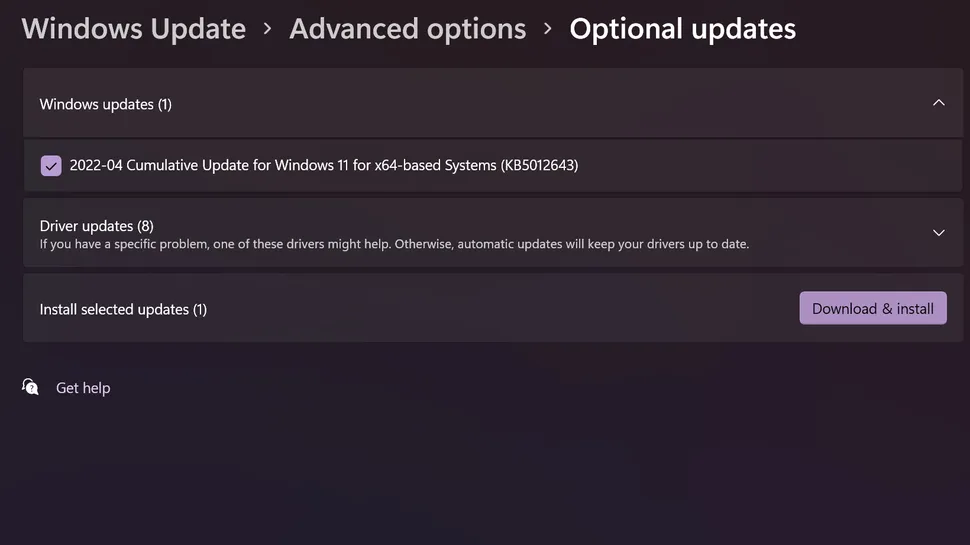 Check the corresponding box, then click "Download and Install".
Once the patch is installed, your inactivity issue should be completely resolved.