In today's world, digital cameras and smartphones offer exceptional image quality, resulting in increasingly heavy photo files. To make it easier to share these images with your family and friends, compressing them to reduce their size becomes necessary. Here is a list of 8 online tools that can compress your JPG, PNG, SVG, WebP or GIF images without compromising their quality."
Compress photos or images for free and without altering their quality
1. TinyPNG or TinyJPG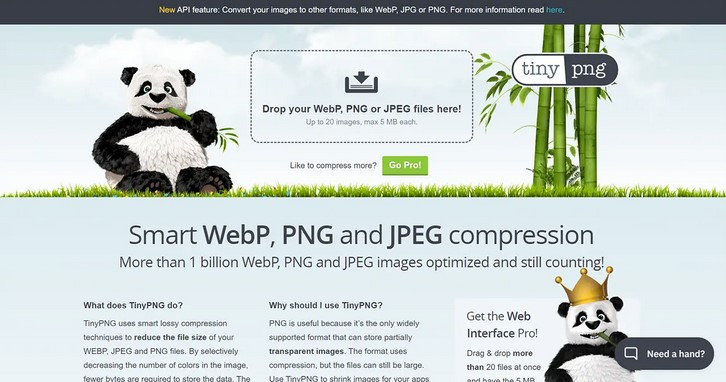 TinyPNG and TinyJPG are user-friendly online tools that efficiently compress PNG and JPEG images while preserving their high quality. With the ability to compress up to 20 images simultaneously, each with a maximum size of 5 MB, these tools can significantly reduce the file size without compromising image quality that is visible to the naked eye. Additionally, their intuitive user interface makes the compression process enjoyable and hassle-free.
2. CompressImage.io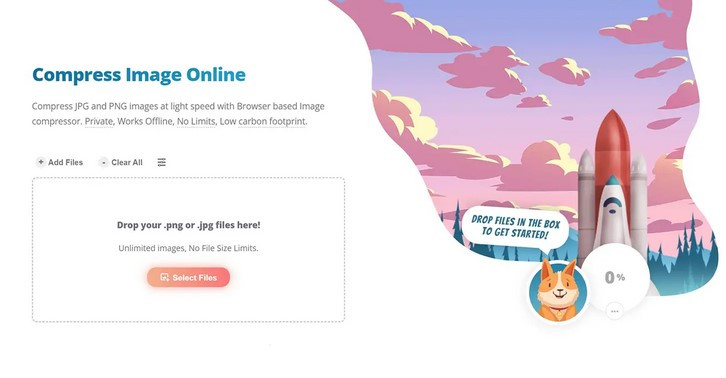 CompressImage.io is a powerful and user-friendly online tool that can compress your images in JPG, PNG, GIF and WebP formats, while maintaining high image quality. What sets CompressImage.io apart from other services is that it compresses images directly in the web browser, providing better protection of your data and faster processing, without any file size limits. Furthermore, the tool allows you to convert JPG or PNG files to WebP during compression. To use this service, you can simply drag and drop the files or select them via the dedicated button. CompressImage.io also provides the option to choose the compression level by percentage, offering precise control over the final quality of the compressed images. Its intuitive and uncluttered interface provides a pleasant and efficient user experience.
3. Compressor.io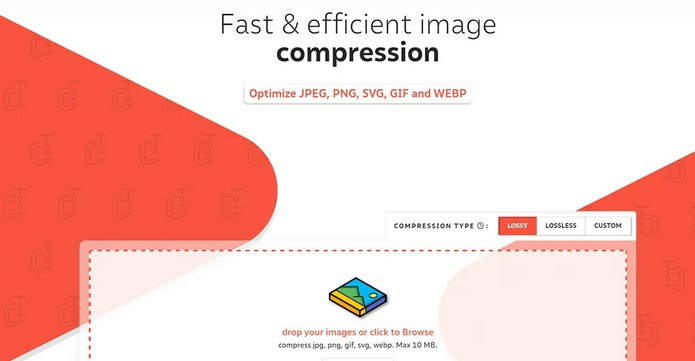 Compressor.io is a versatile online tool capable of compressing JPG, PNG, GIF, and SVG files. With three different compression modes available – "lossless" (without loss of quality), "lossy" (with loss of quality), and "custom" (custom compression) – you can choose the one that suits your needs best. With a maximum file size of 10 MB, it is a practical option for compressing medium-sized images. The user interface is clean and user-friendly, making it easy to navigate and select compression options.
4. iLoveIMG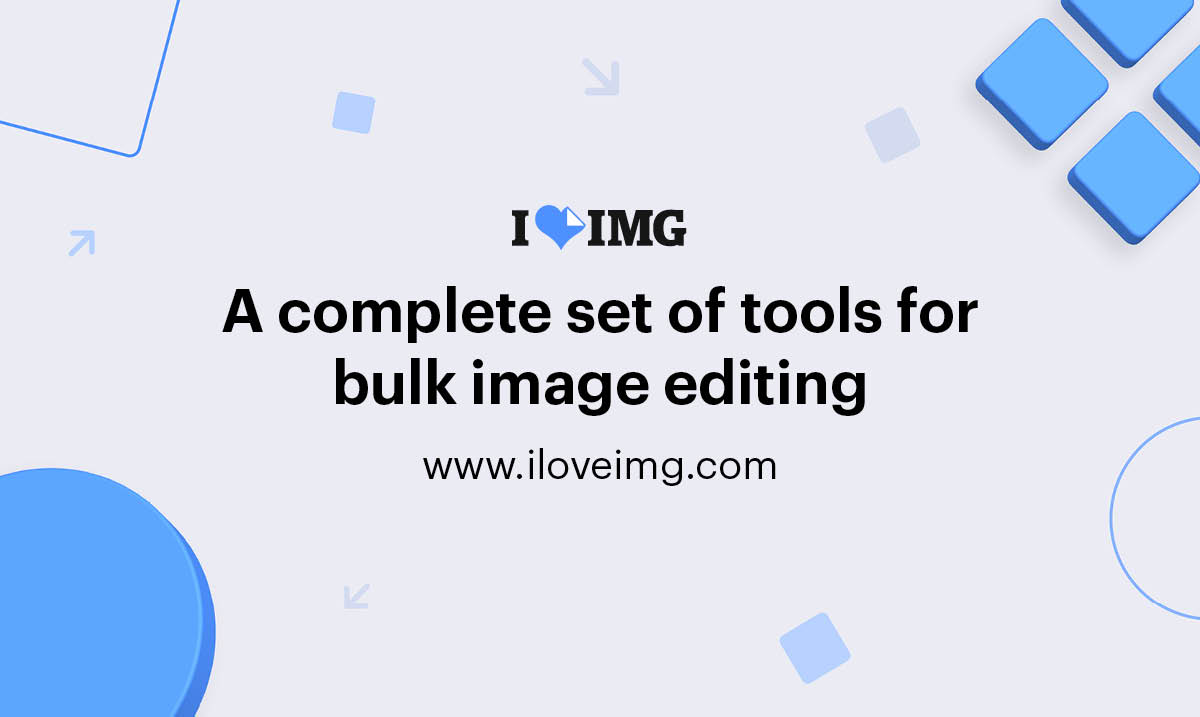 iLoveIMG is a site that offers a range of tools for editing and managing images in JPG, PNG, SVG and GIF formats. Among the functions offered, the major asset is the ability to compress images without any loss of quality. With the ability to process multiple images simultaneously, the service makes it easy to compress large files. Additionally, the interface is intuitive and user-friendly, allowing users to navigate and use various features effortlessly
5. Compress PNG or Compress JPEG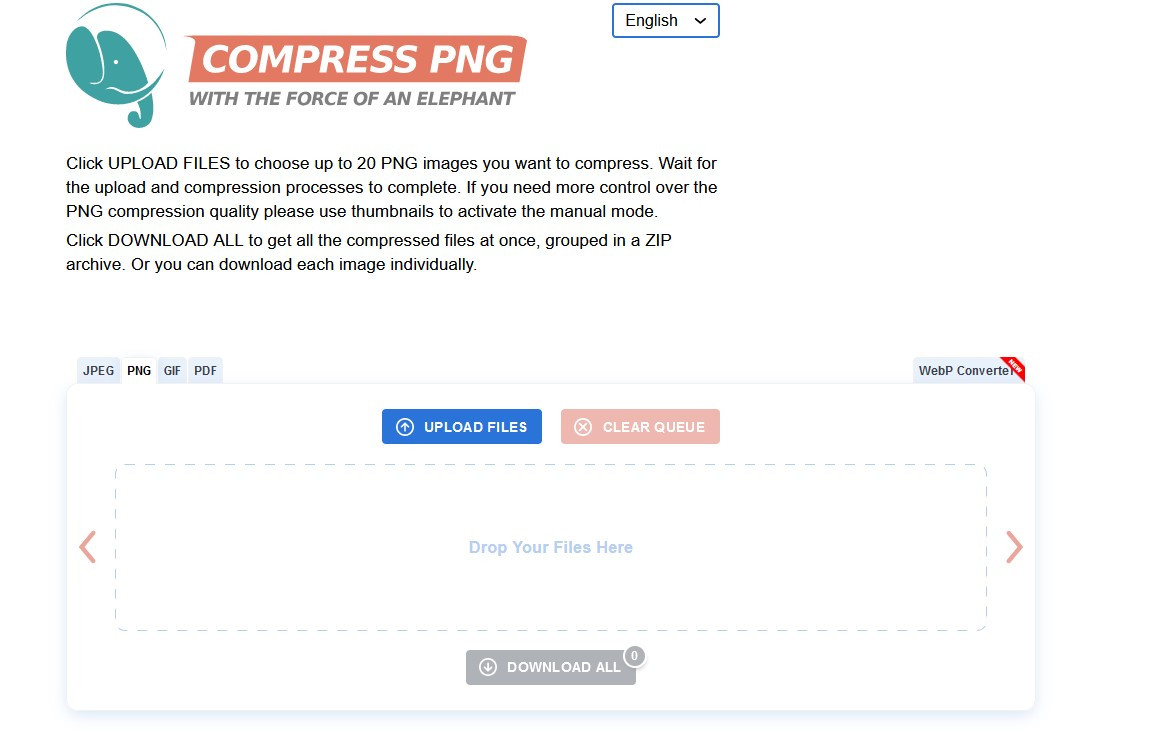 Compress PNG and Compress JPEG are handy online tools that can compress images in PNG and JPG formats. These services provide the option to download all compressed files into a single ZIP archive, which is particularly useful for managing large amounts of images. To ensure user privacy, uploaded data is deleted after one hour. The interface is simple and uncluttered, enabling quick and efficient use.
6. Optimizilla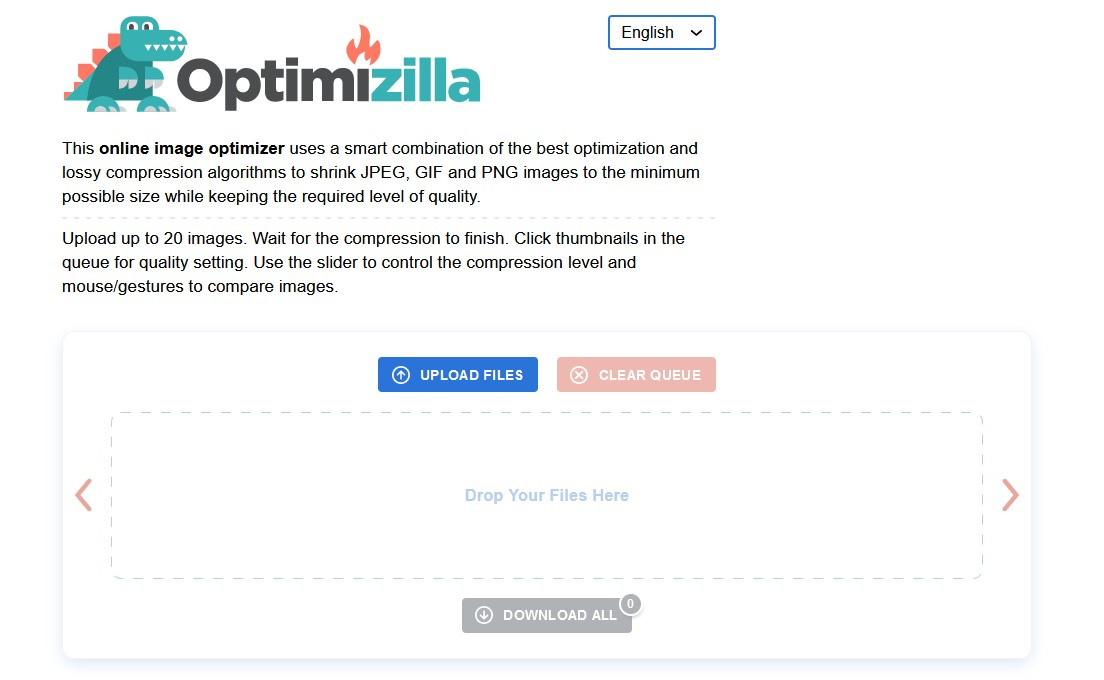 Optimizilla is an online image optimizer that stands out for its use of an ingenious combination of the best compression algorithms to reduce JPEG and PNG images. The service allows you to download up to 20 images at the same time and provides individual control over the level of compression for each of them. The user-friendly interface provides easy access to quality settings, allowing you to fine-tune the level of compression you desire.
7. SmallSEOTools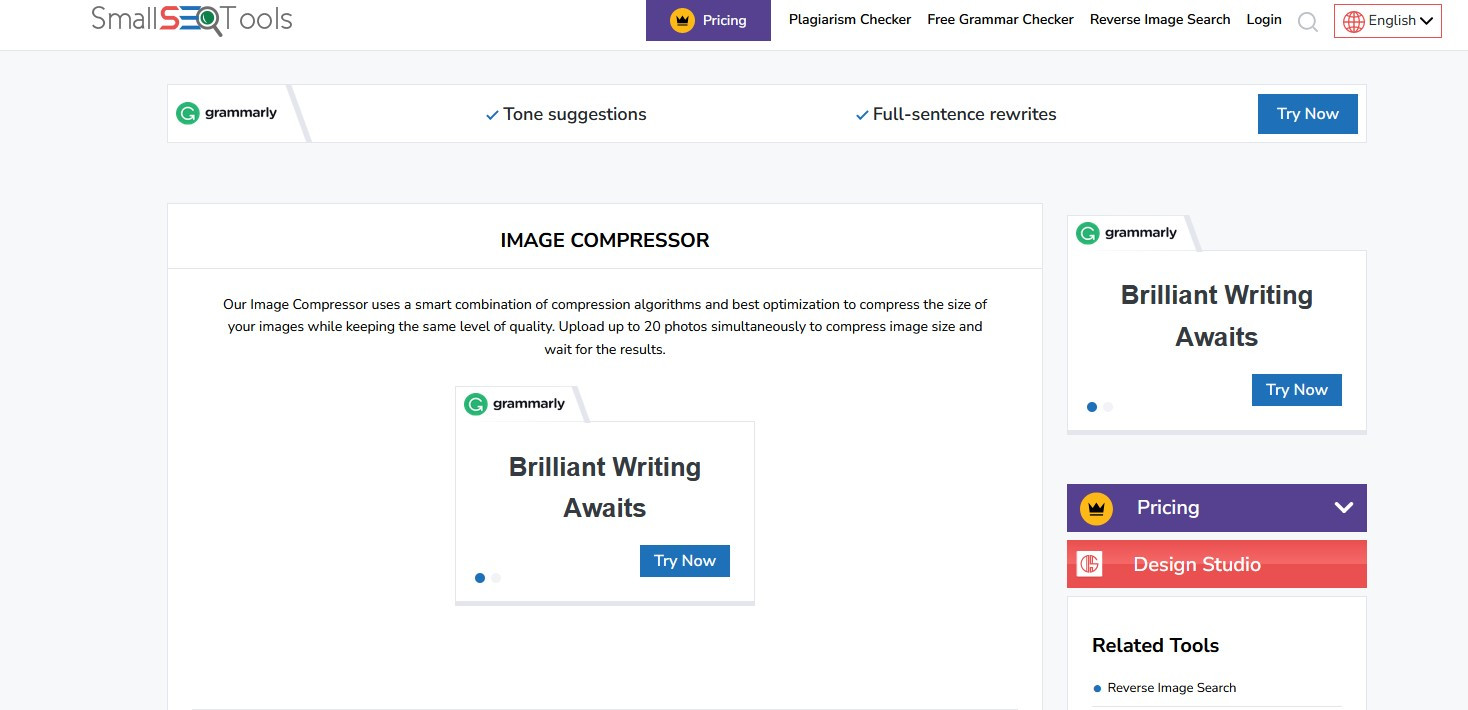 SmallSEOTools is a renowned provider of SEO tools, and its image compressor is among the best available. This image compressor employs advanced compression algorithms that reduce file size without affecting image quality. The user-friendly interface makes image compression easy for users of all skill levels. You can upload up to 20 images, with each having a maximum size of 5 MB.
8. Compressnow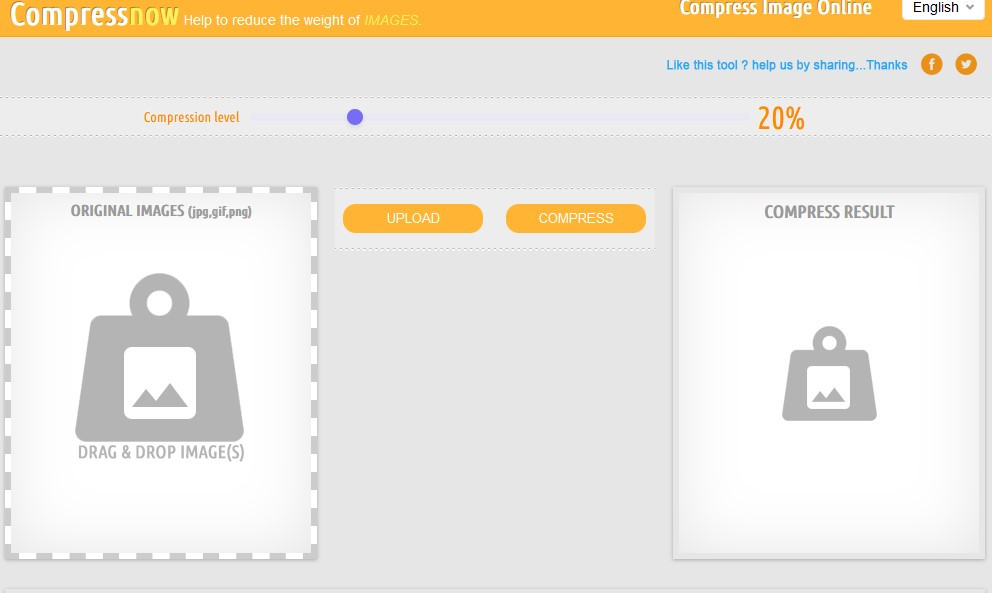 Compressnow is a free online service that can effectively reduce the size of an image or photo in JPG, JPEG, GIF, and PNG format. It allows you to compress up to 10 images simultaneously (9 MB/image) and offers the option to choose the level of compression in percentage, giving precise control over the final image quality. To use Compressnow, simply drag and drop the files or click the "Upload" button, then choose the level of compression and click "Compress" to begin the operation. Images are deleted after 30 minutes to ensure data privacy. The interface is user-friendly and easy to navigate, making this service particularly appealing.
9. IMG2Go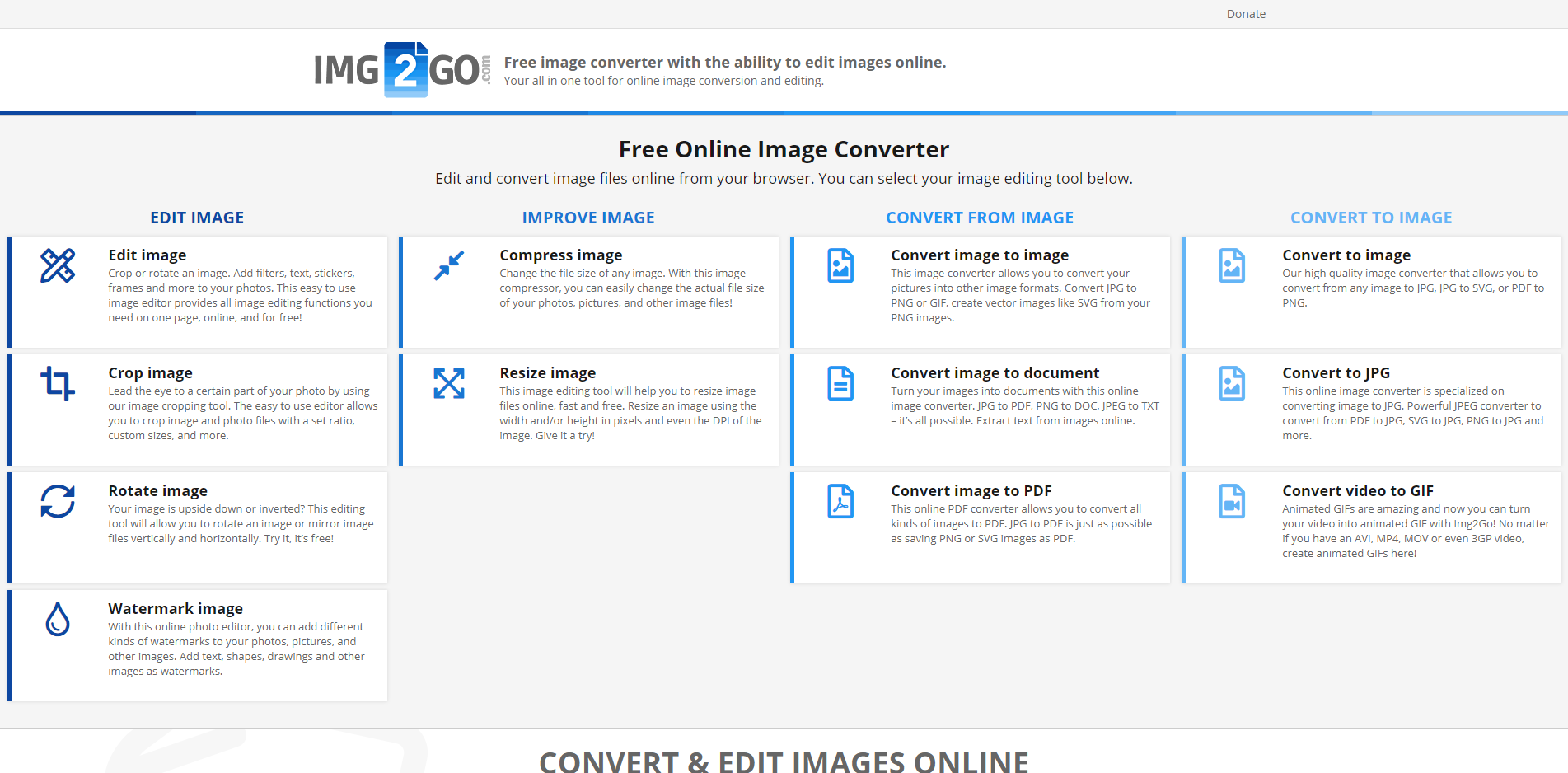 IMG2Go.com is a versatile online tool that can reduce the size of image files (JPG, PNG, etc.) without sacrificing quality. The service offers three compression options: Best Quality, Smallest File, and Balanced Quality, providing control for different needs. In addition, IMG2Go offers optional settings such as format changes, color choices, and the ability to resize the image according to user preferences. The interface is user-friendly and simple, making the compression process easy for all users."
10. OnlineImageTool.com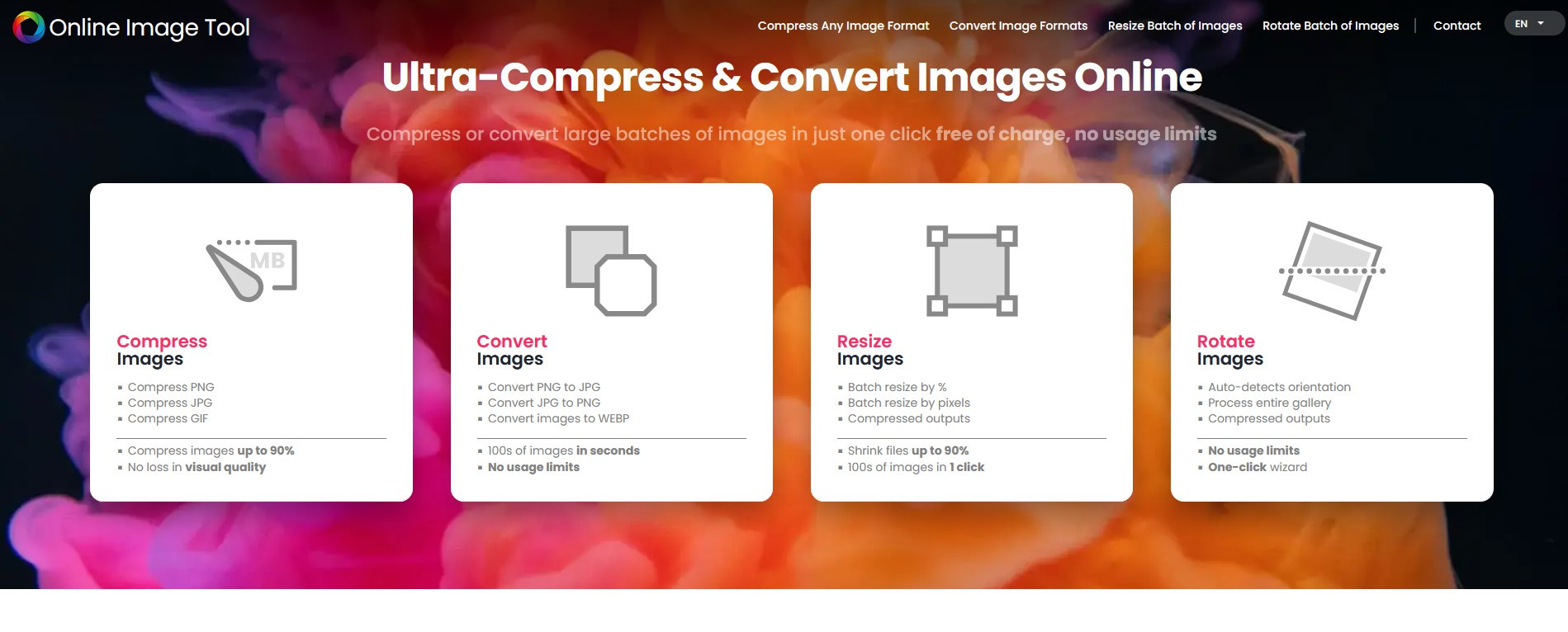 OnlineImageTool.com is a comprehensive online service that not only compresses your images to JPG, PNG, and GIF formats for free but also edits, resizes, and converts them. This versatile tool is easy to use and offers an all-in-one solution for working with image files. To compress your images, simply import them via the dedicated button or drag and drop them onto the interface. The site guarantees compression of up to 90% without loss of visual quality, making it an ideal choice for those looking to reduce file size without sacrificing image quality. The interface is clear and user-friendly, providing a pleasant experience for all users.
---
In summary, these 10 online tools allow you to easily compress your JPG and PNG images without compromising their quality. Whether you want to optimize your images for a website, share them with loved ones, or simply save storage space, these services offer a convenient and efficient solution to meet your image compression needs. And if you are looking for image compression software for Windows, macOS, or Linux, we invite you to discover Imagine.