The usefulness of automatic translators is well established. If these tools have long been criticized for their sometimes risky results, in particular because of a word-to-word translation, they are now capable of accomplishing feats. This is particularly the case of the excellent online translator DeepL. However, the tool that is the subject of this article is none other than Translatiuma translator that can be used on any operating system, both online and from your desktop!
Translate over 100 languages ​​instantly with Translarium
Translatium is a free translation app very convenient to use. Once installed, all you have to do is open the app, paste the text you want to translate, set the target language and press the button. Hall to translate the text.
However, you can make it even more convenient to use with keyboard shortcuts! In the Translarium preferences, you can create your own shortcuts to automatically translate copied text.
The program supports more than 100 languages including: English, Spanish, French, German, Japanese, Chinese, or Arabic. It also has a text-to-speech functionjust like Google Translate, which is very useful if you have any doubts about the pronunciation of certain translated words (the phonetic writing is also displayed).
It also keeps a translation history and allows you to add your translations to the phrasebook to save them on Translarium and consult them at any time, even when you are not connected to the Internet!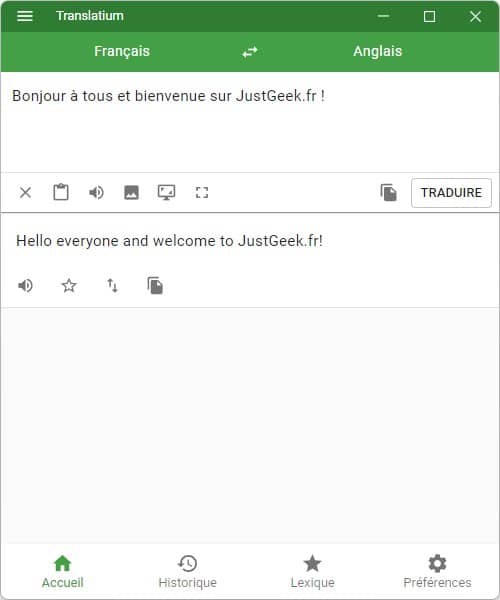 A veritable Swiss army knife of translation, the tool has other features such as the display of synonymsthe image translation or the choice between light and dark themes for the interface.
Finally, it proposes an extension for Chromium, firefox and other browsers, in order to translate your texts directly from your web browser, without having to launch an application. Simply select the text on the page, right-click and choose the "Translate with Translarium" command. Convenient isn't it?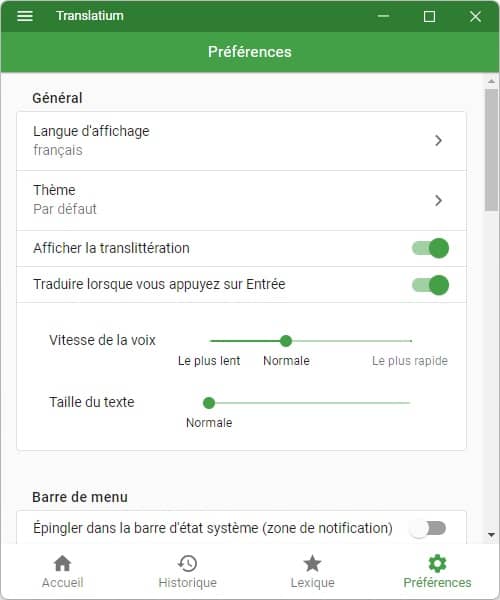 Compatible with Windows, macOS and Linux, Translarium is also cross-platform. You can also install it on android, iPhone, iPad and other mobile devices. Translarium is completely free and ad-free; it has everything to please!
What you must remember
Translarium is a free translation application for Windows, macOS, Linux, Android, iOS, Chrome, Firefox or even Opera. The app provides users with an easy, fast and accurate way to translate text from one language to another. Moreover, you can also use this translator to translate documents, websites or casual conversation. It's easy to use and has a wide range of languages, making it perfect for international communication. Finally, being able to use it offline is a huge bonus.
And you, do you know of other useful and free software for translation? Tell us your nuggets in the comments of this article.