With nearly 46% of Google searches being local in nature, 76% of which convert into a store visit and 28% result in an immediate purchase, local SEO has become a must for most businesses and organizations. more particularly those which rely on a local clientele and a catchment area delimited on a sector. In other words, it is an excellent visibility opportunity for brands that are struggling to attract visitors and potential buyers to their physical store from their website. If local SEO generally requires the implementation of a solid SEO strategy, it is also possible to associate it with Google Ads. Decryption!
Why do we associate local SEO and Google Ads?
Before we dwell on it, it is important to recall the principle of local referencing and the Google Ads advertising management .
Local SEO: what exactly are we talking about?
Also known as geolocated referencing, local referencing is a web referencing practice whose purpose is to optimize the visibility of a website for search engines by focusing on geographical or geolocated elements. It thus allows this website to appear in priority on various "local" requests related to its activity.
Note that the local character of a request is determined by the Google indexing robot in two different ways. Either this is already indicated in the request made by an Internet user or mobile user (city, district, region, street, among others), or Google considers that the Internet user's intention is to find a business nearby. In the latter case, the search engine can geolocate the Internet user and then offer him "personalized" results according to his position at time T.
So that we can take advantage of all the power of local referencing, we must actually register in the local Google directory, Google My Business , or in those of local businesses, work on our keywords, optimize our content , opt for local netlinking… A Google My Business listing allows advertisers to manage their presence on the various Google services, mainly Google Maps.
Google Ads: what is it?
Google Ads (formerly Google AdWords ) is none other than a paid advertising network on Google. It has built its global success on both the cost-per-click ( CPC ) advertising model and the cost-per-impression ( CPM ) and cost-per-engagement ( CPE ) advertising model.
Its operating principle is relatively simple. A marketer targets a specific keyword and auctions it off from the Google Ads platform. It is then put in competition with other advertisers who also target the same keyword. Thus, the maximum amount that he will bet on the latter corresponds to that which he will pay to Google for each click that the advertising banner will generate (CPC auctions), or for 1000 ad impressions (CPM auctions), or as soon as a user performs a specific action on the sponsored ad (CPM auctions).
In addition, Google Ads provides advertisers with a wide range of tools (targeting, management, campaign monitoring, etc.) to enable them to better manage their online advertising, or even their web marketing strategy, and therefore generate qualified traffic, then convert visitors into customers and ambassadors.
Is it a good idea to combine local SEO and Google Ads?
So the answer is yes ! These two methods can work perfectly in synergy to allow the advertiser to take advantage of the advantages of each at the same time: almost immediate visibility in local search results, positioning on queries bringing highly qualified traffic, better rate of converting, etc.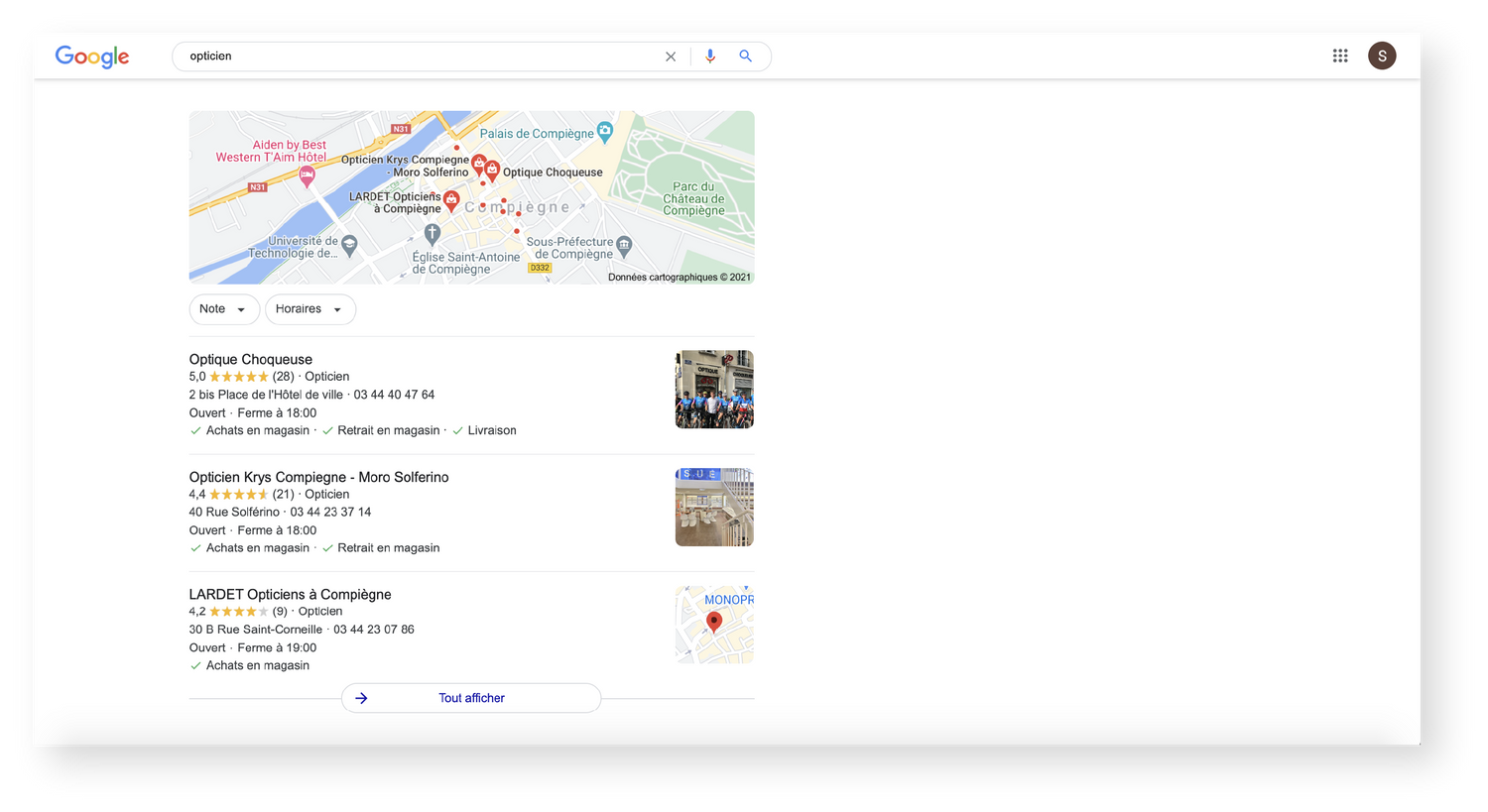 What are the benefits of using Google Ads to improve local SEO?
Using Google Ads for local SEO is above all giving yourself the chance to target a geolocated audience, and therefore allow yourself to optimize your visibility in your catchment area(s) and in Google. It also means targeting mobile users who are more and more likely to carry out local searches.
This hybrid method is particularly popular with franchises and groups of stores because it allows them to communicate globally and set up a local marketing strategy that accommodates the specificities of each point of sale. Companies that have a storefront (especially SMEs, VSEs, SMIs, Start-ups, shops, restaurants, bakeries, etc.) also find what they are looking for.
Anyway, by setting up a local Google Ads campaign , the advertiser can:
Make the most of geolocated queries to generate highly qualified and relevant traffic , reduce the bounce rate, boost the conversion rate, generate more sales and therefore claim substantial profitability.
Take advantage of a method that stands out as an excellent complement for the natural referencing of a local website and which allows it to position itself quickly on relevant local queries.
Control his presence according to the budget he wishes to allocate to his local SEO campaign on Google Ads.
Pause his campaign at any time, but also resume it whenever he wishes.
Capture a localized and specialized audience at the right time.
Display its sponsored advertisements (search network, display network, shopping campaign, YouTube) on specialized keywords.
Show ads targeted to local searches so that they are read by potential customers when they search for the offers, products and services offered by the advertiser.
Take advantage of geolocation around your business.
Engage in remarketing to target users who have already visited its website or a specific page of the latter, or those who have put one or more products in their basket, but who have not ultimately been at the end of their purchase.
Use the data collected to measure their performance and improve accordingly.
Why is an agency essential for managing a Google Ads campaign?
It is quite possible to internalize the various tasks involved in the management of a local SEA referencing campaign. But it is clear that this requires significant resources (skills, budget, time, tools, etc.) which we do not necessarily have in-house. This is why it is more prudent to collaborate with a "Google Partner" SEO agency .
By using such a service provider, you also choose to access the most advantageous human and technical resources that it provides. The agency takes advantage of its client a team with multiple skills, each member of which can bring his stone to the building for the implementation of the most effective strategy. This team will thus be able to provide concrete, measurable and achievable solutions to optimize a local Google Ads campaign, and ensure that it can improve the local visibility of its client's website.
With a web agency, you refocus on your strategic missions while the service provider strives to make the website a real magnet for qualified traffic: registration in the Google My Business directory, selection of the most relevant keywords, optimization sponsored advertisements, management of the Google Ads account, improvement of advertising campaigns, creation of local content with a strong semantic load oriented towards the company's catchment area, creation of a local netlinking campaign, monitoring of each action deployed, etc.
Throughout its intervention, the agency provides its client with personalized advice while helping him to control his budget and make significant savings.