Twitch is a streaming platform that is as popular with streamers as it is with subscribers. This is due to the proximity between the content creator and his audience that live video offers. Unfortunately, access to some Twitch replays requires a subscription…unless you're using the software. Twitch Recover ! The latter you among other things watch a Twitch replay (sub-only) from your favorite streamer free and without limits ! Follow our short guide and find out how to get started with this tool.
Watch a Twitch replay for free and without a subscription
Twitch Recover is a free software that allows you to watch sub-only replays of Twitch lives without a subscription. Even better, the tool lets you download any type of Twitch video (VODs, clips, streams, etc.). The only limitation of this software is that it gives you access to all replays, only when they are still present on the Twitch servers. As the platform is currently removing many VODs, you may not find the video you want to watch (especially if it is not a recent video).
Before explaining how to use Twitch Recover, remember that viewing Twitch replays without a subscription is not authorized by the platform. Also remember that, like ad blockers on websites (including ours), this practice does not remunerate the work of videographers.
To watch a sub-only Twitch replay without being a subscriber, follow these steps:
1. start with Download Twitch Recover from the GitHub platform. To do this, click on the link Twitch.Recover.Setup.exe.
2. Then proceed to install the software.
3. Run Twitch Recover.
4. A Command Prompt window will then open. From the latter, several options are available to you. For watch a Twitch replay (without subscription)type 3 and confirm with Hall.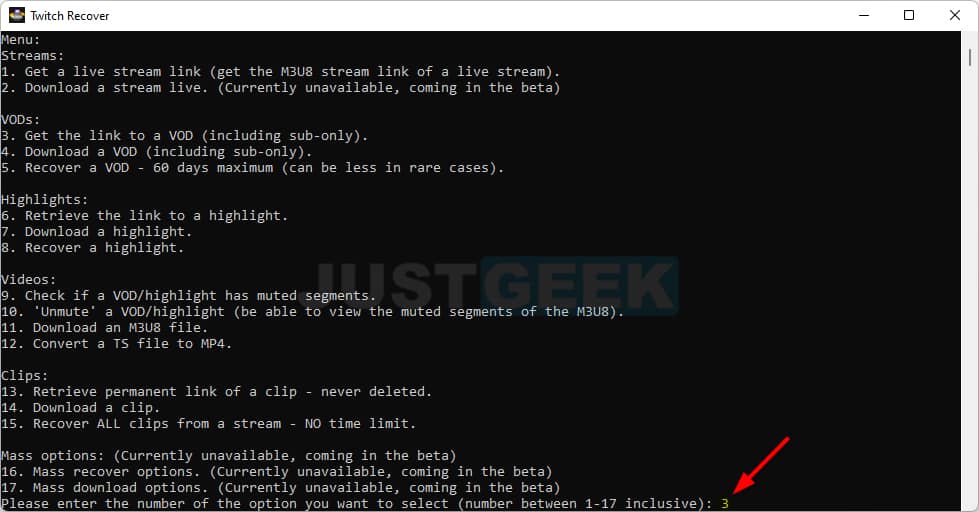 5. Then paste the URL (link) to the Twitch replay you want to watch.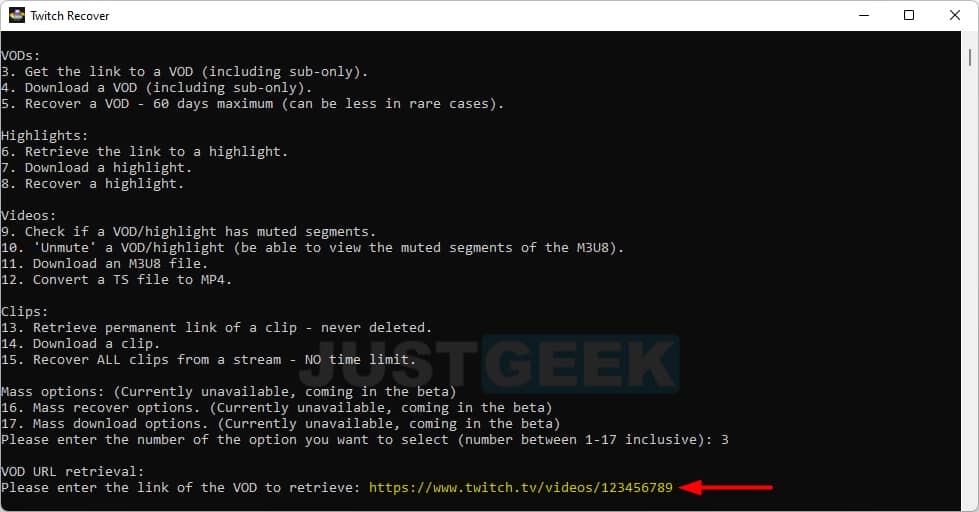 6. Twitch Recover lists the different video quality available (source, 720p60fps, 720p30fps, 480p30fps, etc.). Choose the one you want. For best quality, I suggest you select "Source". In this case, in my example, I have to type 6then validate with Hall.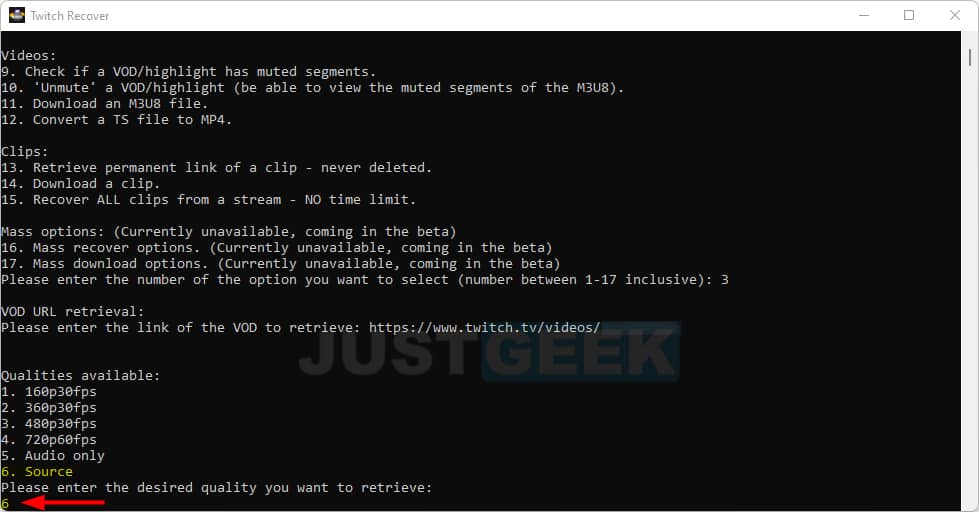 7. Then get the URL provided by Twitch Recover (next to Result). To copy the link, simply select it.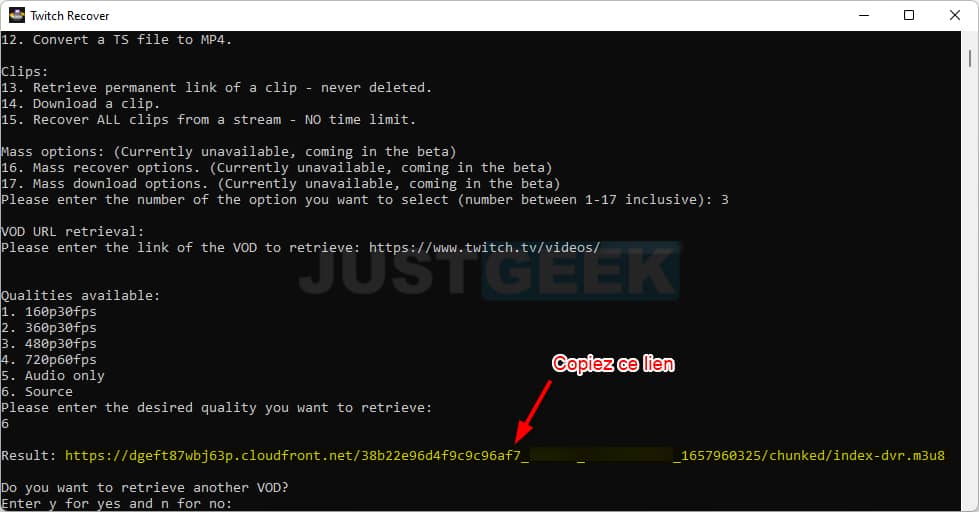 8. Then open VLCthen click on the " Media " and " Open a network stream ".
9. Under " Enter a network URL ", paste the link you previously copied in step 7, and click on " Read ".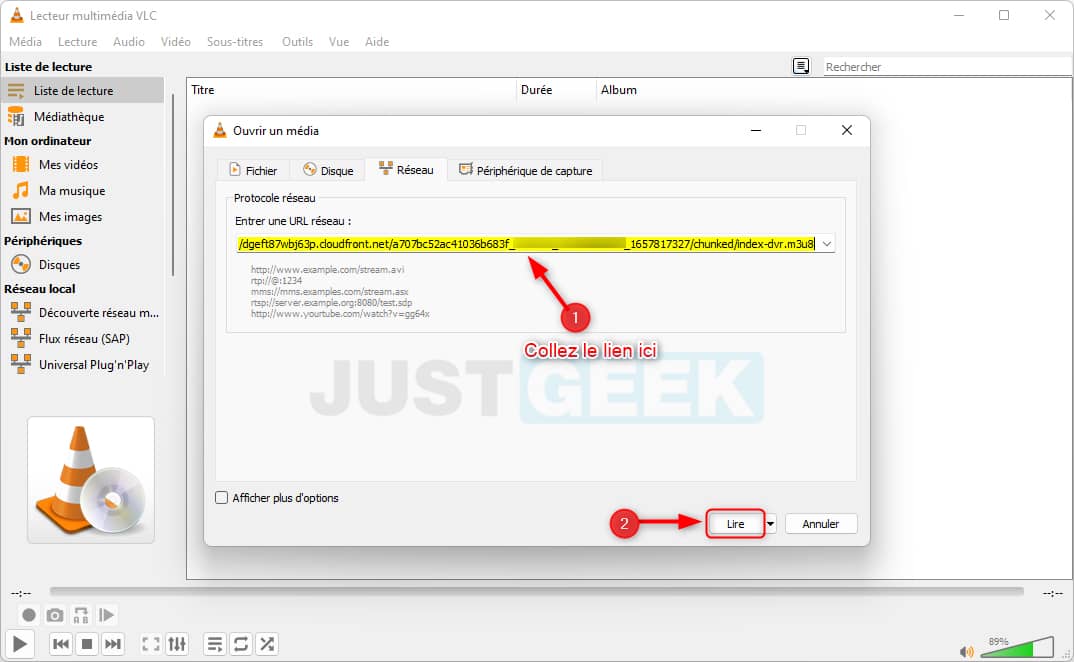 10. The Twitch replay will start instantly. All you have to do is enjoy 😉
✅ That's it, now you know how to watch Twitch replays easily and for free on VLC.