John McAfee was an American computer scientist who created one of the first antivirus software. Now 73 years old, he found himself in the world of crypto-currencies where he enjoys a certain authority. As usual, he continues to lead an active and scandalous life. They announce many unlikely things, such as Bitcoin at $100,000 in 2020. They also provide far from wise advice by highlighting useless or even questionable projects.
Update : John McAfee, incarcerated in a Spanish prison near Barcelona, committed suicide on 23/06/2021.
Biography
John McAfee was born in Scotland on September 18, 1945 (his year of birth may be 1946, there is no exact information). Almost immediately after the birth of their sons, John's parents moved to the United States and settled in Roanoke, Virginia.
We know very little about the first years of his life. Rumors announce that at a young age, he created a business delivering mail to the inhabitants of Roanoke, and just as early became very dependent on alcohol, taking his father as an example.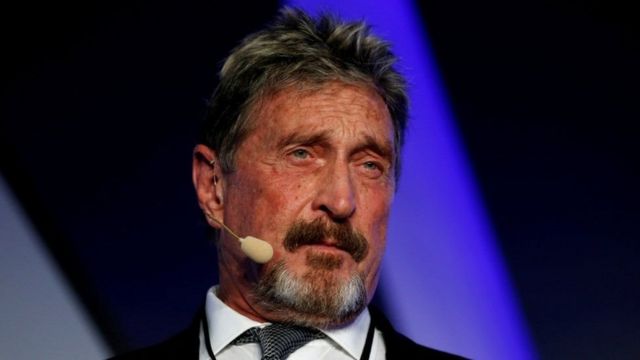 In 1967, John graduated from Roanoke College and received a bachelor's degree in mathematics. The following year, he found a job at NASA. He then worked at UNIVAC, Xerox and then Computer Sciences Corporation. In 1980, McAfee joined Lockheed Corporation: it was at this time that he began working on his first anti-virus software.
In 1989, John became one of the world's leading cybersecurity experts. He left Lockheed Corporation and became fully involved in the development of his own company, McAfee Associates, created in 1987. In 1994, he sold his shares for 100 million dollars. After that, he leads a comfortable life, where he engages in investing, teaching, yoga and other projects, until the financial crisis of 2008 hits.
Adventure in Belize
In 2009, New York Times reported that McAfee had only $4 million left (out of $100 million initially). This colossal loss is due to unsuccessful investments according to him. To save on his taxes, John will then move to Belize.
The remaining money would have enabled him to lead a comfortable existence, but it is not his lifestyle. In 2010, he created an antibiotic production company QuorumEx, headquartered in Belize. In May 2012, he was accused of selling unregistered drugs and stockpiling weapons. The police then proceed to search his villa. The charges are dropped some time later, John having all the documents. He said the story was related to his new cases and that this investigation was initiated by a corrupt official, whom McAffee refused to pay. John even sued the government of Belize for unlawful arrest.
But he did not turn out to be a good fighter for the rights and freedoms of the citizens of Belize, because six months later, on November 10, 2012, his neighbor Gregory Fall was found dead. Fall and McAfee often argued, and John did not wait for murder charges and fled to Guatemala. The local police then proceed to arrest him for illegally crossing the border. He declared his innocence and requested political asylum. He blamed Belize's corrupt officials and claimed the killer took the wrong house and killed Fall instead.See also who is Arthur Hayes, the founder of BitMEX?
Authorities in Guatemala denied McAfee safe haven and decided to deport him to the United States. On December 13, 2012, John was greeted by FBI agents at Miami airport. But the Belize police do not bring an official charge against him. He gives an explanation about the incident and the story ends there. Gregory Fall's murderer was never found.
McAfee and cryptocurrencies
It's hard to find a more outrageous and forceful figure in the cryptocurrency world. John calls himself a " bitcoin investor" and a miner. He is friends with Roger Ver and has 900,000 Twitter followers.
As for his activity on Twitter, it's hard to forget his "piece of the day" section. It was a series of daily tweets, each time praising a different little-known cryptocurrency. Immediately, its price increased. McAfee was accused of intentional pumps , after which he first changed the format and ran an "ad" once a week. Subsequently, he promised to stop posts of this type. A few days later, an advertisement for the TRON token appeared on his Twitter. John immediately disowned her announcing the hacking of her account.
Another scandal occurred after McAfee wrote on Twitter that he was paying prostitutes with cryptocurrency. This news caused great resonance, John was accused of giving a bad image to cryptocurrencies . He then announced that he was getting all kinds of dubious good with the cryptos: pornography, drugs and other well-known McAfee derivatives.
We can also remember this tweet , in which he declared that he wanted to become the first president of the United States to promote cryptocurrencies.
A number of people within the cryptocurrency community respect McAfee for its stance on bitcoin. He has repeatedly stated that cryptocurrencies are real money, while the dollar and other fiat currencies are deceptive . John even promised to eat his own penis, if in 2020 the price of bitcoin does not increase to $500,000. Later, he raised the price tag to $1 million.
But all this is only a tiny part of the episodes in the life of John McAfee. There's even more action and constant twists, and it's not his age that seems to be able to stop him… Maybe we will learn some interesting details of his life in the comedy "The King of jungle", in which the role of McAfee is played by Johnny Depp. It promises !
his death
John McAfee, the American creator of the famous antivirus software bearing his name, committed suicide on Wednesday in a prison in Spain, where a court had just ordered his extradition to the United States which accuses him of tax evasion.See also Who is Roger Ver, the famous "Bitcoin Jesus"?
The 75-year-old businessman was found dead in his cell in a prison near Barcelona. "Apparently he committed suicide ," said a spokeswoman for prison authorities in Catalonia, in northeastern Spain. The court had just ordered his extradition to the United States, which accused him of tax evasion. John McAfee was arrested in October 2020 at Barcelona airport, just before boarding a plane to Istanbul, the day after a US prosecutor issued an indictment against him. including failing to report millions of dollars in revenue from cryptocurrency promotion and consulting business .
Crypto Guru
According to the US extradition request filed in November, and cited in the court's decision, John McAfee earned more than 10 million euros between 2014 and 2018, without filing a tax return. US authorities had issued an arrest warrant through Interpol and he faced a possible sentence of up to 30 years in prison.
Computers, drugs and "girls"
After a somewhat chaotic childhood – with an alcoholic father who, when McAfee was 15, shot himself – John McAfee earned a doctorate in mathematics. He began his career at NASA between 1968 and 1970, before working in several IT companies. Then, in 1987, he founded the company McAfee, which became a giant in antivirus software . Software that he will later denigrate, once sold to Intel in 2010. He even posted a video on Youtube to explain to users how to uninstall it. https://www.youtube.com/embed/bKgf5PaBzyg?feature=oembed
Immersed in the world of "tech", John McAfee also immerses himself in artificial paradises . "Most of my bosses were on drugs too. I was in tech after all… We were on the cutting edge of technology and on the cutting edge of personal experimentation ," he said, according to the BBC . He claimed not to have touched drugs and alcohol since 1984 . On his blog, "WhoIsMcafee" , he claimed that rumors in the media about his use and production of drugs, such as "bath salts", actually originated from "hoaxes" , orchestrated by himself to entrap journalists.
On Twitter, John McAfee defined himself as "iconoclast, lover of women, adventure and mystery" . In January 2013, on his blog , he began a strange series of portraits of the "girls" who surrounded him "full time" or who "came and went" . A "core of seven" women who seemed to constitute a real "harem" around John McAfee :"I encouraged all the girls to hang out and be friends when possible. It was easier to keep an eye on each other's actions if others were watching, or if a camaraderie encouraged the sharing of intimate secrets . All the girls would tell me other girls' secrets ," he wrote.
A millionaire on the run
In the late 2000s, he moved to Belize, a small state in Central America, where he opened a research laboratory for natural antibiotics. Suspecting it was a cover to develop drugs, local police raid his home and find the American sleeping with a 17-year-old girl. She also discovers $20,000 in cash, several weapons and ammunition. McAfee says he was "tortured" by officers who also allegedly poisoned four of his dogs.See also Who is Craig Wright, the spearhead of BSV?
His neighbor is then found killed by a bullet in the head and John McAfee is suspected of his murder , especially since the victim had just filed a complaint against him for a conflict about his very many dogs, according to the blog specializing in technology news Gizmodo.com , which had revealed the case.
He then embarks on an incredible run. On his blog "WhoIsMcAfee", he updated the twists and turns of his escape , explaining for example how he had managed to escape the police: "I colored my beard and my hair in light gray. I carefully darkened the I skinned my face, neck and hands with shoe polish and put on a baseball cap I stuffed gum into my cheeks to make my head look bigger, I blackened my teeth and stuck a swab up my nostril so my nose would look twisted and disgusting."
"Conspiracy" and political ambitions
After an attempt to escape to Guatemala, he was deported to the United States, where he was sentenced to a civil fine of 25 million dollars for the assassination of his neighbor. According to McAfee, he was innocent and all this would be a conspiracy by the authorities of Belize against him, on the background of corruption , he said, questioned on the CNBC channel and on his blog .
In February 2015, he gave an interview to USA Today in which he said he was threatened with death . He claimed to have received a mysterious box which he said contained "explosives" . "We are ready to fight our last fight. I am no longer on the run. And I am no longer afraid. I am angry ," he said. "I'm fully prepared to defend my territory. I have a security team, weapons and pit bulls. I'm in Lexington. That's where you can find me ," he concluded.
That same year, he was arrested in the United States for driving under the influence of narcotics, in possession of a weapon. In January 2019, he fled his country, starting his run on his yacht, saying he was "chased by the CIA" . He landed in Cuba where he announced – after a first attempt in 2016 in the Libertarian Party primaries – to run for the presidency of the United States . He ended up being arrested in October 2020 at Barcelona airport, just before boarding a plane bound for Istanbul.