With the many challenges businesses face these days, the traditional means of linking branch offices seems outdated. It is now necessary to find innovative solutions, capable of satisfying new habits. SD-WANs, defined as software-defined wide area networks, are these new solutions. Considering the various advantages of this new network solution compared to the traditional Wide Area Network, adopting SD-WAN is beneficial for your business. Here's what you need to know about SD-WAN.
How SD-WAN Works and Benefits
SD-WAN uses Internet Service Provider connections available in each area instead of MPLS lines. This multi-operator type professional connection mode makes it possible to correct the limits of the wide area network. Indeed, it combines several connection technologies to significantly improve network performance. By adopting SD-WAN, you can enjoy high performance for your cloud applications. With the ability to outsource your applications to the cloud, you also get more room to store your data. Opting for SD-WAN also means benefiting from reduced connectivity costs due to the transition from MPLS to broadband services. You also have the possibility of playing the competition to obtain a better offer, in terms of costs and quality of the connection.
How to switch to SD-WAN?
If you are considering moving to SD-WAN to take advantage of its agility and flexibility, you can do so without much hassle. This digital evolution requires the installation of equipment on each of your company's sites. Entrusting the task to network experts capable of presenting you with turnkey solutions is the best solution for a successful migration. Experts can also help you secure the network to  prevent malicious intrusions . Since it is an evolution of the WAN, the installation can very well be done on the existing WAN network.
More information about SD-WAN
What is SD-WAN? Definition and explanation of how it works…
WHAT IS WAN?
Before explaining the term SD-WAN, let's start at the beginning. The WAN, Wide Area Network, refers to the computer network connecting the sites of a company to each other and to the Internet. This network uses a specific technology, called MPLS , which is different from consumer Internet connections. It provides partitioning and security of the company's internal computer flows.
If computer networks were roads, consumer Internet access is equivalent to departmental roads. They are accessible by everyone, whereas MPLS, the equivalent of private routes, is dedicated to the company concerned.
Unlike the general public market, the professional market is very captive: 90% of the market is held by 2 historical players.
THE SD WAN DEFINITION
The SD WAN general explanation:
This innovative professional Internet connectivity technology makes it possible to build a virtual network based on a physical network and to control it from a central point.
The SD WAN technical definition:
New approach to professional networks, multi-operators, which allows you to subscribe to the best Internet offer according to the location of the company, and to simply change it. The company is therefore no longer captive to its incumbent operator, and can therefore use competition to optimize its costs. Possibility of using several links to boost the flow rates.
What can SD WAN bring to the company?
SD WAN is a solution adapted to new approaches to IT, with the outsourcing of applications and to new constraints, such as the subscription of software services beyond the control of IT services, known as Shadow IT .
APPLICATION OUTSOURCING
Historically, applications were hosted at company headquarters (SAP, email, etc.). The WAN was mainly used to connect remote sites to headquarters. The Internet was mainly used for leisure (personal email, browsing, etc.).
This model began to evolve in the years 2005 – 2010 with the arrival of applications available directly on the Internet such as Salesforce ("in the cloud "). Software publishers followed, notably Microsoft with Office 365. Applications therefore left company headquarters to migrate to "Datacenters". These data centers bring together computing resources (servers). The applications are thus accessible directly from any Internet connection.

If computer networks were roads, the "Datacenter" would be the equivalent of cities.
LIMITS
If this change has on the one hand brought flexibility of use, on the other hand it has:
Eliminate the partitioning of company flows, these flows must necessarily pass through the Internet to reach the applications.
Significantly increase the throughput needed between the business and the Internet. This generates congestion points (blockage) during peak hours (9am when users connect).
The MPLS technology created to meet the initial needs (connecting company sites in a partitioned manner) is therefore no longer suitable. Its complexity in setting up and in use does not help .
We are therefore witnessing an inequity between the agility & simplicity of applications in the Cloud, easily available, and the rigidity and limits of this technology.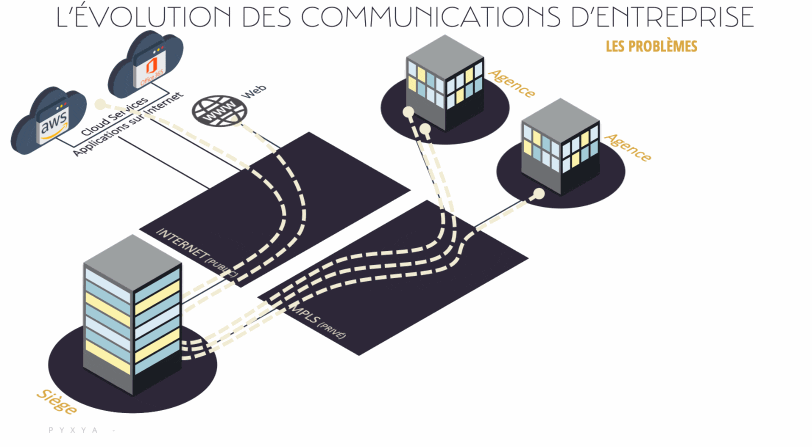 If computer networks were roads, this amounts to wanting to access a city in the morning via a single path, the same for everyone (the highway). This generates traffic jams.
SD-WAN
To avoid traffic jams, many of us use a guide application. It informs us about road traffic and the best route, and allows us to use secondary roads if necessary.
This is what the 5G SD-WAN technology offers, among other things . It allows access to both internal and external applications, using the best path depending on the traffic. While MPLS used to dedicate (private) paths, SD-WAN can use these same private paths as well as public paths (the "home-like" Internet connections), integrating the traffic state in the choice of the route.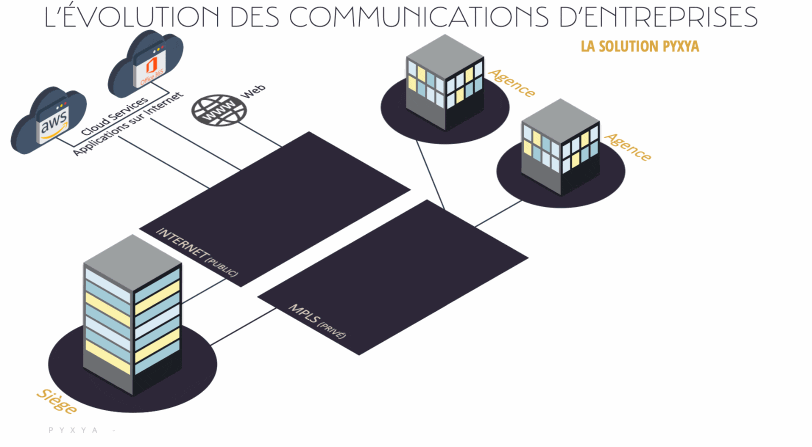 SD WAN FOR DUMMIES
Having trouble with computer acronyms? You've heard of WAN, but now a new abbreviation has appeared and you're wondering: what is SD WAN? This page is intended to answer your questions so that the SD WAN operation is no longer a secret for you.
FROM WAN TO SD WAN FOR DUMMIES
The WAN, or Wide Area Network, is the computer network that connects the various sites of a company to each other and ensures their connection to the Internet, thanks to MPLS technology, the success of which has continued to be confirmed on the last 15 years. But then, what is SD WAN? It is an evolution, based on a software solution and intended to revolutionize the WAN technology of corporate networks, giving it greater agility and flexibility. PYXYA experts are now working on turnkey solutions designed to make networks autonomous and more efficient, at no additional cost to companies. Invaluable advantage of SD WAN: it can be installed on an existing network.
If you liked this article, please subscribe to our reddit community to discuss it. You can also find us on Twitter and Facebook.