SEO keyword research is the foundation of content marketing, search engine optimization, and virtually every other type of digital marketing.
It is the practice of finding, analyzing and using the phrases that people use to search for information on the Internet.
In other words, it's about getting to know the language of your visitors and using that knowledge to optimize your content.
Why is SEO Keyword Research a Crucial Part of SEO?
Today, keyword research is no longer limited to finding the "right" keywords and placing them in the "right" places. It is no longer a question of finding an ideal keyword but of understanding your target audience and covering the subject they are looking for.
Internet users are much more likely to click on results linked to natural referencing (SEO) than on paid results (SEA). According to Higher Visibility, 70-80% of internet users ignore paid ads on the search results page.
Your prospects use search queries, or rather seo keywords to find products, services, get information, etc. Targeting the right SEO keywords is what gets you quality traffic that converts.
So keep an eye on your target audience, industry trends and evaluate the performance of your SEO strategy regularly.
Keyword research is , in simpler terms, digital market research. If you don't take the time to do keyword research before rolling out your SEO, content, or PPC campaigns, you'll be leaving a lot of money on the table.
Understand search intentions to optimize SEO
Google's main goal is to provide the best possible user experience to Internet users. It is constantly developing its algorithms to make them more and more precise in order to highlight the most relevant content possible for each search query.
What is search intent in SEO?
The search intent represents the content that the user wants to see typing his keywords on a search engine. It is therefore crucial to remember that this search intent in SEO should be the basis of any SEO strategy.
User intent represents the research objective, the one you seek to "satisfy" with your content and your products or services.
The different types of search intent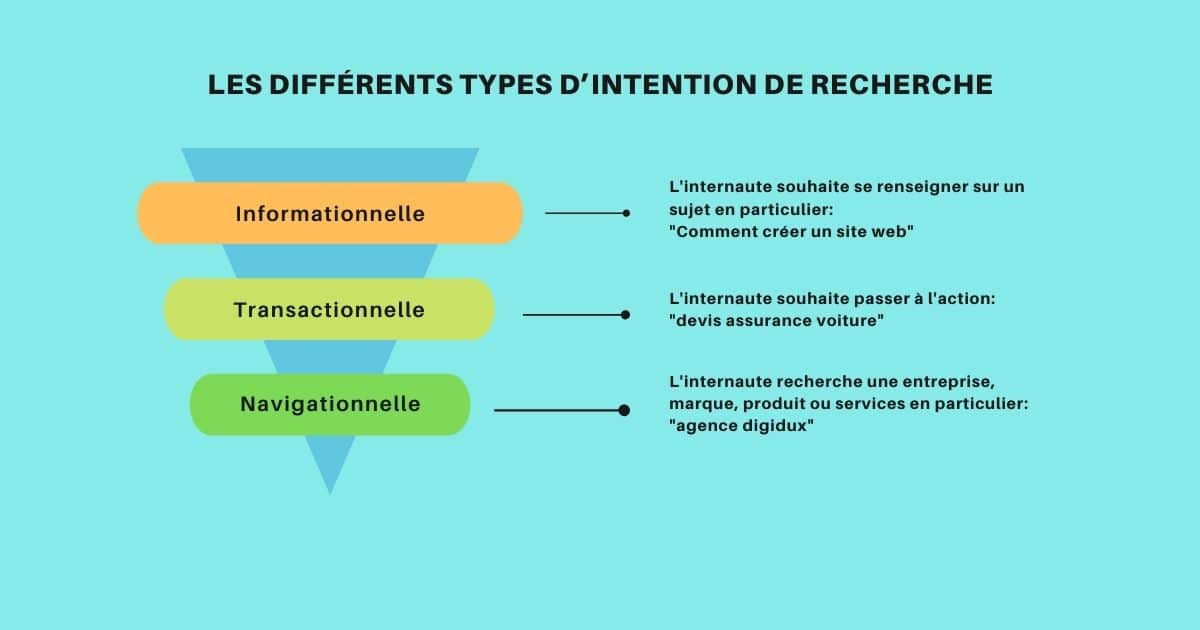 Today more than ever, it is essential to create content for the user, and not for the search engines. That said, there are 3 categories of SEO keyword intent , namely:
informational request
transactional query
navigational query
Some SEO specialists add other types of queries such as commercial, local or decisional but we will not cover them in this article (the three types above are a good starting point).
Informational request
A majority of Internet users are simply looking to find information on one subject or another.
Think of your own searches on Google or YouTube. It is very likely that most of the time you are looking for information. You may have a problem and are looking to solve it.
When you searched for "How To Do SEO" or "How To Do Keyword Research ", you were probably looking for information on one or the other topic.
SEO keywords with an informational intent do not necessarily convert immediately. Indeed, the user is essentially looking for information on your site.
At the same time, an SEO keyword with an informational intent gives you a golden opportunity to connect with your target audience and increase your visibility.
Articles and tutorials of the "How to…" type are good examples of content intended to satisfy informational intent . So strive to create high-value content that answers your potential customers' questions.
Transactional query
We talk about a transactional request when the Internet user uses keywords that are intended to lead to an "action".
For example, by searching for "logo quote", the Internet user is in the process of purchasing a service.
In these transactional queries we very often find combinations of keywords that include product names and with "buy", "best price", "promo code" or "quote".
Navigational query
When search engine users select seo keywords that include a business name or a specific description of a business, chances are those people want to go to the business's website.
It is also likely that they already know the company.
For example, if someone types "facebook" into Google, they are probably looking to "navigate" to their Facebook page.
Those who probably entered "gmail" or "linkedin" into Google search aim to reach those respective sites.
Long tail keywords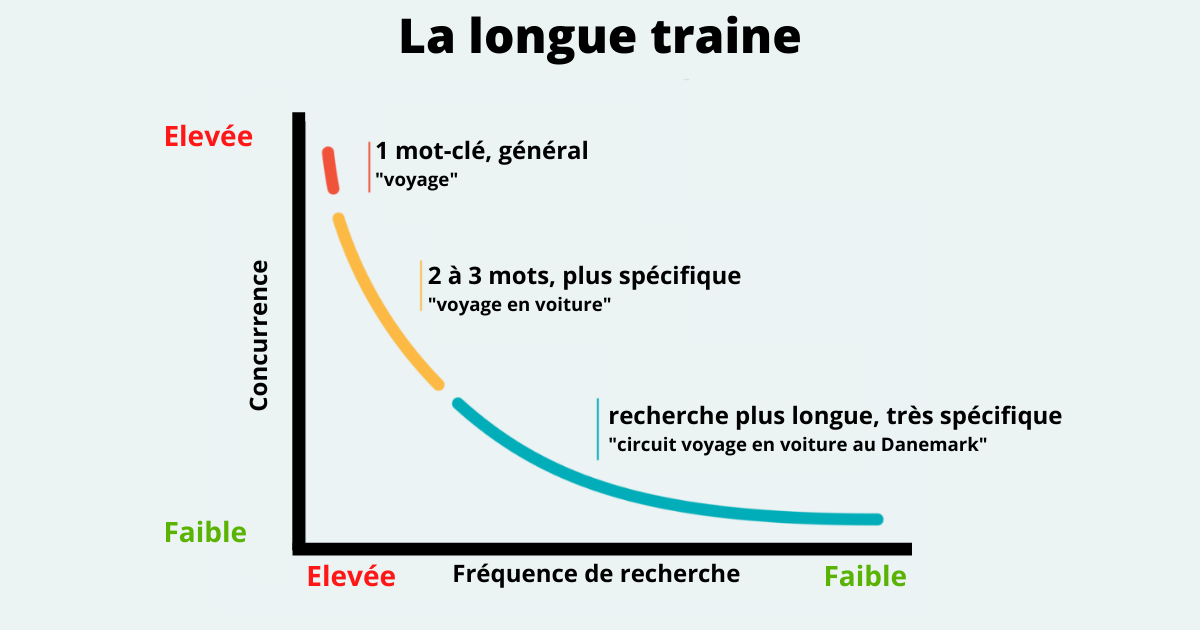 A long-tail keyword is more specific than a general keyword . Most of the time – but not necessarily – it consists of more words.
The keyword generalist is a general term that many people use. A long-tail keyword is more specific or a subtopic of the generalist keyword .
Why should you care about long-tail keywords?
Because they can drive great, high-converting traffic to your website.
In general, the long tail is defined as SEO keywords longer than 4 or 5 words.
However, a study by ahrefs (keyword analysis software) highlighted a common misconception: "  Shorter search queries have higher search volumes than longer queries . »

Without going into the details of the study, the advice is not to rely solely on the number of words that make up a search query to determine its relevance.
How to choose the right keywords for SEO
It is sometimes difficult to choose the right SEO keywords for Google. In recent years, research behaviors and rules have changed a lot and are constantly evolving.
Briefly, your process should follow these steps:
Make a list of important and relevant topics based on what you know about your business.
Fill these topic lists with seo keywords.
Search for related keywords .
Check for a mix of general keywords and long -tail keywords in each listing.
Analyze how competitors are ranking for these seo keywords.
Refine your list with competitive research
The most important thing is to keep an eye on the following aspects:
the intent of the search query
search volume
keyword difficulty
relevance
Search volume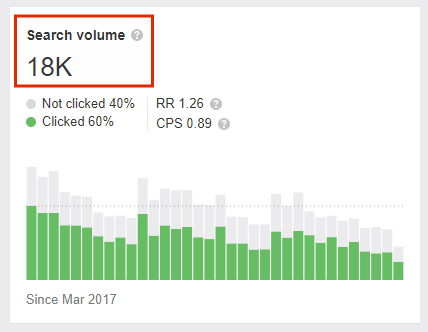 The "popularity" of an SEO keyword is generally related to search volume, i.e. the number of people who search for a given phrase. It is usually calculated as a monthly average based on the last 12 months.
Different seo keyword analysis tools use different data sources and processing methods. Therefore, there may be differences in the search volume values ​​of a keyword .
Each of these sources has its own pros and cons and none of them are 100% accurate.
It is crucial to target SEO keywords that have real search volume but without focusing entirely and solely on volumes.
Well written content will most likely rank for many other keywords.
Keyword difficulty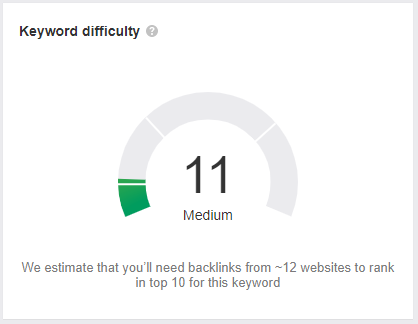 SEO keyword difficulty is a metric that helps estimate the ranking difficulty of a certain keyword . The higher the difficulty level, the harder it will be to rank for the keyword in question.
Many tools use different methods to calculate the difficulty of an SEO keyword . But in general, they are based on:
The number of backlinks (backlinks)
The quality of backlinks
The number of pages that link to a given website
The authority and relevance of linking pages
Attention :
Don't take SEO keyword difficulty as the only clue . The metric should only serve as a guideline and not an absolute value. If your content is better and more relevant, you can outrank higher authority websites.
Don't compare numbers between different tools. Each keyword software uses different data to calculate keyword difficulty , resulting in a difference in values.
A high difficulty seo keyword doesn't mean you can't outrank other websites. Because sometimes, if there is no relevant content, Google just shows high authority semi-referring websites.
Relevance
Behind every SEO keyword that people type into Google, there is a certain (and often very specific) expectation. Your goal is to decipher this expectation from the start, so that you can build a page that will perfectly meet it.
This is why the analysis of search results (SERP) should be an integral part of any keyword research :
You can better gauge the difficulty of keywords by looking at the authority of ranking websites
This helps you discover the search intent behind the keyword to see if it is relevant to your content.
Once you have determined the intent behind your SEO keywords , you can match it to the stage of the sales cycle it represents.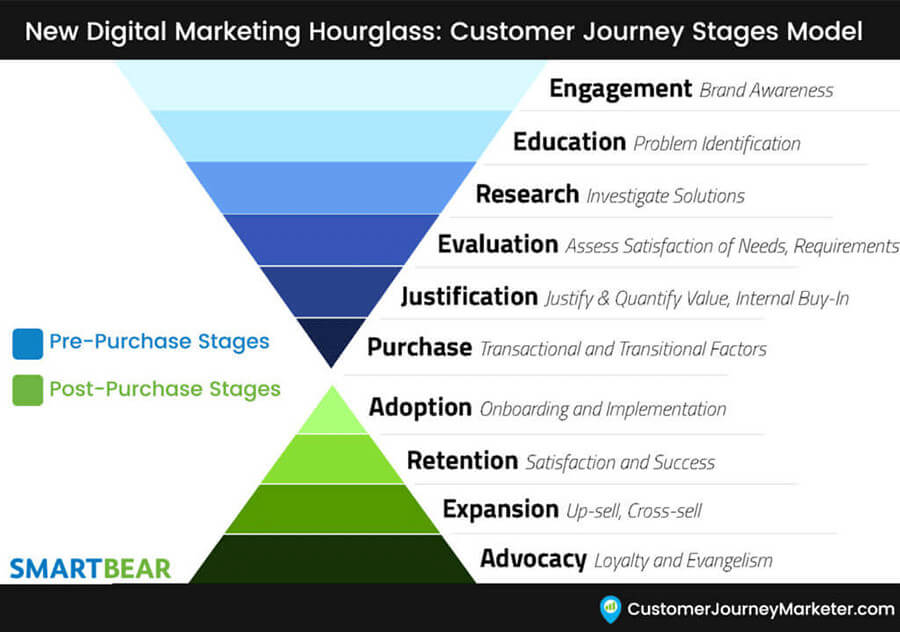 In order to better understand the Internet user's journey and assess the relevance of your keywords , you can help yourself with the following questions:
Engagement phase: brand awareness
Are you relevant to me? Do I want to know more about you in the future?
Education phase: identification of the problem
Do I have a problem or a need?
Research phase: investigating possible solutions
What solutions are available? What factors should I consider? What alternatives on the market?
Assessment Phase: Assessing Needs Satisfaction
Will this product or service solve my problems? Does it meet my specific needs? Will it meet my requirements?
Justification phase: justify and quantify the value, internal purchase
Do I really need this service or product? Why choose it now? Why not its alternatives? How can I include/involve my boss and team members in this choice?
Purchase Phase: transaction factors
How can I get this product / service? Is it difficult/easy to handle? How will it change my current processes?
Using the right keywords for your web pages is now an integral part of digital marketing. It is one of the royal roads for quality traffic.
You must have the right strategy from the start because it will determine whether or not your SEO is successful.