Why create a blog ?
You might be wondering what is a blog for ? The blog is a rather reassuring way to make yourself known without really showing yourself, since you are writing. This is the most effective way to consistently deliver quality content to attract leads . It is a communication tool to create a first bond of trust with your future customers. It is also thanks to your blog that you will be able to position yourself on different keywords. The blog is ideal for developing its natural referencing .
Finally, the right question would be rather: what is a website without a blog? For me, it's a wonderful tool for self-expression and also a long-term investment . This is all that I will explain to you in this article. Why create a blog ? Here are 5 good reasons to start blogging.
1.   To write the articles you want to read
Can't find exciting articles on one of your favorite topics? How about writing them down? Writing articles that I want to read is one of my main motivations. This means writing quality articles, looking for relevant or unpublished information to surprise my readers. Provoking an echo by talking about their problem and proposing solutions to motivate them to take action.
The blog is a mode of free expression because you can approach these subjects as you wish and above all with your originality. For example, you can share your passions or pass on your knowledge. This will greatly help to differentiate you from your competitors. Indeed, the interest of a blog is to make its own voice heard, its own style, to share its experience or even its opinion.
Unlike some writers who pride themselves on writing quickly, I want to write original and interesting articles. I want to create content that offers a new vision. My website is my space of freedom and I want to help freelancers like me to create their space of freedom. I want to write articles of public utility.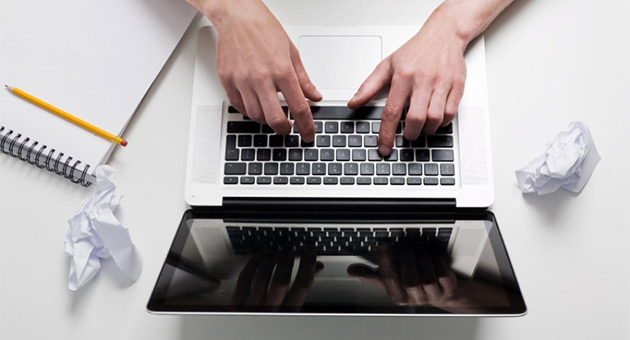 2.   To get known and emerge from anonymity
Making yourself known when you are an entrepreneur is indeed essential . Growing your network is very important. So we go out, we meet people, we talk and we exchange business cards. However, this takes time and limits us to one or two networks.
A blog has the advantage of representing us very early in the morning and late at night, even while we are sleeping or on vacation. It allows us to come into contact with strangers that we would not have been able to meet otherwise. At the time of the digitization of companies, the blog is the union minimum to get out of anonymity .
One of my greatest pleasures is seeing my articles shared by people I don't know. They are not part of my network, but they saw my article and wanted to share it. Pure happiness for a blogger.
ٌRead the pitfalls of duplicate content .

Duplicate content is duplicated, copied, identically reproduced content and this is bad for SEO.
3.   To show expertise and attract prospects
As a coach or freelancer, I invite you to talk about your area of ​​expertise in your blog . I'm going to reveal an SEO web editor's secret to you: a quality article responds to a problem of your persona.
Why should your prospects trust you? By showing your expertise through your blog articles, you create a bond of trust with your future client. Because by simply answering one of his questions, you reassure him while arousing his interest.
When talking about web writing or SEO with entrepreneurs, one of the first questions concerns keywords. What is a keyword? Or how to use it? That's why I offer a free guide to find the right keywords for your activity in a popup when opening my site.
To go further on keywords, find my article on the long tail .

To understand everything about long tail keywords.
4.   To invest in you for the long term
Having a good natural referencing is a long-term investment . What is also called free SEO requires a little patience. Because indeed, creating editorial content (articles and pages of your website) takes time and requires regularity.
Your blog belongs to you . You are home. Think that a page, an account or even a group on a social network does not belong to you. They belong to social networks. The content published on your blog, on the other hand, will continue to attract traffic to your site long after it is published.
As part of my work as a web editor, I write almost every day. Learning to write for the web also leads us to develop certain skills. These skills are increasingly in demand: knowing how to attract qualified traffic through optimized articles is an asset for any company.
5.   Why create a blog? Because the blog is part of a content marketing strategy.
The blog is a communication tool that can therefore be powerful. For it to be truly effective, it must be part of a marketing strategy. A good content marketing strategy includes:
 the needs of your persona;
a clear definition of your offer;
the right keywords for your business;
planning your content.
If you are used to reading my articles, you must now know: it all starts with the needs of your target in digital marketing . That's why I always talk about it with my clients or prospects. The first instinct is to think that your offer is aimed at everyone. But that way you don't talk to anyone. Worse, you waste time with prospects who are not in your target.
In practice, you have clients with whom collaboration goes better. They are also called ideal clients because with them everything is simpler, more fluid. For more effective communication, you should contact them first.
 I hope you enjoyed this article.
If you liked this article, please subscribe to our reddit community to discuss it. You can also find us on Twitter and Facebook.