Wikifox: a clean and simplified version of the real Wikipedia
Wikipedia is a very useful solution for our online research. It must be said that the
The famous online encyclopedia is full of useful information. Only, we have to admit it,
the user interface still leaves something to be desired… The articles are not always very clear and the ergonomics of the site is far from being the best. Fortunately, there are solutions to make Wikipedia's user interface more modern. This is for example the case of Wikifox, a website that offers a clean and simplified version of the real Wikipedia!
Wikipedia, but better!
Wikifox is a website that looks like a search engine like Google, Bing, Qwant or Duckduckgo. The only difference is that it only offers search results from Wikipedia.
The developer of Wikifox has simply reimagined the famous encyclopedia to offer a much cleaner, simplified and modern interface. For the moment, Wikifox is still in the development stage (beta) however, many features are already present.
This improved version of Wikipedia offers features not present in the official Wikipedia. The first major change is the user interface, which offers a pleasant and easy search experience.
In addition, you will also find an "options" button that allows you to customize the theme
of the interface (dark, light) as well as the choice of the language for your searches. Please note that Wikifox also supports importing your own custom theme in CSS format that you can download from the GitHub platform.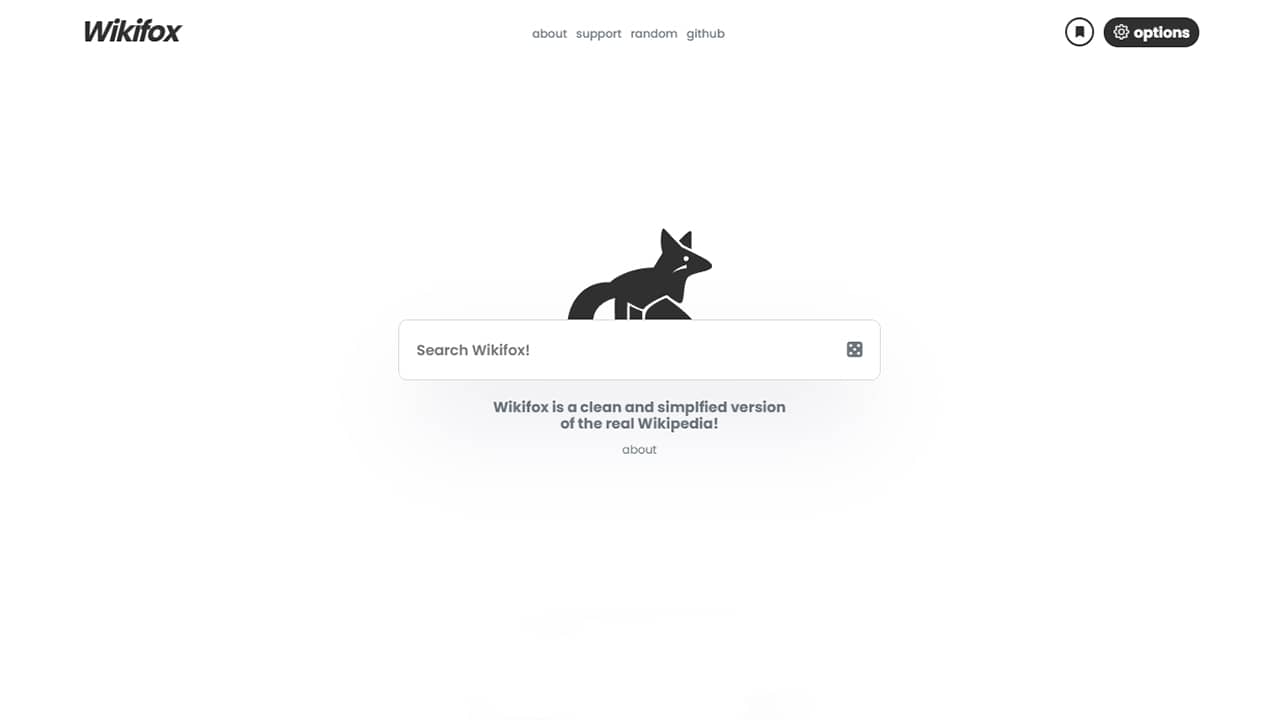 In addition, Wikifox offers a bookmark button that allows you to bookmark your favorite articles or those you want to read later. And if you're on a quest to learn, you'll find a "random" button that, as its name suggests, allows you to load a random Wikipedia article. Perfect, to enrich your knowledge.
How does Wikifox work?
Wikifox works in a very simple way. The goal of the platform is to simplify your searches on Wikipedia. A bit like Google, you will have to enter your query in the search bar provided for this purpose. The site will then suggest several articles according to your query.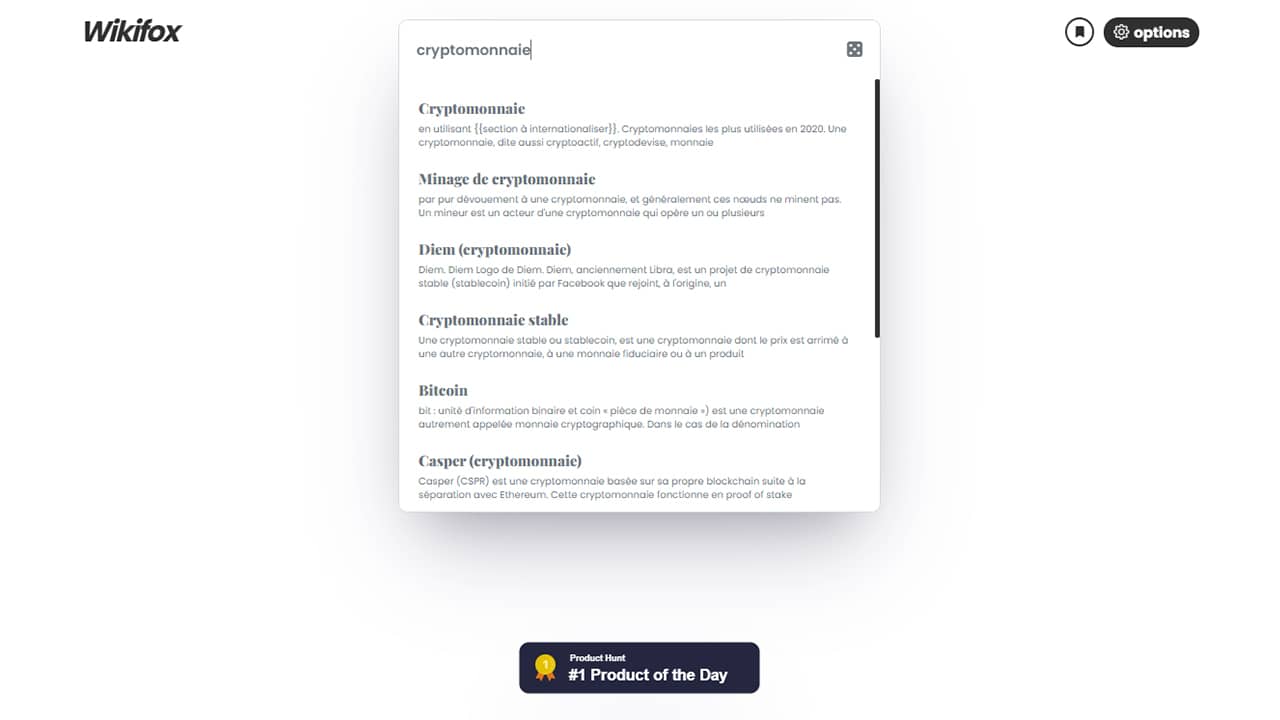 When you click on a search result, the article from Wikipedia will be displayed instantly in a clean and modern interface. As you can see, the fonts of the texts, titles and subtitles are clearly visible and the layout is very clean.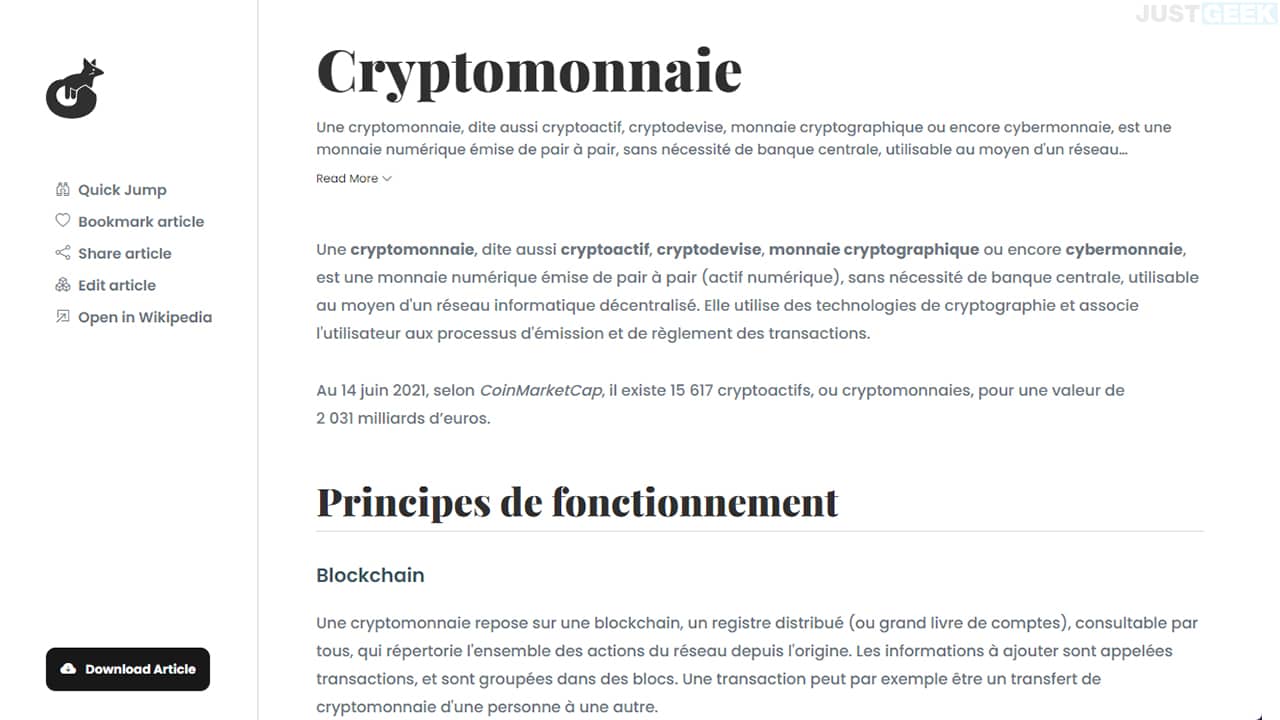 Other additional features are available. Among them, you have a button to have a summary of the subject. For example, for a celebrity, you will have his name, date of birth, etc. A button can redirect you directly to Wikipedia (Open in Wikipedia), or allow you to download the article in PDF version (Download Article).
If you liked this article, please subscribe to our reddit community to discuss it. You can also find us on Twitter and Facebook.